Yellowhead Trans Canada Highway
Manitoba- Saskatchewan Section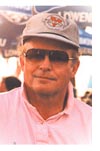 Imagine your auto (or railway coach) is a time-capsule; cruising down a broad ribbon of Canadiana, in the wake of nomadic hunters, voyageurs, missionaries, traders, sodbusters, fortune-seekers and railroad builders. From Lake Manitoba to the Haida Gwa'ii (BC's Queen Charlotte Islands) , it's a 2600 km journey into history, with Indian encampments older than Egypt's great pyramids, national parks, ancient shrines and battle sites. Ethnic dances and pageants salute every facet of our heritage.
Before we dim the lights and start the movie, you're curious to know how the name Yellowhead was derived -- right? In the 1870s, a roving Iroquois guide, dubbed Tete Jaune for his golden locks, gave title to a mountain Pass near Jasper House and gained instant immortality. Fly-Drive Holidays are all the rage, in an age when time has become more valuable than money. You can fly the "Air Highways" to dozens of gateway airports; then take your pick of ground transport.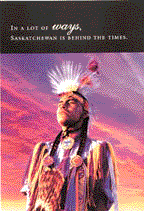 Poetry: Little Mocassins by Robert W. Service
Poster (right) Saskatchewan Tourism
The Yellowhead- Skeena Route, made popular by the Canadian National Railway, offers options and combinations aplenty: Train, auto rental, RV, ferry, pocket cruise or love boat ... seaplane ... you name it. Get out the fishing rod, thermos jug and picnic basket! This great drive might easily be called a Great Canadian Taste Tour. Why? -- the Yellowhead crosses rivers and streams, skirts lakes and fjords, visits orchards, ranches, farmers markets and dining spots. You'll feast on Winnipeg goldeye, rainbow trout, Pacific salmon, oysters and clams, prairie chicken, moose steak, buffalo burgers, award-winning Alberta beef and Okanagan wines. Add the world's finest cereal grains and 1001 varieties of ethnic fare -- how near to heaven can you get? And if you like to sing on long car trips? -- here's a cinemascopic backdrop to enhance any performance; prairie skies, tumbleweed, moose pastures, rippling waterfalls and pristine mountain lakes. Can't you hear Rose Marie's "Indian Love Call" echoing in the distance?



Yellowhead: Manitoba and Saskatchewan Section
Compared to my first encounter, today's Yellowhead Highway is a magic carpet ride. Many moons ago, heading west from Portage La Prairie, we ran a gauntlet of detours, construction delays and a prairie monsoon. Somewhere beyond Battleford, waves of red muck engulfed my ancient Chev coupe, drying on contact like plaster of Paris. Visibility zero! What to do? -- get out in the gumbo, and wipe like mad each time a semi trailer slithered by. Can't recall the whole ordeal, just that the lights of Alberta's Capital cast a mirage on the midnight sky, taunting me for what seemed like 100 miles away.
Winnipeg at The Forks: Call it Chicago North, Canada's Crossroads, or simply "The Peg" -- Manitoba's capital is home to 50 ethnic groups, all of which take part in Folklorama -- a Manitoba Mardis Gras. Winnipeg is also the largest center of French culture outside Quebec. Check your map; see how Winnipeg's streets converge like spokes on a giant bicycle wheel. Three historic rivers, the Red, Assiniboine and Seine, merge here at a place called The Forks. Not long ago, trains shunted back and forth, and river craft dumped their cargo at this downtown site.
Today it's the "in place" -- an oasis of greenery, scenery and people-watching, with shops, sidewalk cafes, and a river front promenade. To many first nations people, The Forks is where their ancestors hunted, fished and camped for centuries. The Forks National Historic Site preserves that 6,000 year legacy with interpretive programs, displays, sculptures, festivals and special events.
Lower Fort Garry National Historic Site: North America's oldest stone fur trading post stands as a lone sentinel on the Red River. Launch-point for York Boat brigades, off to Hudson's Bay, Mackenzie or Athabaska Country, and Red River carts bound for Minnesota, it was a bastion of Empire. Plan to stay awhile -- fresh bread's baking in the stone oven at Governor Simpson's Big House -- dinner's on, and a magic lantern show is about to tell the fort's unique story.
It's a short drive to Portage La Prairie, Mile "0" on the Yellowhead Highway. Here, muscles of steel were needed to tote one's canoe overland. Today, Portage is a major food processing center, amidst some of the world's richest farmland. Lake Manitoba's beaches bring fond memories from my air force days. Macdonald Air force base, near Portage, was my hub of activities for several years as an RCAF weatherman --it was a fascinating area. I met a group from Southport at the Abbotsford Airshow and was pleased to learn that the city's other base is alive and thriving as a training and technical center. You'll hear much more about their projects in a future issue of Air Highways Magazine.
At Minnedosa, voted Manitoba's most beautiful town, a side trip leads to Riding Mountain National Park. In this "island of the prairies", buffalo roam and 500 species of wildlife thrive. Remember when we were kids, wolves used to whistle -- right? Well you can take wolf howling lessons here, but the Plains Indians' relationship with the buffalo is the top item on the agenda. Bathers can enjoy Clear Lake's sandy beach; those afoot and on horseback, can rove the meadows, aspen groves and evergreen forests on a network of trails.
Saskatchewan: Breadbasket, Good Spirits and Vacation Farms
---

..
Canada's breadbasket begins at the Saskatchewan border. Your first stop is Yorkton, with its Western Development Museum. Further down the Yellowhead is Big Quill Lake, one of 94,000 that dot the face of Saskatchewan. Over half contain fish -- and 90% of these have never been fished. With 68 species hatching each year, small wonder our forebears always kept a spare canoe in the driveway. A side trip from Lanigan leads to Watrous and Lake Manitou, (Lake of Good Spirit), whose mineral waters rank with Europe's great spas. After 18 holes at Manitou Beach Club, a plunge will set you up for dinner.

Why not enjoy it at an authentic homestead? Saskatchewan's "Country Vacation Farms" offer Bed and Breakfast with a delicious difference. You even get to help with the chores. Fresh milk anyone? Not your average sod shanty, and well worth seeing is Motherwell Homestead National Historic Park, near Fort Qu'Appelle. Called Lanark Place, it was the gracious homestead of William R. Motherwell, Saskatchewan's first Agricultural Minister and an M.P. in Ottawa. The main residence is an Italian-style mansion, built in 1897 of cut fieldstone. Saskatchewan Country Vacation Farms. Beatrice Magee (306) 672-3970.

A 'Toon' with a Berry Named After it: I went to school in Saskatoon for a term, and have seen the city from all angles -- by bicycle, raft, horseback, train, aircraft and the Chev coupe I spoke of earlier. The Ukrainian Museum of Canada salutes an ethnic group whose names appear in cities, hamlets and hockey rinks throughout the west. A center of scientific research, Wanuskewin Heritage Park has an on-site archaeological lab, diggings and trails devoted to the Plains Indians cultural legacy. An hour north of here at Batoche is a sadder legacy -- one of civil unrest.

A Gattling gun, military installations, and grave sites, give testament to the last armed conflict on Canadian soil. An audio visual show at Batoche National Historic Site, north of the city, relives the days during the 1880s Northwest Rebellion, when Louis Reil's Metis faced off against the British Empire. Hollywood's Mountie movies pale compared to the real McCoy. Fort Battleford National Historic Site is an example. Here on the Battle River, Chief Poundmaker's Cree ransacked Battleford, then Capital of the Northwest Territories, sending 400 settlers scurrying to the fort's sanctuary, and Colonel Otter's force off in hot pursuit. Government House,the stockade, and several original buildings remain.

Side trip: Prince Albert National Park: White pelicans, bald eagles, beaver, badgers, bison, wapiti and woodland caribou, plus numerous species of fish and fowl -- it's like Noah's Ark. And the hills are alive with flora; meadow rue, prickly rose, high-bush cranberry and wild sarsaparilla, aspen parkland and boreal forest. Small wonder, world famous naturalist Grey Owl, called it home. At Waskesui Lake, a golf course, riding stables, paddle-wheeler cruise, and interpretive center await visitors. Lobsticks -- trees from which Indian trailblazers lopped off the lower branches, mark some of the park's 140 km of hiking path.

Click to continue: Yellowhead Highway: Alberta and BC Section

Visit the Yellowhead Trans Canada Highway Web Site: http://www.transcanadayellowhead.com/main.htm