Pentictons Okanagan Valley Tour deVine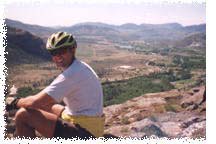 A Cyle Tour with a delicious difference, thanks to our instant communications via the electronic highway. What a difference from my days at the Edmonton Journal. Editor
A Spring Okanagan Wine Festival event in Penticton, British Columbia, Tour de Vine was created to cater to wine and bike lovers alike. Continued below
---
Penticton Tourism Check List
• Miles of sunny beaches
• 30 Lakeview & Mountain Golf Courses
•30 World Class Wineries
• 2 Marinas: Skaha and Okanagan Lake
• 3rd largest Convention Facility in BC
• Ornamental Garden, Parks, Fruit Stands
• Dominion Radio Astrophysical Observatory
• Canada's Safari: Okanagan Game Farm
• Museums & Art Galleries
• Kettle Valley Railway Train & Trestle
• Great restaurants and beach side cafes
• Hotels, Motels, Campgrounds, B&Bs
• Boutique Shops, Shopping Centres
• May: Okanagan Fest of Ale
• Spring Blossom Wine Festival.
• Bacchanalia '98
• June: Okanagan Hockey School
• Okanagan Summer School of the Arts
• July: Beach Blanket Film Festival
• Okanagan Ballroom Classic
• Aug: Square Dance Jamboree
• 50th Annual Peach Festival
• Ironman Canada Triathlon
• Sept: Dixieland Jazz Festival
• Oct: Fall Okanagan Wine Festival
• Consumer Wine Tasting
• Nov: Summerland Festival of Lights
A variety of routes are being offered for every skill level. Choose from a number of relaxing romantic guided rides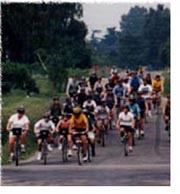 featuring a paddle wheeler lake crossing on the S. S. Sicamous with impromptu tastings and lunch at enroute wineries or ride along the Kettle Valley Railway. While visiting the wineries, wander through the facilities with industry professionals to find out why BC's wine industry is considered one of the best in the world and be sure to purchase your favorite wine selection to take home. The routes are appropriately named after the various wines in the area:

The Pinot Noir Tour
The Chardonnay Tour
The Reisling Tour
The Pinot Blanc Tour
Each fully-guided tour includes roadside support, catered lunch, winery visits and tastings and delivery of wine back to the start of your tour.
Avid cyclists looking to test their skills, can challenge the laws of nature on the 100-km century ride (Merlot Tour) through the south end of the Valley while racers will put their skills to the test with a <http://www.tourdevine.bc.ca/roadrace/roadrace_index.html>road race along Willowbrook Road. Everyone is welcome to cheer the racers on while they battle for position to claim the prize in this premier event.
This year's guest cyclist was Alex Stieda - he has raced road bicycles for 15 years of his life, from when he was 17 to 32 years of age. He raced for Canada's national team from 1979 until 1992, the last 7 years as a professional. He competed an average of 100 races a season, over his 15 year career including winning the Yellow Jersey in the 1986 Tour de France (first North American to do so), 3rd in the 1983 Universiade (Edmonton) and 1982 Commonwealth Games (Brisbane), and representing Canada at the Olympics (1984).
Alex is currently involved in the cycling community in Edmonton, organizing an annual children's Bicycle Rodeo at Laurier School as well as promoting Edmonton's only BMX track. He also conducts cycling skill clinics and motivational seminars throughout North America.
This is the third season for the Okanagan Tour deVine, which is the brainchild of former professional cyclist Ron Hayman. "The idea is to promote cycling in the area," he says. Seeking ways to introduce more riders to the beauty and potential of the south Okanagan, Hayman recognized the natural fit with the Spring Wine Festival.
The Okanagan Tour deVine Society
All-inclusive packages are available to make your weekend memorable, including accommodations, golf and bike and helmet rentals. For more information visit our web site http://www.tourdevine.bc.ca/.
For bookings and reservations call toll free 1-800-663-1900.
Penticton - A resort for All seasons
Less than a 50 minute flight from the port city of Vancouver, Penticton offers visitors a resort for all seasons. Miles of clean sandy beaches, Lakes Okanagan and Skaha, lush golf courses, vineyards and orchards are all natural attractions in vacationers' paradise.
The Penticton airport provides a full range of passenger services, including a gift shop, restaurant, car rental concessions and a flight service station. A shuttle service operates to the downtown area, which is less than ten minutes away. A full range of ground transportation services are available at the airport.
Airport operation: Transport Canada
RR #2, Site 5, Comp 2
Penticton BC, V2A 6J7
Airport Manager: Brian Bramah
Manager Resource Management:
Louise Noble
Air Carriers: Air BC, Canadian Regional
Destinations: Vancouver, Calgary, Cranbrook
Car Rentals: Budget, Tilden
For Airport Information
call (250) 492-6042 Fax: (250) 492-6334
E-mail: transcan@vip.net.

For Information call or write:
TOURISM PENTICTON
273 Power Street, Penticton, BC V2A 7K9
Visitor Information: 1-800-663-5052
Tel (250) 492-4103 fax: (250) 492-6119 www.pen.org