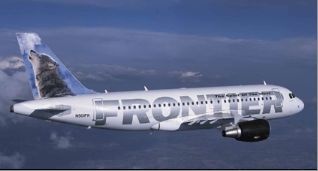 Denver
-based Frontier Airlines is an LCC subsidiary of
Republic Airways Holdings
. Frontier operates a fleet of recognisable
Airbus
narrowbody aircraft, all of which feature a unique 'spokesanimal' on the tail. From its Denver hub, Frontier operates extensive services across the
US
as well as to
Mexico
and
Costa Rica
. By Capa aviation.
Frontier Airlines Launches 'Countdown to Cancun':
Warmth Is Just Seven Days and $89 Away
DENVER: Frontier Airlines (Nasdaq: FRNT) is starting the clock and revving its engines, readying for non-stop service from St. Louis to Cancun. In just one week, travelers can be basking in the sun on Cancun's world-famous white beaches, all for just $89* one-way. So, buy now and start your own countdown to Cancun, whether you plan to travel next week, next month, or beyond.
The $89* one-way price is available today, Feb. 18 through Feb. 21, 2005 for travel from Feb. 25 through May 22, 2005.
With the new service, Frontier more than doubles previous scheduled,
non-stop service between St. Louis and Cancun. "We're among an elite group as one of only two airlines to offer scheduled, non-stop service between
St. Louis and Cancun," said Senior Director of Marketing and Communications Andrew Hudson. "The St. Louis community has been tremendously supportive of Frontier, and we can't think of a better way to repay their generosity than with low fares and the industry's best service to a premier vacation destination like Cancun."
Frontier will celebrate the inaugural St. Louis to Cancun flight throughout the day on Friday, Feb. 25, leading up to the first flight's departure at 4:25 p.m. The airline will bring the taste of Mexico to
St. Louis with morning Mexican pastries and giveaways. The celebration will continue at Frontier's gate D6 at Lambert-St. Louis International Airport.
Flights between St. Louis and Cancun will operate three times per week, on Tuesday, Friday, and Sunday. Passengers can also fly non-stop from Denver to the beautiful beaches of Puerto Vallarta, Cabo San Lucas, Mazatlan, and Ixtapa/Zihuatanejo.
Passengers on Frontier -- to Mexico or any destination coast-to-coast -- enjoy unique amenities including low fares, new Airbus jets, 24 channels of LiveTV, first-run movies on demand, and Frontier's generous EarlyReturns frequent flyer program, which allows travelers to earn a free ticket at only 15,000 miles domestically and 25,000 miles to Mexico -- the lowest in the aviation industry.
To kick off the new service between Cancun and St. Louis, Frontier is offering double miles to its Early Returns members who fly the route by March 31, 2005. To enroll in the program, customers can visit Frontier's Web site at www.frontierairlines.com, pick up an EarlyReturns enrollment form at any Frontier airport counter or call Frontier's EarlyReturns Service Center toll-free hotline at 866-26-EARLY or Frontier's reservations at 800-4321-FLY.
To make a reservation, customers may visit Frontier's Web sit at www.frontierairlines.com, contact Frontier Airlines at 1-800-4321-FLY, or consult their professional travel agent.
*Fare shown is one-way, but roundtrip purchase is required for nonstop travel to/from Cancun Tuesday, Friday and Sunday. Flights will not operate on 3/1, 3/6, 3/13 and 3/18/05. This special fare is only available on nonstop flights between St. Louis and Cancun. Maximum stay 120 days. Tickets must be booked and paid for by 10:00 pm MST 2/21/05 or within 24 hours whichever comes first. Seats are limited and certain flights and/or days of travel may be unavailable at these prices, especially during busy travel periods. Tickets are nonrefundable and nontransferable, but may be reissued for a $100 change fee plus any applicable difference in fare. Previously purchased tickets may not be exchanged for these special fare tickets. Fares do not include passenger facilities fees of up to $18 roundtrip, the September 11th Security Fee of up to $10 roundtrip, or fees of $3.20 per segment. A segment is defined as one takeoff and one landing. Federal International Air Transportation Taxes of $28.20 roundtrip or foreign departure taxes, customs and immigration fees, airport improvement and health inspection fees and tourism fees combined for up to $70 are not included in this fare. Fares and schedules are subject to change without notice and other restrictions may apply. Nonstop service between St. Louis and Cancun begins 2/25/05.
About Frontier
Currently in its 11th year of operations, Denver-based Frontier Airlines is the second largest jet service carrier at Denver International Airport with a fleet of 47 aircraft and employing approximately 4,500 aviation professionals. Frontier, in conjunction with Frontier JetExpress operated by Horizon Air, operates routes linking our Denver hub to 44 destinations in
25 states spanning the nation from coast-to-coast and to five cities in Mexico. Frontier's maintenance and engineering department has received the Federal Aviation Administration's highest award, the Diamond Certificate of Excellence, in recognition of 100 percent of its maintenance and engineering employees completing advanced aircraft maintenance training programs, for five consecutive years. In July 2004, Frontier ranked as one of the "Top 10 Domestic Airlines" as determined by readers of Travel & Leisure magazine. Frontier provides capacity information and other operating statistics on its Web site, which may be viewed at www.frontierairlines.com.
CONTACT: Zoe' Guynn of Frontier Airlines, +1-720-374-4505, zguynn@flyfrontier.com/
Web site: http://www.frontierairlines.com /