The Reno Air Races
by Ed Anderson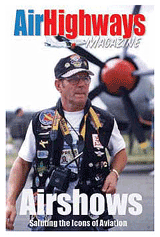 Photos on next page
The clarion call of September, "Fly Low, Fly Fast, Turn Left", beckons all comers to Reno Nevada for the National Championship Air Races and Air Show - the fastest motor sport in the world. This year, the Reno Air Racing Association hosted the 41st annual rendezvous, 16-19 September, at Reno-Stead Airport. 2004 prize money of $1,113,000. was shared in varied proportions by six race classes: Formula One, Biplane, Sport (kit-built), T-6/SNJ/Harvard, first time jet competition (Aero L-39s), and the Unlimited. All races comprise multiple aircraft with each class following a marked pylon course, different as to distance. F-1s and Biplanes have a ground start whereas the others an air start from a lead/pace plane.
Open to any piston driven aircraft, the Unlimited division is generally populated with stock and modified warbirds. This year the 24 qualifiers were P-51 Mustangs, mixed Hawker Furies, Russian Yaks, Bearcats, and an F7F Tigercat.Although the preliminary Heat races drew lots of attention, it was 'Gold Race Sunday' that provided the fastest racing ever, in some classes. Nonetheless, the final Unlimited race delivered the best breathtaking action. Nine big racers, hampered by light rain and wind gusts, were released into the "Chute" on a heading to the 8.4803 mile race circuit.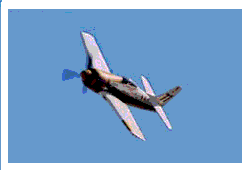 Leading the pack was #4, "Dago Red", a P-51 Mustang, and reigning six time winner, piloted by Skip Holm; #77 "Rare Bear", a Bearcat, and former five time champion, driven by John Penny; and recent newcomer #232, "September Fury", a Hawker Sea Fury, with Michael Brown on board. "Dreadnaught" #8, a T-20 Hawker Sea Fury and "Czech Mate" #86, a Yak 11, were in close pursuit with a Fury and three Mustangs bringing up the rear.
Into the second lap the frontrunners were on their own in a three-horse contest. Then, it became a duel between old adversaries, #4 and #77, separated only by a second or two. But on the second lap Skip Holm, for some reason, cut Pylon 4 incurring a 16 second penalty, thus allowing John Penny to capture a sixth championship for "Rare Bear", at a course speed of 469.961 mph. "September Fury missed second spot only by a few seconds. In the T-6 class Al Goss and "Warlock" #75, are finally champions, after 24 years of hard trying, narrowly beating out Mary Dilda flying #22, "Two of Hearts".

Story and Photos By Ed Anderson