Best five rail trips to explore Canada's real beauty
2013-01-14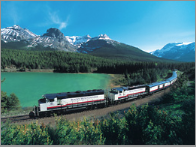 Nothing can beat the soaking of great Canadian scenery and romantic beauty of the place while on a train journey. Canada tourism has made efforts to provide global tourists who are train enthusiasts a taste of the country by rail trips. Here are five great day trips by rail which tourists can undertake to discover Canada's real beauty.

Sea to Sky Climb, British Columbia
Running from Vancouver to Whistler, this luxury trip aboard the Rocky Mountaineer takes passengers along island-studded Howe Sound before climbing into the snow-capped Coast Mountains. Opt for seats in the domed car for panoramic views of waterfalls, canyons and turquoise rivers – a true glimpse of the wilds of Western Canada. (Runs: mid May to late September. Duration: 3.5 hours, one-way)

Yukon Adventure
Built in 1898 during the Klondike Gold Rush, the narrow-gauge White Pass and Yukon Route is an engineering marvel through the mountains of Canada's far north. The 109-km (67.5-mile) rail adventure takes passengers from sea level in Skagway, Alaska, high up to the 879-metre (2,885-foot) White Pass Summit, then down to a restored 1903 station and on into Carcross, Yukon. Expect glaciers, waterfalls, cliff-hugging turns and unforgettable mountain scenery. (Runs: late May to late August. Duration: six hours, one-way.)


Agawa Canyon Tour Train, Northern Ontario
This 183-km (114-mile) excursion transports passengers north of historic Sault Ste. Marie, originally settled by French missionaries and fur traders, and into the forests of the Canadian Shield – a dramatic landscape of lakes, rivers and granite rock formations. The highlight is the dizzying 153-metre (500-foot) plunge to the floor of Agawa Canyon, where travellers disembark to explore waterfalls and scenic overlooks. This trip is particularly popular in autumn to see the fall colours. (Runs: late June to mid October. Duration: 10 hours, round-trip.)

Polar Bear Express, Northern Ontario
This passenger train serves as a vital artery between the communities of Cochrane, Moose Factory and Moosonee in remote northern Ontario. For travellers, the 299-km (186-mile) route offers stark scenery, a fascinating glimpse into local First Nations culture and an experience well off the beaten path. Keep in mind that creature comforts aboard are limited and actual polar bear sightings are rare. (Runs: year-round. Duration: 5.5 hours, one-way.)

Le Train du Massif de Charlevoix, Québec
Traversing cliffs, fjords and bays along the St. Lawrence River, this 140-km (87-mile) journey takes passengers from Québec City to the 200-year-old resort town of La Malbaie in the historic Charlevoix region. Multi-course gourmet meals highlight local fare as colonial river settlements, towering waterfalls and teeming wildlife reserves slide by outside. (Runs: January to mid October. Duration: 12 hours.)
Courtesy: Canadian Tourism Commission
Discover the best of Canada, coast to coast, by rail

In 1885, the Canadian Pacific Railway (CPR) tied Canada together "like a ribbon of steel from coast to coast," said Pierre Berton, author of The National Dream and The Last Spike. "Our cities and towns popped up along it like beads on a string. We became the nation we are because of the railroad."
The construction of the transcontinental railway was not only a public building venture; it was nation-building venture. These railways continue to provide us with great rail excursions today along some of the most historic routes in Canadian history. As well, staying in one of the great Canadian railway hotels is part of the journey. They were built with all the opulence and services available at the time and many were constructed in very out-of-the-way places, surrounded by spectacular scenery. These hotels have become very much a part of Canada's national heritage and identity.
Two of Canada's great railway companies, the CPR and the Canadian National Railway were responsible for the hotels which are located in some of the most stunning surroundings in Canada. That was part of the reason some of them were built; to attract travellers to undiscovered areas. From Victoria BC's Empress to New Brunswick's Algonquin in St. Andrews, each hotel is a tourist attraction in itself.
Initially they were necessary because transcontinental train service in the 1890's offered a lavish dining experience in elaborate cars and problems arose when the trains travelled on very steep grades; table settings and food left the tables and adorned passengers' laps! The guests needed to be fed so William Cornelius Van Horne, the CPR's first president, came up with an answer that marked the beginning of the CPR's entry into the hospitality industry and dining stations were constructed. Van Horne, realizing that there was also a need for lodging along the CPR route, had plans to create luxurious hotels in resort areas and Canadian cities; thus began the history of many of the railway hotels, many of which continue to serve a purpose that goes beyond food and lodging.
John Steel Rail Tours continues the great tradition of rail travel and Canada's trains present one of the world's great rail journeys from sea to sea across this vast, amazing country. Train travel offers superb service, delightful meals and cozy accommodations on board VIA Rail; the Canadian, the Corridor and the Ocean. From Vancouver on the west coast, through the Canadian Rockies and the wide-open Prairies to the heart of central Canada and on through the Maritimes, it is difficult to find a more elegant and romantic way to see country than by rail. "If you want to be wowed by the great expanse of the land, then fly," declares a seasoned traveller. "You want to see the country for what it is? Ride the train."
Our Classic Canada Coast to Coast travels from Vancouver, BC to Toronto, Ontario and features a stop in the magnificent Rocky Mountains. Enjoy a trip aboard VIA Rail's flagship, the Canadian and a stay in the charming resorts of Banff, Lake Louise and Jasper in the Alberta Rockies. Maple Leaf Magic - Canada Coast to Coast is a fully independent tour departing Vancouver, BC which travels to Halifax on Canada's eastern coast, and features stops in Jasper, Toronto, Montréal and Halifax. The Canadian Capitals Discovery, departing Vancouver year-round, offers a tour of some of Canada's attractive provincial capital cities focusing on the heritage government buildings&endash;and all their pomp and pageantry! The tour visits Victoria, BC, Edmonton, Alberta, Toronto, Ontario and Canada's capital, Ottawa, Ontario.
Now's the time to plan your memorable cross-country rail tour with John Steel Rail Tours. Visit our website at www.johnsteel.com for more information and then contact us at 1-800-988-5778 or info@johnsteel.com.
Contact:
Karen Davy, Vice President
Phone: 800-988-5778
E-mail: karen@johnsteel.com

Railways of the World: Building a Great Tradition
For "Railways of the World," in 1989, I contacted every known railroad operation worldwide, and spread the word to selected media in the USA and Canada, . Advertising support and a gallery of great photos came from every source - South Africa's Blue Train, Rovos Rail, Venice-Simplon-Orient Express, Trans Siberian, Malaysian Rail, Australian Rail, Spanish Rail and India's Palace on Wheels, to Colorado's Durango & Silverton. Canada's railways were totally onside. Every passenger railway and rail tour operator in existence, was on my editorial agenda, and still is ten years later.
Experts like Don Primi, of Gold Coast Royal Rail, a organizer of executive rail charters across North America, lent sage advice. Few escaped my scrutiny, including many short lines, with strange names that most so called travel experts have never heard of. Did it work? The railway features I wrote for a Seattle newspaper, filled our mailbox in Point Roberts, Wa., whenever they ran.
Virtually overnight, came a flood of of requests and anecdotes from readers in Seattle, King County, Portland, and far beyond. Results were similar in Canadian media that carried my 'Railways of the World' features. But now being our own publishers, there are absolutely no holds barred, as we lay plans for a bigger and better edition, serving a far larger market.
Question: What about a return to Historic Street Cars as a year-round tourist attraction and revenue generator? See our new series Streetcars & Street Sense.