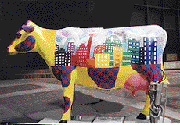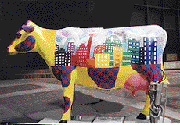 Holy Cow! Someone's painted the town!
Talk about saluting your pastoral roots - the latest craze in downtown Calgary is a massive painting contest with the goal of raising money for a worthy cause. Everywhere you go on Stephen Avenue mall, from Mewata Armories to City Hall, you'll encounter a herd of crazy cattle painted in a variety of splashy colors, with wild and wooly themes. Talk about catchy names- we'll give you some samples soon. Our editors ran out of film --and time- on our last trip, but we can't wait to get back for more.

Royal Canadian Pacific Relives
a Romantic Era
One of the highlights of this summer's return to Calgary and Alberta Foothills Country, was the opportunity to visit a grand new 'Railtour' product being introduced by Canadian Pacific Railway, adjacent to the elegantly refurbished Palliser Hotel. Here we were given a private tour through the museum facilities and the various railcars that have been beautifully restored to carry tourists and corporate parties on the 'trip of a lifetime,' through the blue Canadian Rockies. While there will be a variety of rail tours leaving from Calgary, the most popular tour heads west through the Kicking Horse Pass, then swings south at Golden, following the Columbia River to the Cranbrook- Kimberly area in BC's East Kootenays. At the town of Elko, the train heads south via the Crowsnest Pass to Lethbridge. Continued.

Calgary Area Attractions: Banff Park's Castles and Caves
Imagine spending twelve festive days of Christmas in a fairyland castle! Truly unforgettable, when it's the Banff Springs Hotel. During many memorable stays, l me goose pimples.
Upper Hot Springs: After skiing Mount Norquay, hiking Sundance Canyon, or fishing Lake Minnewanka, Sulphur Mountain's Upper Hot Springs is a Banff ritual -- hot plunge, icy shower, steam bath, blanket-wrap and massage. Loose as a noodle and ready to devour an ox -- is how one usually feels after that routine. A gondola nearby will whisk you to the summit for a sweeping view of the valley. Sundance Canyon Trail leads to The Cave and Basin National Historic Site, where like honeymooners for generations past, we gazed through a telescope at surrounding peaks. Clad in Rundle-stone, like most Banff buildings, this site contains displays, a theater, and tours into the misty grotto, with its emerald pools, and warm sulfur water dripping down the cavern walls. Priceless Indian relics at nearby Luxton Museum are well worth seeing.
Teahouse of Lake Louise: If you really want to seize the moment, rent a canoe, or pedal your way to Bow Falls, Tunnel Mountain, or 101 equally delightful places. Heading north west from Banff, one can cruise the Trans Canada via Sunshine Village to Lake Louise in a breeze. For a change of pace, however, take the old road (Hwy 1A) along the north bank of the Bow River via Johnston Canyon, with its ink pots and nature walks. Chateau Lake Louise is a jewel in an exquisite crown. Talk of beauty and serenity! -- when one's creative spark needs rekindling, the Chateau is my choice. You can paddle a canoe in a scene right out of Hiawatha, or take the alpine trail to a Tea House for granola cakes and wild berry tea. The azure lake far below gets even smaller, as you climb the corkscrew path. Breathe deeply folks -- it gets to be a challenge near the top. Guess who was left standing still by a German couple in their mid 80s?
Foothills City closes corporate headquarters gap
Calgary is still running second, but closing ground on Toronto in the running for the title of top corporate head-office location in Canada. The city had 92 head offices at last count, compared with 118 for Toronto. The tally does not include CP Rail, which has moved to Calgary from Montreal.
According to Calgary's Mayor, "They are an indication that the national business community is aware of and appreciates Calgary's numerous advantages." Cities were ranked on the basis of a list of Canada's top 750 companies, according to annual revenues. Calgary showed the most dramatic rise in head offices. Of the 92 head-office companies in Calgary, 65 are in the energy business. [Top of page]