Open Skies and Air Highways to a Great Canadian Vacationland
by Jerry W. Bird

There's a great big, broad land way up yonder,
There are forests where silence has lease
There's a beauty that thrills me with wonder,
There's a stillness that fills me with peace.
Robert W. Service

This summer, we will be loading our Dodge Caravan with magazines, and heading out on the road across Canada to meet the media, develop new travel industry contacts, interview mayors and community leaders. The starting route we have chosen is the Trans Canada Yellowhead Highway from Prince Rupert, BC via Kamloops, Jasper, Edmonton and Saskatoon to Winnipeg. Via Rail Canada travels the same route, and we have over 20 Railway Travel pages on this site alone. We plan to stop at many interesting places in between and will renew old acquaintances.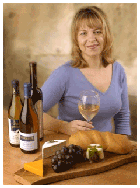 Travel With Taste Tours
Putting the Spirit in the Season
Award-winning Vancouver Island food writer, Elizabeth Levinson, and culinary tourism specialist, Kathy McAree, are putting the spirit in the season with indulgent weekend getaways.
Canada Hosts 2006 Air Cargo Expo
For example, I can't wait to visit my Royal Canadian Air Force base at Macdonald, Manitoba near Portage La Prairie where I served for a year or so. It's really an awesome journey, some 2600 km in length. A few months ago,
I was keynote speaker at the Yellowhead Highways Association's 56th Annual Conference in Sherwood Park, near Edmonton, Alberta, and my timely topic of course, was Tourism. While we are off to Atlantic City, USA, Europe and Africa, my son Ken Bird will be carrying on the tradition. He and his friends will be exploring more of Canada's great river systems, with 30 already to their credit. See Rivers of Canada.
In designing our Air Highways Canada Showcase for the next USA trip, we dig deep into a gold mine of memorable experiences as residents and visitors in many of Canada's cities, rural communities and far flung frontiers. Thanks to the Canadian Tourism Commission, its provincial counterparts and mail from communities near and far, we have a gold mine of information, and plan to bring our readers the creme de la creme

Canada's Railway Castles
Another natural place to start a tribute to Canada is with the hotel industry. Canada is dotted with famous hotels, castles, inns, lodges and resorts; a few having existed since pioneer days, while others are but faded memories. Many of my favorite haunts remain as attractive as ever, keeping up with the times, yet retaining their unique charm. Across Canada, the palatial Banff Springs and Chateau Lake Louise, Victoria's Empress, Hotel Vancouver, Edmonton's Mac, Saskatoon's Bessborough, Regina's Hotel Saskatchewan and Calgary's Palliser are prime examples.
Further east, there's the Fort Garry, Royal York, Chateau Frontenac and Laurier - the list goes on- and on. Fotomation - Famous travel posters available at Canadian Pacific Stores. http://www.cphotels.ca
And how can I forget our glorious week long stay at the Hotel Newfoundland in St. Johns during the TCAAN Convention. Newfoundlanders know how to throw a party. Last summer, I was pleased to meet with Sandra Kelly, whom Air Highways interviewed in 1993 at an Airports Conference when she was Mayor of Gander. This lady of our times is now the Hon. Sandra Kelly, Provincial Minister of Industry. A well deserved position. I promised to return and write a feature on Newfoundland Tourism, and am eager to return. Speaking of hotels, during the mid 70s, a suite in Edmonton's Macdonald Hotel served as our advertising agency's branch office.

Harrison Hot Springs Resort, near Vancouver also 'springs to mind' as a legend of CPR's glory days, when high rollers, from movie stars to royalty rode the train, staying at hotels and resorts at or near the main line. We launched Air Highways Magazine there at the BC Aviation Council 1996 Conference, where I spoke on my favorite topic - Open Skies. Another great hotel, Vancouver's Sheraton Wall Center was the site of our 1st Air & Marine Tourism Conference, and we plan a return engagement.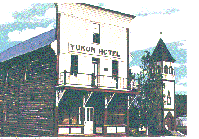 Travel into History: The first hotels in my memory were in my home town, Dawson City of Klondike fame. Most were remaining relics of Gold Rush days. Ornamental pressed tin adorned the inner walls and lined the ceilings, corrugated tin, patched with flattened aviation gas cans was the popular roofing material, and the facade was usually a false front. In the Royal Alexandra Hotel on Front Street, facing the steamboat docks, hung enormous oil paintings of buxom nude ladies. Scattered about lobby were shiny brass spittoons and deep, black leather chairs, where we kids dove for loose change every few days. There was usually a gang of old timers from the creeks and about town, with tall tales to tell. Most of them like Black Mike, Snooze Benson and Little Dave, frequented the snake room and card tables at the back of the hotel. For more see Canada's Hotels and Resorts.

Icons of Aviation:
Our SuperTours from Vancouver via Asia to Africa, were inspired by the early achievements of Edmonton's Grant MacConachie, founder of Canadian Pacific Airlines, who dreamed of an air bridge to the Orient and across the pole. Canada's Airport network, and pilots Wop May, Max Ward and others have played a vital role in opening the North to trade and tourism, just as the great transcontinental railway changed the face of Canada in the 1890s. Stay tuned, there's plenty more to come on the topic of transportation