Regional Hub status has been
a boon to Tourism
HONG KONG SAR: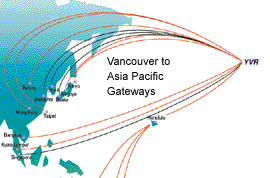 GLOBAL HOTEL NETWORK (SM) REPORT: Christopher Khoo,
Price Waterhouse Coopers

The Hong Kong Special Administrative Region owes much of its success as a premier business and tourist destination to its position among Asia's most globalized countries. With a base population of only 7 million people cramped within a 1,100 square kilometers of space, the city also pools resources from a large foreign workforce. The significant presence of foreigners in HKSAR has remained even after the July 1997 "hand-over" of government reins to China by the United Kingdom.
COMPETITIVENESS IS KEY
HKSAR is well-recognized as one of the best sites in Asia for multinational corporations to set up regional headquarters. Hong Kong's competitive advantage lies in sound economic fundamentals, substantial fiscal and foreign exchange reserves, business-friendly government policies, extensive transport and communications infrastructure, open and transparent financial markets and a diverse and well-educated workforce. Latest figures from the government point to a 20% annual increase to over 3,000 international companies which set up either regional headquarters or principal offices in 2000.
Rebound in Visitor Arrivals
HKSAR's pre-eminence as a regional financial services and trading hub can also be underscored by its status as among the world's leading aviation hubs. With a sleek new airport facility in Chek Lap Kok, HKSAR handled some 25 million passengers in the January to September 2000 period, ahead of Bangkok Airport (22 million) and Singapore Changi Airport (21 million), according to Airport Council International's latest report. In terms of international air cargo, Hong Kong is number two in the world, handling 1.6 million metric tons in the same period, 17.5% more than last year.
The Hong Kong Tourist Association (HKTA) has continued to promote Hong Kong as Asia's premier international and cosmopolitan city with a unique blend of eastern and western cultures and traditions. Aside from tourist attractions such as shopping and sightseeing, the HKTA has positioned Hong Kong as the "events capital of Asia" with a myriad of exhibitions, conventions, and cultural events lined up each year.
HKSAR tourism industry has rebounded strongly from the Asian Crisis. Following two years of decline in 1997 and 1998, visitor arrivals have rebounded strongly, rising by 14% in 1999. Latest numbers from HKTA indicated that arrivals totaled 11.8 million visitors in the first 11 months of 2000, 19.4% more than the same period in 1999. With December visitors expected to also exceed one million, full year arrivals could easily surpass 12.8 million, for an annual growth of 17.9% over 1999. HKSAR's two largest markets are Mainland China and Taiwan. Trade and employment opportunities have spurred travel by Mainland Chinese, which presently accounts for a substantial 36% of arrivals.
Taiwanese visitors, which makes up 22% of the total number, use HKSAR as a main transit point to and from key destinations in Mainland China. Japan and the United States maintain their market share of 13% and 9% respectively. According to HKTA, around 49% of visitors in HKSAR are leisure travelers while business visitors made up 30% of the total.
___________________________________________
HONG KONG VISITORS ARRIVAL
1996: 11,702,735
1997: 10,406,261
1998: 9,574,711
1999: 10,678,460
2000E: 11,800,000
Source: Hong Kong Tourist Association
___________________________________________
Hotels
According to HKTA, since 1997, only five new hotels (1,900 rooms) have completed in HKSAR. However, HKSAR's current advantage as the main gateway to Mainland China and its strengthening economic recovery underpin more hotel development in the next few years. According to data from the HKTA, total hotel stock in HKSAR is projected to expand by an annual average of 6.3% in the next four years to 45,100 rooms. Future approved hotel projects include rehabilitation of old establishments as well as build-ups in new locations such as Lantau Island.
InformatiOn courtesy of PATA.