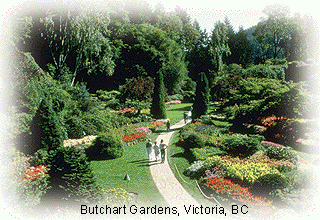 A World in Blossom
By Jerry W. Bird



How fortunate we are to live in one of the world's most beautiful cities, Vancouver, BC, Canada, which has, among other attractions, the famous Stanley Park, with its rose gardens, nature walks, lost lagoon, sandy beaches and Theatre-Under-The-Stars. Heading south on the boulevards of Cambie Street is Queen Elizabeth Park and to the west on Oak Street is Van Dusen Gardens, both are beauty spots year round. East on the Trans Canada Highway near Chilliwack is Minter Gardens, and across the strait of Georgia at Victoria, British Columbia, visitors will discover a little bit of Old England. The capital city's Butchart Gardens is a world famous attraction, created from a former gravel pit. Across the ocean, we were captivated by Limbe Botanical Gardens in Cameroon, West Central Africa, whose trees and shrubs contain many of the health giving and curative products known to mankind. Since 2000 our editors have worked closely with Louis D'Amore of Peace Through Tourism , one of whose activities is establishing Peace Parks. In our Air Highways Magazine, I even had the audacity to suggest that airports could blossom into agoras. It's happening!
Great gardens are potentially everywhere, which is why "America in Bloom," an is leading the way in beautification. While visiting "Globe 98," at Vancouver's Trade and Convention, I was captivated by "Canada in Bloom," a blockbuster idea that had its roots on the Niagara Peninsula in Hamilton, Ontario. Dundarave in West Vancouver, my favorite summer retreat, was a winner that year. Good news travels fast, and today, both Canada and America in Bloom have become examples for the world. As you see from this brief introduction, we will never run out of topics for this section. Check below for Memorial Gardens.

America in Bloom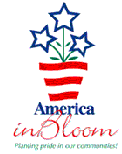 America in Bloom is a national beautification program committed to fostering civic pride, environmental responsibility and beautification through community participation and the challenge of a friendly competition between participating communities across the country. Rewards and recognition for floral displays, landscapes, turf and open spaces, urban forestry, community involvement, heritage conservation, environmental awareness and tidiness are awarded after judges' evaluations are completed.
The city of Chicago and the Chicago Park District will host this year's America In Bloom (AIB) Symposium and Awards Program September 18-20 at the Hyatt Regency Chicago on the Riverwalk. Known internationally for its greening and beautification efforts, Chicago was the grand winner of AIB's largest population category last year. Judges visited the communities this summer and the winners will be announced at the awards banquet, which will be the grand finale of this year's program in Chicago. Nearly 40 communities are participating in the second edition of AIB. Last year's winners are participating in international In Bloom programs. http://www.americainbloom.org/splash.asp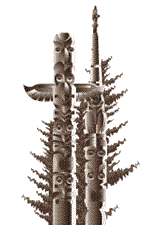 Vancouver's Stanley Park
Visitors are attracted to the city for the same reasons most residents remain ... a spectacular outdoor setting, a clean and safe urban environment and a culture that celebrates and invites diversity. For centuries, this area was home to the Coast Salish people of the Musqueam, Kwantlen, Tsawwassen and Capilano bands as reflected by the totems standing proudly in Stanley Park. It was these tribes who greeted Captain George Vancouver in 1792. His comment must have referred to the forest and mountain backdrop of Burrard Inlet. "This is the most lovely country that could be imagined." In n the late 1880s, Vancouver's first mayor drafted a petition to lease a 1,000 acre military reserve from the federal government ... an area that later became Stanley Park. Named for Governor General Lord Stanley, it's Canada's largest urban park, with its string of inner-city beaches and miles of walking trails that skirt Beaver Lake and Lost Lagoon, with its fountain of dancing waters and graceful swans.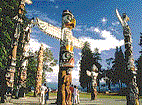 Stands of stately Douglas fir, cedar and hemlock grow in profusion along with a jungle-like growth of ferns. Open 365 days a year, the Vancouver Aquarium in Stanley Park features killer and beluga whales, dolphins and sea otters ... a total of 650 species. There's underwater whale viewing and outdoor terraces (Information line 604-268-9900).


One of my top perennial attractions is Theatre Under the Stars, where local performances of Broadway shows and operettas fill the summer evenings with song at Malkin Bowl. The surrounding gardens, statues and 1920s Pavilion are as beautiful as ever. Returning to Vancouver after a twenty year absence, this is one venue that continues to remind me of Stanley Park at its greatest. There's no better place for a picnic than Stanley Park, with a profusion of specialty shops, food markets and delis on nearby streets. continued
---

Green Airports: An Idea whose time has come
At the Globe '98 Conference, several thousand highly charged individuals from 50 nations pooled their ideas. Hearing of our network of air gateways as distribution points for Air Highways magazines, Globe's Dr. Rashmi Mayur, Ph.D. invited me to speak on "The Green Airport: Agora of the Future" at a World Ecological Conference in India. Dr. Mayur says our true goal should be not just Ecotourism, but Eco-Travel. "Today's airport must be a true part of the community... a people place... an agora. Many of the large international airports are the exact opposite; unfriendly, claustrophobic, intimidating, expensive, noisy, wasteful and inconvenient," says Dr. Mayur. Airports should be the epitome of user friendliness... each being a gateway to trade and tourism. First impressions count... you may never get a second chance. The airport at Nanaimo, BC worked with a local businessman to create a golf course next to the runway. details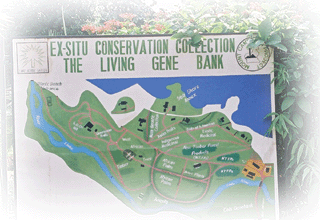 Limbe Botanical Gardens in Cameroon, West Central Africa is known as the "Living Gene Bank." We discovered that its plants contain the remedy to many known diseases. For more about Cameroon, visit our other popular web site - for Africa Travel Magazine. Created in 1892 by German horticulturists to acclimatize economic and medicinal plants such as quinine, coffee, rubber, cocoa and banana, the botanic garden in Limbe also served as a training center for Cameroonians in the field of agriculture, horticulture and forestry. Today, it has become the greatest tourist attraction in the South West Province after Mount Cameroon. It is also an international research center in the area of bio-diversity. A tourist attraction center known as "jungle village" has been developed in the garden. Here, popular cultural activities take place during certain events or simply for the pleasure of tourists. Several routes have been mapped out to enable tourists to visit the garden such as :
- the coastal trail, which enables tourists to have a good view of the western part of the garden ;
- the biodiversity trail, which enables the tourist to get a picture of the biodiversity found in the garden ;
- the Bota adventure trail, where big trees and some wild animals can be seen;
- the riverside trail, where trees and creepers more than 100 years old etc. are found.
ADDRESS: Limbe Botanic Garden
P.O Box 437, Limbe, Cameroon
Tel. (237) 333 26 20
Tel / Fax : (237) 343 18 76/343 18 72
E-mail : mcplbg @iccnet.cm
Kirstenbosch and South Africa's National Botanical Garden
One attraction we vowed to revisit soon and for much more time is Kirstenbosch in Cape Town. We visited the impressive greenhouses and strolled along the aromatic Braille Trail, which was designed to give pleasure to blind folks, but also those with normal vision. The focus and purpose is to experience unique textures and smells. Experts say that South Africa's Cape area is home to the greatest diversity of plants in the world per sq. m, and most are found nowhere else on earth. It is one of the most impressive garden spots of its kind on the continent and highly recommended by this magazine and website. http://www.nbi.ac.za/homepage.htm
Entebbe Botanical Gardens, Uganda
Entebbe is home of the Entebbe Wildlife Educational Center, which is a showplace for the animals of Uganda, especially chimpanzees and exotic bird as well as the Entebbe Botanical Gardens, which are a tropical paradise of Ugandan plant life. The Botanical Gardens were laid out in 1898 by Mr. Whyte, who was the first curator. Visitors will discover several interesting, unusual tree and shrubs, as well as a variety of bird species.
CREATING A MEMORIAL GARDEN
By Dr. Leonard Perry, Extension Greenhouse and Nursery Crops Specialist, University of Vermont
A memorial garden provides a long-lasting tribute to a loved one who has passed away, as well as offers a place for the survivors to remember and to heal. The garden can be as small as a single tree or perennial plant or as large as an oversized flower bed or garden with many different flowers, ornamental grasses, and even shrubs and trees, depending on available space.
When selecting plants for a memorial garden, consider the favorite flowers of the individual you are honoring. Did that person love daisies or lilacs? Prefer peonies or poppies? Did he or she have a favorite season such as spring, making a bulb garden of daffodils, tulips, and other spring bloomers the perfect tribute?
Or think about the fragrances or colors that evoke fond memories. Perhaps the scent of lavender or roses reminds you of that person. Another possibility is to include plants that have the same name as your friend or loved one, such as black-eyed susan (rudbeckia), veronica, or sweet William.
If red was his or her favorite color, consider planting a garden consisting primarily of red hues with a single accent color such as silver. For example, you could plant a mixed bed of red impatiens, geraniums, and verbena edged with silvery dusty miller, lamb's ear, or one of the silver-leaved varieties of artemisia.
You also could select plants that have specific meanings, such as forget-me-nots (memories), rosemary (remembrance), poppies (rest or eternal sleep), yellow tulips (friendship), or pink carnations (I'll never forget you). If the memorial is for a baby or young child, plant daisies for innocence or white lilies for purity. Or use varieties such as baby's breath (gypsophila) or 'Sweet Dreams' coreopsis rosea.
Plant sweetheart roses to remember a spouse. Or if your memorial garden is a single tree, plant an oak for strength or a yew for immortality. Just keep in mind that these can get quite large and need adequate space if they are to last and remain there over the years.
If commemorating a war hero or veteran, plant a red, white, and blue garden, including varieties such as red poppies and daylilies, white phlox and peonies, and blue Jacob's ladder (polemonium) and Siberian irises. There are very few true blue flowers, so you may need to substitute dark purple varieties, perhaps some of the delphiniums or campanulas for blue.
Or choose plants with inspirational names like the 'Patriot' hosta, 'Peace' rose, 'Freedom' alstroemeria, and 'Over in Gloryland' Siberian iris. Other popular choices are gentle shepherd daylily, remember me hosta, or guardian angel hosta.
When planting your memorial garden, you will probably want to include a mix of
varieties, as well as keep rules of proportion in mind--taller plants in the back, smaller ones in the front, for example. What makes it a memorial garden though is that it's planted from the heart. Don't worry whether your planting fits rules of design or will be appreciated by others. Do what is most meaningful for you.
Include appropriate statuary and hardware. If memorializing someone who loved cats, why not include a small cat statue? For a bird lover, add a birdbath to attract backyard songbirds. If the person was known for a great sense of humor, buy or make a garden whimsy or two as a remembrance.
Add a bench for visitors to sit and reflect or a water feature, such as a fountain or water garden, to create a soothing, comforting environment. Or put in an arbor or trellis, training honeysuckles, ivies, and other climbing vines to cover the structure to create a quiet, secluded spot for contemplation and remembering.
Where you locate your garden will depend on where you have adequate space and/or the type of plant--sun lovers or shade lovers--you want to include. Or you could choose a quiet, private spot or one with a favorite view or
Meaning to the deceased.
When choosing a site, keep in mind that for a successful garden you need to select the right plants to fit the soil, sun, and other growing conditions. Full-sun plants such as peonies will not do well in a shady spot. Siberian irises don't mind wet feet while varieties that need a well-drained soil will struggle to survive in wet areas.
If you live in an apartment, or don't have a backyard, you can still create a memorial. Tie a colorful ribbon around a pot of rosemary and keep it by your desk. For a deck or patio, fill a special container with a few choice perennials that you can move indoors to over winter when the weather turns cold. Or check with your local town officials to see if you can have a tree planted at a park or near a town landmark or building in memory of your loved one.
It doesn't matter what you plant, where you locate the garden, or what form, size, and shape it takes, what's most important is that you create the garden that is most meaningful to you. Involve your family and friends, and let the planning, planting, and caring for the garden be part of the healing process not just for you, but also for others.
AMERICA IN BLOOM RECOGNIZED IN THE UNITED STATES HOUSE OF REPRESENTATIVES
Hon. J. Dennis Hastert of Illinois in The House Of Representatives
Tuesday, April 23, 2002
Mr. Hastert, Mr. Speaker, I rise today to recognize the important contribution of the America in Bloom program to communities across the nation. America in Bloom is a national beautification contest that began last year with the participation of four cities across the United States. This unique program helps to foster community involvement, patriotism and civic pride through the challenge of a friendly competition between participating communities across the country. The contest is judged on the basis of eight categories, including tidiness, environmental awareness, heritage, urban forestry, landscaped areas, flora displays, turf and ground cover areas and, most importantly, community involvement.
This year, the contest will again provide communities with a forum to increase civic pride and community involvement through the challenge of a national evaluation. The program has registered almost thirty communities to date, including Batavia, Illinois, which I am proud to represent. It is my hope that more communities will take part in this program as it brings together citizens of all ages, municipal governments and local organizations to work collectively for the visual improvement of America's parks, neighborhoods, open spaces and streets. This can only encourage the preservation of our collective heritage and culture while creating a sense of unity and pride among citizens.
Rivaling Hong Kong and Rio de Janeiro as the world's most beautiful physical setting, Vancouver has become Hollywood North, ranking third after LA and New York as a film and TV production center. The West End alone has more unique locations and beautiful backdrops than anywhere else in the city.