GLOBE 2004
Leading Enviro-Business Conference: March 31 &endash; April 2, 2004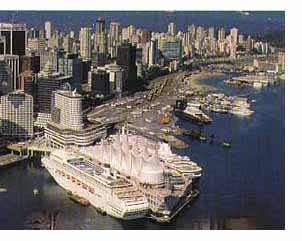 Vancouver B.C: Over 2000 of the best and brightest in business and the environment will meet in spectacular Vancouver, Canada for GLOBE 2004, one of the largest and most important international gatherings of environmental business leaders and corporate environmental managers. The 8th Annual Trade Fair and Conference will be held at the Vancouver Convention & Exhibition Centre March 31 to April 2, 2004.
Over the past decade, the GLOBE Series has emerged as one of the most well-known and prestigious business and environment events in the world. Senior business executives and government officials from over 75 nations meet every two years at this exciting forum to exchange ideas, cultivate partnerships and do business.
GLOBE 2004 will centre around three major conference themes; Corporate Sustainability, Energy & Climate Change, and The Business of Building Better Cities. In looking at corporate sustainability, GLOBE 2004 will address the challenge of maintaining profitable business operations in markets that are changing daily in the face of new social, shareholder, consumer and government demands for ecological sustainability and corporate accountability.
Energy and Climate Change sessions will provide a comprehensive update on all climate change issues. Participants will discuss the emerging priorities for climate change related technological development, realistic strategies for emission-reduction and credit trading initiatives, and how to identify and seize the enormous business opportunities associated with climate change.
In The Business of Building Better Cities session GLOBE 2004 looks at incorporating sustainability principles into decisions and processes for the design and construction of buildings and urban transportation systems; in land use planning and governance; and in energy and water conservation programs and systems for cities.
An international crossroads and marketplace, the GLOBE Series, focused on developing the business of the environment, serves as an important global platform for Canada to showcase its capabilities in environmental management.
GLOBE 2004 will be held at the Vancouver Convention & Exhibition Centre March 31 to April 2, 2004. For further information visit: www.globe2004.com
Reference:, George Affleck
Curve Communications Group
604-684-3170, 604-684-3171 (fax)
george@curvecommunications.com
---
Review of Globe 2002

The role of business in the world's environmental agenda.
"We believe this is the most prestigious gathering of corporate leaders, policy makers and scientists in the business of the environment ever," says GLOBE Foundation of Canada President and Chief Executive Officer Dr. John D. Wiebe.
GLOBE 2002 is a global forum featuring over 200 of the world's top executives in the energy and environment field.
Anita Burke: Group Advisor-Sustainable Development and Environment, Shell Canada Ltd. (Canada)
Linda Coady: Vice President, Environmental Enterprise, Weyerhaeuser Canada Ltd. (Canada)
Dianne Dillon Ridgley: Director, Interface Inc.; Green Mountain Energy Company (USA)
Jim Dinning: Executive Vice President, Sustainable Development and External Relations, TransAlta Corporation (Canada)
Daniel Gagnier: Senior Vice President, Corporate and Environmental Affairs, Alcan Inc. (Canada)
Ian Johnson: Vice President, Environment and Socially Sustainable Development, World Bank (USA)
Elizabeth A. Lowery: Vice President, Environment & Energy, General Motors Corporation (USA)
Sir Mark Moody Stuart: Chairman, Business Action for Sustainable Development; former Chairman, Royal Dutch/Shell Group of Companies (Great Britain).
Dr. Herman Meyer: Project Director, Sustainable Development and Mobility, Volkswagen Group (Germany)
Dr. Ferdinand Panik: Vice President and Head of the Fuel Cell Project, DaimlerChrysler AG (Germany)
Ralph Peterson: Chairman, President and CEO of CH2M HILL Ltd. (USA)
Michael Phelps: Chairman & CEO, WestCoast Energy Inc. (Canada)
Dr. Karl-Henrik Robèrt: Founder and Chair, The Natural Step (Sweden)
Bruce Sampson: Senior Vice President, Strategic Planning and Sustainability, BC Hydro (Canada)
Sarah Severn: Director, Sustainable Development, Nike Corporation (USA)
Dr. Mark Small: Vice President, Environment, Safety and Health, Sony Corporation of America (USA)
Maurice Strong: Chairman, Earth Council (Canada)
Dorian Vanessa Weaver: Member of the Board of Directors, Export-Import Bank (USA)
GLOBE 2002 also features the participation of major political figures responsible for energy and environment issues including:
The Honourable David Anderson: Minister of Environment (Canada)
The Honourable Pat Duncan: Premier of the Yukon (Canada)
The Honourable Stephen Kakfwi: Premier of the Northwest Territories (Canada)
The Honourable John Leslie Prescott: Deputy Prime Minister (Great Britain)
Klaus Toepfer: Executive Director, United Nations Environment Program (Kenya)
The conference will provide a strong foundation for dialogue on the following themes:
Corporate Sustainability: Positioning for Maximum Benefit
Climate Change: Global Strategies for Adaptation and Mitigation
Continental Energy: Balancing Business Opportunity & Environmental Risk
Sustainable Mobility: Fuel Cell Vehicles and the Hydrogen Economy
Efficient Energy: Innovative Strategies for Meeting Energy Requirements
International Business Opportunities: Trends and Transformations in demand for environmental technologies and services.
GLOBE 2002 will take place March 13 &endash; 15, 2002 in Vancouver, Canada. For a full conference schedule see http://www.globe2002.com/
Renee Iversen Laura Ballance
GLOBE 2002 GLOBE 2002
604-666-5833 604-787-6982
renee.iversen@globe.ca laura@curvecommunications.com