!n BC's Mighty Fraser Country
Manning Park Receational Area
By Jerry E. Bird, Editor, WingSpan Magazine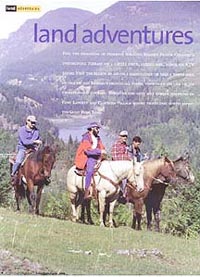 Manning Provincial Park is bisected by Highway #3, also known as the Hope Princeton Highway. A good way to discover the park is to take a driving tour from the west portal, 26 km east of Hope to the east portal, 84 km east of Hope, beyond Princeton. At the west portal, a carved Hoary Marmot marks the Engineers Loop Trail. Travelling east for 8.5 km, the Sumallo Grove parking lot is off on your right. From here, one can take a short stroll on the Sumallo Grove Interpretive walk. You might picnic by the Sumallo River, or start a 15 km hike along the Skagit River Trail in Skagit Valley Provincial Park. This part of the park is located in the eastern portion of the Coastal Rain Forest ecological zone. The large trees and undergrowth are well worth stopping to see.
Trail Names Worth Knowing: A further 5 km brings you to Rhododendron Flats Trail on your right. The trail's principal attraction is the rare and lovely red rhododendron, which blooms in great profusion in mid June. At km 12 off to your left is the Cascade Recreation Area Parking lot. This lot is the starting point for several historic trails: Dewdney, Whatcom and Skagit Bluffs Trail -all leading to the Cascade Recreation Area , adjacent to Manning Park. The Skagit Bluff Trail also connects to the Hope Pass Trail which in turn connects with the Grainger Creek and Heather Trails. Further along at km 17 the Cayuse Flats parking lot is on your right. Leave your car here if you wish to hike or horse back ride on the Hope Pass Trail or west on the Skagit Bluffs Trail.
The highway follows along the Skagit River through an area that is known as "the burn". "The burn" was caused by a tourist throwing a lit cigarette into the forest in 1945. The fire destroyed over 2,000 hectares of forest and was subsequently replanted. During the spring, after the snow has melted and the grass turns green, this is a common place to see black bears. Allison Pass is reached at km 33 - highest point on the Hope Princeton Highway at an elevation of 1341 m. The pass is northern terminus of the Memaloose Trail. 5 km further along is the Cambie Creek winter use area. Cambie Creek is the headwater of the Similkameen River. As you continue east you'll follow the Similkameen River, one of the few that flows west to east. It flows east towards Osoyoos, eventually flowing into the Columbia River in the USA, then into the Pacific Ocean.
Legend of the Sasquatch
You won't travel very far in Mighty Fraser Country without hearing about the legendary - some say mythical Sasquatch, BC's version of the Abominable Snowman - an elusive, hairy creature that walks like a man.
TRAIL MAPS: The Outdoor Recreation Council of BC publishes a series of maps of recreational areas, including Mighty Fraser Country. These maps show many of the back roads and trails, and contain information on a variety of recreational pursuits in BC They may be purchased at many sporting goods stores and bookstores, or by contacting: Outdoor Recreation Council of BC

Ste. 334 - 1367 West Broadway
Vancouver, BC V6H 4A9
Ph.: 604 -737-3058, Fax: 604- 737-3666
E-mail: orc@intergate.bc.ca
Web Site: www.orcbc.bc.ca