---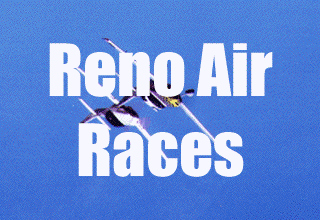 Click here or on above for individual photos and captions.

Reno Air Races and Airshow
Photos and story by Ed Anderson

"Freedom to Fly Forever"
The National Championship Air Races and Air Show was held September 11 - 14 at the Reno-Stead Airport, some twelve miles north of the "Biggest Little City in the World". Marking the 40th Anniversary of Air Racing at Reno Nevada, competing aircraft comprised six categories vying for total prize money of just over $1,000,000 - Formula One (IFI), Sport Biplanes (Bipes), Sport (kit built), T6/SNJ/Harvard, Jet (L-39) Invitational, and the Unlimited (high energy piston powered warbird types - Mustangs, Sea Furies, Yaks & Bearcats). The Unlimited is the premier race class which receives the lions share of the cash purse reward. "Fly Low, Go Fast, Turn Left" is the clarion call. For anyone who has not heard or seen this unique and absolutely exciting worlds fastest motor sport is missing, perhaps, the best 'pants on' fun possible, especially the 'Unlimiteds'. A flock of six to eight, sometimes nine, high powered propeller driven airplanes chasing one another around an 8.48 mile closed 'pylon-to-pylon' course, for upwards of five to nine laps depending on the race 'heat' and finals, often approaching speeds upwards of 500 mph, after a group air start and flown by fearless pilots as low as 100 feet or so above the ground, is about as thrilling as it gets for motor sport fans and spectators. As one veteran race pilot Allan Preston, said "Two and a half football fields every second…. If that doesn't get your stuff working, then your stuff's not gonna work".
Last year Skip Holm, renowned aviator, flew the highly modified P-51D Mustang, "Dago Red" #4, to a record qualifying speed of 497.787 mph, passing the previous record of 491.266 mph set by John Penny in 1996 with Lyle Shelton's big hybrid, radial engine F8F Bearcat, "Rarebear". The 40th Anniversary edition of air racing, however, also witnessed a record-setting performance, shattering the elusive 500 mph barrier, for the World Unlimited Class Speed Racing for piston powered propeller aircraft. Under ideal flying conditions on Friday, September 12, Heat 2A, Skip Holm of Calabasas CA, rode the No. 4 red Mustang, "Dago Red", to an unofficial fastest lap time of 511.957 mph and an official average lap speed of 507.105 mph. Holm apparently, was surprised himself, and the comment was also made that in the 40 years of the Reno Air Races, planes might have gone faster than 500 mph--but never for an entire race. Fans, spectators and especially "Dago Dogs" went wild with excitement. But that wasn't all of it. The "Bear" too, was back!! after a four year absence. Although the Merlin powered sleek red machine would not be bested, #77 "Rare Bear" with John Penny of Evergreen Colorado, on board, was not far behind #4, pushing an unofficial fastest lap time of close to 498 mph and an average posted lap speed of 492.936 mph, the best ever for the underdog and crowd favorite, "Rare Bear". The Worlds Fastest Motor Sport is alive and well.
The tradition of air racing, closed circuit pylon course and cross country, began in America in the 1920's and carried on through the 1930's and early 1940's at Mitchell Field, New York, Chicago, Kansas City and Cleveland Ohio, to name a few, by the likes of racing legends James Doolittle, James Wedell, Jacqueline Cochran, and Roscoe Turner. After war's end, 1946 saw a new era and return of closed course air racing at Cleveland led by fresh faces, Paul Mantz, Tex Johnston and Cook Cleland, flying the more powerful single engine surplus ex-military fighter planes of World War Two. Racing continued until 1949 when cancelled due to a tragic and fatal accident at Cleveland and the onset of war in Korea. Piston powered Unlimited air racing went into a deep sleep for over a decade, during which time only small aircraft and United States Air Force jets were favored to race. In 1964 a fellow by the name of Bill Stead, veteran flying ace of World War Two, Nevada rancher and sportsman, organized a closed course pylon air race at the Sky Ranch airport, near Reno Nevada giving birth to the National Championship Air Races. Bill Stead, unfortunately, was killed in a Formula One race in Florida shortly after the 1965 Reno Nationals, but his spirit certainly lives on. The early race years featured four classes of planes: Formula One, (previously Midget), Sport Biplane, Ladies Stock Planes( Piper Cherokees) with women pilots, and the Unlimited. The annual event including an airshow met with great success, and was only interrupted once - in September 2001, when all aircraft in the United States were grounded following the terrorist attacks in New York and Washington.
Headliner 'Thunder in the Sky' entertainment was for this banner year, served up by the USAF "Thunderbirds" Flight Demonstration Team. Piloting six F-16C Fighting Falcon fighter jets, the Thunderbird Squadron, celebrating 50 years representing the Air Force, and for 47 of those years based at Nellis AFB, Nevada, last appeared at Reno in 1999. It was also the "Thunderbirds" who inaugurated the Reno Air Races in 1964 flying F-100 Super Sabres. The 'T-Birds' this year arrived September 11. For the Thursday, Friday and Saturday shows they performed their usual impressive 40 minute program of launch and synchronized aerial displays to the obvious enjoyment of what appeared to be full-house crowds. The four day event, according to race and airshow officials, approached last years attendance record of 222,000. Those present Thursday September 11, also observed a moment of silence to mark the second anniversary of the terrorist attacks.
Other airshow performers included Gene Soucy/Teresa Stokes, aerobatic and wing walker routines, with the Grumman AG biplane "Showcat", Kent Pietsch and his famous flying comedy act in a 1942 Interstate S-1 Cadet, Kirby Chambliss, veteran aerobatic champion in his Zivko Edge 540, a Saab 'Draken' displayed by Skip Holm, Scott Hammack and the Air Force Reserve "Above and Beyond" Jet Dragster. The military put up Demo Flights of an A-10 "Warthog", F-18 Hornet, and S&R Helo while Air National Guard units provided F-16 action, Parachute Jumpers from a C-130 platform, Car Drop from a CH-47 Chinook (crowd favorite). A B-52 Stratofortress (BUFF) gave us a flyover visit on the Thursday. Friday and Race Sunday brought fly-byes of an F-117A Stealth. Also, a USAF Heritage Flight was put up each day, featuring an A-10 Thunderbolt II accompanied by retired General William Anders flying the P-51D Mustang "Valhalla".
Although 2003 was not without a few mishaps, several mechanical failures and maydays, there were, thankfully, no fatalities. Early in the week, just prior to qualifying trials, a couple of Formula Ones encountered emergencies but were brought down without life threatening results. Friday saw biplane racer Tom Aberle withdraw his radical modified Mong, #62 due to ongoing propeller failures, biplane racer Jacqueline Warda called a mayday because of a developed electrical problem in her Pitts Special #7, T-6 racer Gene McNeely lost fuel pressure, maydayed and landed without incident, the legendary Darryl Greenamyer made an emergency touch-down in his record-setting Lancair Legacy #33 caused by a ruptured oil line, Brent Hisey flying his new "Miss America" P-51 Mustang, also had to mayday due to mechanical trouble. Both Greenamyer and Hisey, however, later returned to racing form. The big Hawker Sea Fury "Dreadnaught" was regrettably grounded by the Sanders group after finding metal in the oil screen. Mike Brown's handsome looking F7F Tiger Cat "Big Bossman" #1 and his highly touted Hawker Sea Fury #232, "September Fury" were also retired to static display due to broken engines sustained in the qualifying rounds. Gold and Silver racers Matt Jackson in #5 "Voodoo" a P-51 (the hard luck plane), and Bill Rheinschild driving #117, "Bad Attitude" a Hawker Sea Fury, pulled up and out of their respective races before the finish because of engine problems. There may have been a few others that I've overlooked but for the most part these were the troubled aircraft. Thomas Camp it should be noted, ran the Friday featured Grumman FM2 Wildcat in the Sunday Bronze Unlimited race, at a rather slow 269.398 mph.
The pre-race odds-on-favorites to watch were, in the end, exact in all six classes. Nevertheless, some of the final results may have been somewhat closer had the breakdown misfortunes not intervened. This was especially so in the biplane class with the top qualifier, Tom Aberle's #62, out (Q.S.221.288), and the Unlimited with unknowns #232, "September Fury" and the big twin engine Tiger Cat #1 whose prospects were held pretty high, and then had the "Bear" #77 not lost the needed boost power in the Gold Race, what if? But that's all now history until next year.
Five-time Unlimited Champion, "Dago Red" and Skip Holm in a nine plane race, again captured the gold on Sunday, posting an eight lap average course speed of 487.938 mph. John Penny in "Rare Bear" closed in second place, unbroken at 483.942 mph, with Tom Dwelle in his big hybrid Sea Fury #10 "Critical Mass" finishing in third spot at 446.965 mph. Sherman Smoot and the little Yak 11 "Czechmate", who have not crossed the finish line in some time, took fourth place with 445.617 mph.
Other Gold winners were: Formula One - Gary Hubler of Caldwell, Idaho in a Cassutt III "Mariah" #95 (253.823 mph), Sport Biplane - David Rose of La Jolla, CA in a Rose Peregrine "Frightful" (219.181) - given the name, it was a bit 'frightful' for Rose at the finish when #3 began trailing big smoke, a blown engine, and upon getting the checkered flag pulled a roundabout, landing hot and short on downhill 26, to go off the end of the runway and flip topside. Afterwards he exited the plane unhurt, except for a cut finger. "Piece of cake" he was heard to say. As expected, Darryl Greenamyer of Las Vegas Nevada, garnered first place in the Sport Class driving the Lancair Legacy #33 at an easy 324.497 mph. (he wanted to run with the Unlimiteds on a qualifying speed of 347.616 mph but was denied). Nick Macey of Tulelake CA took the T-6 Class money in #6 "Six Cat" (235.264). Top qualifier of this group at 239.398 mph and 1997 Gold Champion Mary Dilda of Memphis, TN flying none other than her SNJ-6, "Two of Hearts" just couldn't close the distance on Macey who had a great start to get out front and stay there. Mary, nonetheless, did win top spot in the L-39 Jet Class Invitational driving #22 "Heartless" to a speed of 434.019 mph.
2003 was a superb weather year, and regardless of anticipated repeat gold winners, the racing was still exciting, albeit the Silver races seemed a tad more tuned to competition. As with any highly competitive sport it is those behind the scenes who really make it work and go. To this end recognition is more than due to the volunteers all, but especially the Mechanics who attend to the air racing machines, without whom everything is compromised. As pilots easily admit, it is these caretakers who are among the races' unsung heroes.
Also fair to say that we all missed the presence of #7, the bold, sleek, powerful P-51 Mustang called "Strega" who with her owner/pilot Bill "Tiger" Destefani, often called the 'ultimate racer', and six-time Gold Champions, have retired from the heat of competition of Unlimited Air Racing - Thanks for the Memories.
Story and Photos
By Ed Anderson