Photos and story by Ed Anderson

Bellingham Washington AIRFEST

Unprecedented crowds were drawn to the Bellingham International Airport June 15 this year, for an exceptional Father's Day Airfest event. Hosted by the Port of Bellingham and airport staff, gates were open to the public 10 am to 4 pm. Early marine cloud and a bit of moisture were dismissed by mid morning for a sun filled fun day. Vintage aircraft, pristine yesteryear cars, trucks, motorcycles and, this year for the first time, a full aerobatic display program. Airshow performers at their Sunday best were; Greg Poe of Boise Idaho, flying the "Crucial Edge 540", Bud Granley Airshows, Everett WA - 'Yak 55M', Ken Fowler and the 'Harmon Rocket', John Mrazek in his big Mk. IV Harvard, and the Fraser Blues, a five place Navion flying formation team, all based in British Columbia. The "Cascade Warbirds Squadron 2" were also in attendance as were the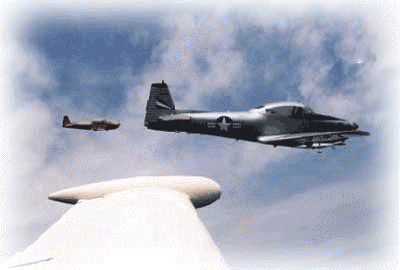 William Anders bunch with aircraft of the Heritage Flight Museum, Orcas Island WA, now apparently lobbying hard to relocate at the Bellingham International Airport. Late morning arrivals included eight members of the well known Blackjack Squadron, a 16 place formation flying demonstration group, sporting kit RVs, based at Arlington WA.
Upwards of sixty aircraft filled the ramp, from Amphibian Floats to Antiques, Classics, Kits, Warbirds, jet trainers and active military (two U.S. Navy F-18 "Hornets" and a U.S. Marines A-10 Thunderbolt II "Warthog"). Throughout the day there were a variety of planes that went airborne for fly-bys. Great Stuff.
A couple of Travelair biplanes, a Stinson "Detroiter" and an SNJ-5 were very steady all day with pay passengers. Likewise, the food vendors and display booths had little rest. For the young ones J.P. Patches Clown Show and Kids Korner easily took care of any boredom factor. A fairly good barometer that everyone really enjoyed themselves. Albeit the security presence was there, but in a rather subtle way, not overbearing, which made for a comfortable but safe environment. Quite a challenge in these days of increased concerns.
The affable Greg Poe, as always, thrilled his audience with vigorous and stunning sequences of aerobatic displays "from Out of the Blue". Loops, rolls, hammerheads, eight Cubans, free falls and more in his Crucial Edge 540 lightweight mount, built with the absolute best of aeronautic technology. 16 shows to this date, from El Salvador to Alaska to Saskatchewan, Canada and back to the circuit in the United States.
Story and Photos
By Ed Anderson