AIRSHOW GREATS HONOURED WITH PRESTIGIOUS AWARD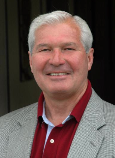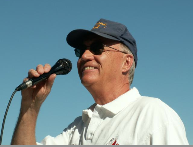 Ron Price and Bob Singleton were honoured Monday with the Order of Abbotsford.

Mayor Bruce Banman and council members welcomed Ron and Bob along with three other distinguished recipients at a ceremony held here in Abbotsford Monday night. The five will join a list of 53 previous honourees.

Ron Price, President of the Abbotsford Airshow, has been formally recognized as being an active leader in the community for the past four decades. Best known as the founding chairman of Airshow Canada, Ron is a force behind the creation of Tradex. In addition, Ron has also served on countless boards and committees including the Abbotsford Chamber, the Airport Authority, Tourism Abbotsford, and the Aerospace Industry Association of B.C.

Bob Singleton, is "the voice of the Abbotsford International Airshow.' Bob has been announcing the annual airshow since 1969. He has also acted as master of ceremonies for the Miss Abbotsford Pageant.
Singleton has held many community positions including Director of the Abbotsford Airshow, President of the Abbotsford Rotary Club and member of the Matsqui Police Board to name a few.
In 1996, the RCAF Snowbirds recognized Singleton by inducting him as an Honourary Snowbird
So where does one go from here with such an achievement? Possibly Citizen of the Year.
Congratulations Ron Price and Bob Singleton for your auspicious achievement! And thank you both for the many. many years of support of the Abbotsford Airshow Society.
The Abbotsford International Airshow
is an aviation festival that has grown well beyond its borders over the past 5 decades.
With a role from very early on as a significant stop on the 'Airshow Circuit,' Abbotsford has distinguished itself as an event focussed on aviation excellence, aerospace advancement and community participation.
The Abbotsford International Airshow Society (AIAS)
is the non-profit society that has operated in British Columbia, Canada since 1966, created as a distinct entity in preparation for the 1967 Canada Centennial Airshow.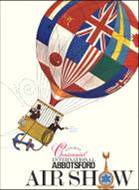 The keystone annual event-- The Abbotsford International Airshow, is organised by the Board of Directors, a Core Staff and the annual participation of 1000+ Volunteers.
---


AIRSHOWS,
MUSEUMS INDEX
Photo stories by Ed Anderson
AIR SHGWS
Abbotsford 2005
Photos 2004
Abbotsford 2003
Abbotsford 2002
Photos- 2002
Abbotsford 2001
Abbotsford 2001
Abbotsford 2000
Airfest Bellingham
Airfest Photos
Arlington,2003
Arlington Photos
Arlington Photos .
Air Show Gallery