Ride the Shoulders of Alaska's Sawtooth Range on the Railway Built of Gold
by Jerry W. Bird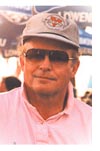 My endless fascination with railways and railroad memorabilia goes back to childhood days, when the White Pass & Yukon Railway of Gold Rush fame was linked via Skagway, Alaska, to a vast, complex transportation system of BC-Alaska Coastal steamships, caterpillar trains and Yukon river steamboats. Each trip we made 'outside' from Dawson City on the Klondike to Vancouver, British Columbia, involved four days upstream on the Yukon River by paddle wheeler; a day trip by rail from Whitehorse to Skagway; then another four lazy days steaming southward on CPR's Princess Norah or Louise. We sailed the Inside Passage, along the Alaska Panhandle and British Columbia Coast,stopping at the ports of Juneau, Ketchikan, Prince Rupert and Alert Bay. It's basically the same scenic route used by today's super liners and love boats. As a long time railway fan and originator of "Railways of the World," it's heart-warming to see the WP&YR not only still operating at Skagway, but considering extending the line in future.
White Pass & Yukon Railroad : A Colorful History
The 177-km White Pass & Yukon Railroad was completed in 1900 between the Alaska coastal community of Skagway and Whitehorse, Yukon Territory The WP&YR served first as a passenger train and supply line for the gold fields of the Yukon and acted as a freight carrier for nearby lead and zinc ore mines. When the mine closed in 1982, so did the railroad. The railroad reopened in 1988 for passenger service but has only traveled the first 64 km of the line to Lake Bennett, BC. On May 28, 1998, the WP&YR celebrated the 100th Anniversary of the driving of the first spike on the railway, with a dedication and ceremony in downtown Skagway. Skagway, Alaska Tourism: http://www.skagway.org/transportation.html
Len Brown, one of our readers attended a "Last Spike" ceremony on July 29, 2000. Here is an excerpt: " Al York and I do contract work for the Yukon Government, and I was up there working and took in the celebration. It was fantastic - up to an estimated 5000 people were there during the day - steam rides some 5 miles alongside Lake Bennett and back .. and a Steam Meet of 73 and 40. I am a steam nut (co-owner of 30053 - an M7 tank engine that runs on the Swanage Railway in Dor. - I even appeared in a video White Pass & Yukon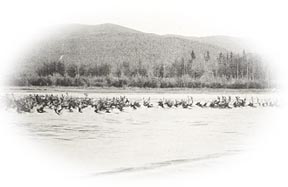 Route - the Railway Built of Gold.
Let's Hope
As a Yukokner by birth, I hope someday there will be an extension of this historic rail line at least as far as Carcross, Yukon. Originally called Caribou crossing because of its popularity as a native hunting ground, Carcross was a stopping place for gold stampeders on their way to the Klondike gold fields. Trains haven't traveled to Carcross since 1982. To be continued in our Rail Adventure Annual Edition.

Photo: Cariboo Crossing river in Yukon.
Photo courtesy Mrs. L. Zurkowsi, Delta, BC

How Peter Armstrong's Rocky Mountaineer sparked Canada's Rail Travel Renaissance
by Jerry W. Bird
Many of our readers who've lived in Canada for several decades will know about the love-hate relationship that existed between previous generations and the Canadian Pacific Railway (CPR). To a train fanatic like myself, riding the train has always been a positive, fun experience. After all, it was that same vast system that brought and a vast army of free spirits to Western Canada - to work hard, dream big and sink their roots. Among them were my great-grandfather Henry Morgan, who was one of Vancouver's first blacksmiths, and my grandfather Walter Bird, who left Guernsey for Alberta, and eventually to Palos Verdes Estates, Los Angeles, CA. His brother Frank Bird became a dominant force in the BC Auto Association for decades. Yet, when I launched the series "Railways of the World," in 1989, several so called travel experts scoffed at my idea of promoting rail travel in Canada, or anywhere else. A chorus of doubting Thomas's kept singing the same tiresome tune, until I turned the tables, and they saw the color of money.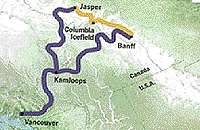 The rather lukewarm response to my flash of inspiration was not unusual; few other travel magazines in North America bothered to find space for railway-related items. Such topics usually appeared no larger than a quarter column, tucked away in the nether regions, or drowning in a sea of ads. After months of research and a mountain of faxes sent to various railway contacts, I managed to bring rail travel front and center for the first time in decades. To everyone's surprise, "Railways of the World" quickly became the hottest at the magazine. That's why we are proud to bring you "Adventure Rails." Watch for it on this web site - and at newsstands.
About the same time as I was attempting to revive rail travel in the public's mind, Peter Armstrong (the bellhop with a dream), launched the Rocky Mountaineer. It operated from Vancouver's (art deco) Pacific Station on Main Street, via Banff and Jasper National Parks, to Calgary and Edmonton. His Great Canadian Rail tour Company Ltd. became our first railway advertiser, taking the outside back cover. The nonbelievers and scoffers were out in full force on Peter's idea too - but look who has the last laugh. Great Canadian Rail tours has earned a prominent role on the Western Canada scene, and is packaging its exciting railway experience with cruises and motor coach combinations. There is no limit to the multimode travel options, offered by the geography of Alberta, British Columbia and the US Pacific Northwest. All it takes is a good idea and people to take up the challenge. Rail Travel in North America's National Parks is an ideal way to enjoy the complete view in a laid back setting.
Sample Canadian Rockies Escape Rail tour
6 nights / 7 days
DAY I Vancouver
Arrival Arrive in Vancouver for an overnight stay.
DAY 2 Vancouver to Kamloops
Transfer (included) to Pacific Central Station where you will board the Rocky Mountaineer. Follow the Fraser River through the Coastal Mountains and witness the force of Hell's Gate before it meets with the mighty Thompson River. Pass into Canada's desert belt, then on to Kamloops for the evening. Breakfast and lunch included onboard the train both days. Optional evening at Two River Junction Dinner and Musical Revue.
DAY 3 Kamloops to Jasper
Your rail adventure continues as you follow the North Thompson River between the Cariboo and Monashee Mountain ranges. Pass by Little Hell's Gate, through the Rocky Mountain Trench and feel the mist of spectacular Pyramid Falls on route to the Canadian Rockies. View the majesty of Mount Robson, the Rockies' highest peak at 3,954 meters (12,972 feet), before arriving in Jasper and transfer (included) to your hotel. Overnight in Jasper.
DAY 4 Jasper to Banff
Depart Jasper in the morning for an all-day motor coach tour down the awe-inspiring Ice fields Parkway with a stop at the Columbia Ice field. A Snowcoach ride on the glacier is included. Continue your tour along the Parkway and view Peyto Lake, Bow Lake and Crowfoot Glacier. Stop at fabled Lake Louise before arriving in Banff late afternoon. Overnight in Banff.
DAY 5 Banff to Kamloops
Transfer (included) to Banff Station to board the Rocky Mountaineer. Travel through the legendary Spiral Tunnels, Kicking Horse Pass, over Stony Creek Bridge and under Rogers Pass as you race wild mountain rivers into Kamloops for an overnight stop. Breakfast and lunch included onboard.
DAY 6 Kamloops to Vancouver
Back onboard the Rocky Mountaineer, follow the path of the salmon down to the Pacific Ocean, winding through the Thompson and Fraser Canyons as well as the Coastal Mountains before arriving in Vancouver late afternoon for your overnight stay.
DAY 7 Vancouver
Check-out this morning ends your Canadian Rockies Escape.
Package Includes 4 day Rocky Mountaineer Red Leaf Service; 4 breakfasts, 4 lunches; 6 nights accommodation; Ice fields Parkway Tour & Snowcoach ride; Rail Station transfers in Vancouver, Kamloops, Jasper and Banff. .....
E- mail us for prices.
Continued from above

Railways of the World: Building a Great Tradition
For "Railways of the World," in 1989, I contacted every known railroad operation worldwide, and spread the word to selected media in the USA and Canada, . Advertising support and a gallery of great photos came from every source - South Africa's Blue Train, Rovos Rail, Venice-Simplon-Orient Express, Trans Siberian, Malaysian Rail, Australian Rail, Spanish Rail and India's Palace on Wheels, to Colorado's Durango & Silverton. Canada's railways were totally onside. Every passenger railway and rail tour operator in existence, was on my editorial agenda, and still is ten years later.
Experts like Don Primi, of Gold Coast Royal Rail, a organizer of executive rail charters across North America, lent sage advice. Few escaped my scrutiny, including many short lines, with strange names that most so called travel experts have never heard of. Did it work? The railway features I wrote for a Seattle newspaper, filled our mailbox in Point Roberts, Wa., whenever they ran.
Virtually overnight, came a flood of of requests and anecdotes from readers in Seattle, King County, Portland, and far beyond. Results were similar in Canadian media that carried my 'Railways of the World' features. But now being our own publishers, there are absolutely no holds barred, as we lay plans for a bigger and better edition, serving a far larger market.
Question: What about a return to Historic Street Cars as a year-round tourist attraction and revenue generator? See our new series Streetcars & Street Sense. Combine Your Alaska Flight with a Rail Tour
by Jerry W. Bird
In our newest "Rails to Adventure" feature, Muguette Goufrani describes her Alaska experience, part of which included a scenic trip from Fairbanks in the interior, to Anchorage on the Pacific Coast, aboard the Alaska Railroad. She told us about the service, and how the scenery and grandeur left her breathless. To give you a quick introduction to the Alaska Railroad, here is a welcoming message to our readers and viewers from former Gov. Bill Shellield, President and CEO, Alaska Railroad Corporation . "Welcome Aboard Alaska Railroad, the last full-service railroad in the United States. We owe our success of the past 77 years to the hard work and dedication of our employees and the loyalty of our customers. From tidewater at Whittier and Seward to the heart of Interior Alaska, our route covers more than 500 miles." (continued)