---
Editor's note: One of the highlights of our career in publishing was a visit to Railfair in Sacramento. It was held at the California State Railroad Museum and was certainly an event to remember. We hope Railfair continues.
http://www.csrmf.org/doc.asp?id=374
The Railroad Technology Museum at the Southern Pacific Railroad Sacramento Shops
Momentum Builds with Completion of Reconstructed Transfer Table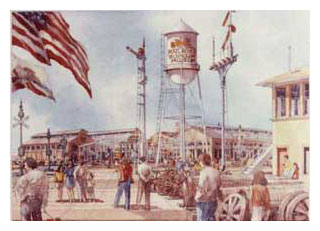 California State Parks, with the support of the California State Railroad Museum Foundation, continues to make progress toward placing the Railroad Museum's next phase in the historic Southern Pacific Sacramento Shops complex. Located adjacent to downtown Sacramento, the Shops are one of North America's most important industrial heritage sites. Proposed for the site is the Railroad Technology Museum (RTM), a major expansion of the California State Railroad Museum.
In late 1999, the Museum secured a lease from Union Pacific Railroad on the complex's two main structures, the Boiler Shop and Erecting Shop. These cavernous structures both date from the days when steam locomotives were built and repaired at the Sacramento Shops. Portions of the massive, brick Erecting Shop date from 1869 and SP predecessor Central Pacific Railroad (CP). As such, the Southern Pacific Sacramento Shops include the only surviving CP structures standing when America's first transcontinental railroad was completed.
In early 2000, the Museum completed moving its restoration facilities into the former Boiler Shop. In order to fully occupy the Erecting Shop with full-sized locomotives and cars, however, reconstruction of the Transfer Table&emdash;a bridge-like structure that allows access to the many "work bays" within the Erecting Shop&emdash;has been essential. Construction of the Transfer Table began during mid-2001, and it was completed in spring 2003. This $500,000 project has been funded through State Parks Deferred Maintenance allocations and a major fundraising campaign conducted by the CSRM Foundation in 2000-2001.
The completed Transfer Table now allows access to the Erecting Shop for the Museum's collection of historic railroad locomotives and cars. Stored outside for years, these historic items&emdash;many awaiting restoration&emdash;are considered a top priority for conservation by the Museum. Many of the locomotives and cars will become exhibits within the new Railroad Technology Museum, showcasing over a century of technological development and innovation in the railroad industry.
Restoration and maintenance activities for the Museum's collection of full-sized locomotives and cars have been conducted since 2000 in the complex's Boiler Shop. In December 2002, the latest project&emdash;refurbishment of a 1920s vintage coach with a Missouri-Kansas-Texas Railroad heritage for operation on the Museum's excursion railroad, the Sacramento Southern&emdash;was completed at the facility. Construction of the Transfer Table has also taken place in the complex's Boiler Shop, given its proximity to necessary tools and expertise.
Ongoing maintenance of the Museum's operating steam and diesel locomotives takes place in the Boiler Shop, along with maintenance of the Museum's coaches and converted freight cars which regularly carry school groups in spring and fall, and families during the summer. The necessary support systems for the Museum's operating railroad&emdash;track materials, specialized machinery, and wayside and at-grade crossing signals&emdash;are built and maintained here as well. Also under way is a railcar conservation project for another State Park, Colonel Allensworth State Historic Park, attesting to the Shops' ability to provide skills and tooling for a variety of activities.
Background
The Railroad Technology Museum (RTM) was envisioned in the very first planning documents created to guide development of the California State Railroad Museum. Planning for the RTM began in the mid-1980s, following completion of CSRM's flagship, the 100,000 square-foot Railroad History Museum in Old Sacramento. Intended to complement that facility, the RTM would convert a portion of the 44-acre historic Southern Pacific Sacramento Shops site into a dynamic cultural attraction.
The ambitious project would increase the drawing power of Sacramento as a cultural and tourism destination, and provide a unique focal point for surrounding Downtown Railyards and waterfront redevelopment efforts. Originally envisioned at a waterfront location south of Old Sacramento, the Railroad Technology Museum is much better suited for development in the former Southern Pacific Sacramento Shops. This adaptive yet historic re-use project would preserve the very structures that best commemorate and celebrate the history and technology of railroading in California.
It would benefit the Museum's commercial and residential neighbors&emdash;including Old Sacramento, the Union Pacific Railroad, and the City and County of Sacramento&emdash;and help spur redevelopment of the Railyards in a positive, historically appropriate manner. The spacious railroad shop buildings would house CSRM's collection of historic locomotives and railroad cars, plus formal museum exhibit galleries interpreting railroad engineering and technology.
Children would have the opportunity to explore fundamental physics and engineering principles through hands-on, interactive exhibits. Through the use of sectioned locomotives, scale models, interactive displays, oral histories, and other interpretive techniques, the Museum and its staff would educate the public about steam and diesel locomotion, track structure design and wheel interface, the importance of the Shops and its labor force in the development of Sacramento, and the relevance of railroads in helping meet the transportation challenges of the future for California and the United States.
Another significant aspect of the Railroad Technology Museum is the opportunity for the public to regularly view ongoing restoration work. Previously, this important aspect of the California State Railroad Museum's work has been conducted offsite, not accessible to the public. The ability to watch artisans working "real time" on steam and diesel locomotives, wooden and steel railroad cars, and other types of projects has significant informational and educational value. The facility could easily support curriculum-based educational programs for teenagers and young adults. Vocational educational programs could be established in conjunction with ongoing renovation work, offering new skills training and development.
To this end, the Sacramento City Council in late 1999 voted unanimously in support of the concept of locating the Railroad Technology Museum in the former Southern Pacific Sacramento Shops. The Railroad Technology Museum portion of the project is estimated to cost approximately $25 million. Development of other existing structures within the historic Shops complex are being discussed with the Union Pacific Railroad and railyard developers, as well as other cultural organizations potentially interested in the site.
Benefiting the Community
The Railroad Technology Museum represents a unique opportunity to secure public stewardship of the oldest (and for a time, largest) industrial complex west of the Mississippi River, which for 80 years was also the Central Valley's largest employer. It would create an urban museum complex contiguous with the Old Sacramento Historic District, itself internationally known, and its location and appeal would help foster surrounding transit-oriented development.
The Railroad Technology Museum would benefit the community in numerous ways. As the region's largest employer for decades, the Southern Pacific Sacramento Shops fundamentally influenced the development, concentration, and growth of many ethnic groups in Sacramento and the Central Valley. Ethnic diversity and community pride will be demonstrated through ongoing study and exhibition focused on the thousands of workers once employed in the Shops.
The California State Railroad Museum is uniquely equipped to foster the preservation and appreciation of California's rich railroading heritage. The Museum's primary mission is to preserve key railroad heritage resources, and make them available to the widest possible audience. Assisting the Museum (a unit of California State Parks) in its mission is the California State Railroad Museum Foundation, a non-profit organization chartered to raise and manage funds on behalf of the Museum and to provide a variety of additional support services.
Operated by California State Parks with assistance from the non-profit CSRM Foundation, the California State Railroad Museum is open daily from 10 a.m. to 5 p.m. except Thanksgiving, Christmas, and New Year's Day. Widely regarded as North America's finest and most-visited railroad museum, the complex of facilities includes the 100,000-square foot Museum of Railroad History plus the reconstructed Central Pacific Railroad Passenger Station and Freight Depot, 1849 Eagle Theatre, and Big Four and Dingley Spice Mill buildings in Old Sacramento State Historic Park.
home
Rocky Mountain Romance by Road, Rail or Trail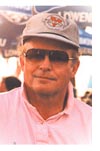 by Jerry W. Bird
"On every side the snowy heads of mighty hills crowded round, whilst, immediately behind us, a giant among giants, and immeasurably supreme, rose Robson's Peak." Cheadle 1865
For two active decades we lived and worked in Calgary,Alberta in the foothills of the Blue Canadian Rockies. Each time our spirits needed a lift, or one's system craved a shot of oxygen or adrenaline, it was a simple case of hopping behind the wheel and pointing the car directly west. During the trip, someone would insert an audio tape of John Denver's "Rocky Mountain High," and the picture would be complete. In less than one hour, those towering icons, Mount Norquay and Rundle would signal our arrival. Our family and I never tired of the Banff-Lake Louise area -- fishing and camping at Lake Minnewanka, mineral baths at the Upper Hot Springs for starters.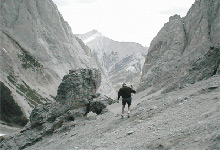 Golfing on the Banff Springs course, where you teed off across the Bow river, was a favorite. In winter, it was a frosty wonderland far grander than anything depicted in print and on film. At an earlier period I spent and entire summer in the saddle, trekking and mountain climbing in the Yukon with the government surveys - one of the greatest experiences one could wish for.
My son Ken chose another adventurous route; he loves to challenge the mighty rivers that snake through this vast area. This site features several of the 30 or more British Columbia and Alberta rivers traveled by Ken Bird of Calgary and his partners. Their main conveyance is a sturdy fiberglass canoe, however they also travel by kayak. Beaton - Clearwater - Murray Parsnip - Peace - Pine
Here are some travel and leisure experiences to enjoy in the Rocky Mountains of Canada and the USA.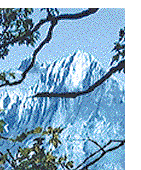 Great Drive to Hot Springs Heaven
There where the mighty mountains bare
Their fangs unto the moon.
There where the sullen sundogs glare
In the snow-bright, bitter noon.
And the glacier-glutted streams sweep down
At the clarion call of June.

The eternal icefields wear a "necklace of thermal springs", fed from water trapped in fissures and caverns deep in the roots of the Rockies. Raging rivers, glutted by the seasonal runoff, churn and boil like some concoction from a giant soda fountain. Oh the joys of steamy, bubbly hot, sulfur-scented waters; Solus Par Aqua (health by water) to the Romans; a sacred rite to Canada's native peoples, and Shangri-La to we hot springs fanatics. Speaking of natural spas, the Kootenays have them in spades; Ainsworth, Halycon, Nakusp, Ram Creek and Wild Horse. Many of these natural spas along the Columbia Valley and Continental Divide are so enticing, you'll want to stop the car right there and take the plunge. continued/ by Jerry W. Bird. Poem by Robert W. Service
---


Make Canada's Castles part of your Grand Railway Tour:? In my book of fondest memories, a Christmas - New Years fortnight at the Banff Springs Hotel, and a week at Chateau Lake Louise rank high. Here in the Canadian Rockies this pair of European style castles reek of elegance from the grand old days, when the world's rich and famous arrived by train, making these grand resorts their private playground. continue
---
How the Rocky Mountaineer sparked a Canadian Railway Renaissance: Many of our readers who've lived in Canada for several decades will know about the love-hate relationship that existed between previous generations and the Canadian Pacific Railway (CPR). To a train fanatic like myself, riding the train has always been a positive, fun experience. After all, it was that same vast system that brought and a vast army of free spirits to Western Canada - to work hard, dream big and sink their roots. continued
---
American Spirit Rail rediscovers the Old West: From Montana via Great Falls, Helena, Glacier National Park , Kalispell, Couer d'Alene, Idaho and Spokane to Seattle. America's best daylight train journey.
---


I am the Yellowhead: Heading westward from Jasper National Park, through the famous "Yellowhead Pass," I enter British Columbia, Canada's most westerly province. Near the Continental Divide at Tete Jaune Cache, in the shadow of Mount Robson, tallest peak in the Canadian Rockies, I give the motorist two pleasant options. One of my arms extends south along the North Thompson River beside Wells Gray Provincial Park to Clearwater, and on to Kamloops, Merritt and Hope. My other arm, slightly longer, points northwest, following the Fraser River to Prince George. From there I continue to Prince Rupert and Masset on the Pacific's Inside Passage to Alaska . Continuing west beyond McBride is Bowron Lake Provincial Park and plenty of great riverside stops for photography, a picnic lunch or fishing expedition. continued

Rocky Mountain House National Historic Park: Talk about thriving on competition; the first Rocky Mountain House was raised in 1799. Weeks later, James Bird, helped HBC erect a rival fort. Explorer David Thompson trekked to the Columbia River from here in 1807, and for generations Rocky was the Northwest's richest fur-producing area. The series of forts that stood on these hallowed grounds are remembered by two stone chimneys. Other exhibits include a York boat, Red River cart and fur press.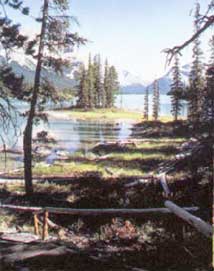 Jasper National Park
Many travelers first experienced this Rocky Mountain playground by train, sprinting off for souvenirs during a station stop. Most however arrive on four wheels. By car you can seize the moment, cooling off under a waterfall, standing bug-eyed at a viewpoint, or catching every photo op. Allow at least an extra day for this Rocky Mountain high. Why? --Jasper Park Lodge, the Whistlers , Punchbowl Falls, Pyramid Lake, Henry House, Jasper Lake, Skyline Trail and Pocahontas for starters. Top choices are Miette Hot Springs -- hottest water in the Canadian Rockies, and Maligne Lake, a portrait of serenity. A friend of Yellowhead describes it as follows, "Our first lodging was a war surplus tent; the most recent was years later at luxurious Jasper Park Lodge, where the waiter brought dinner to our cabin by bicycle. We've enjoyed it both ways."
Near the mouth of Rocky River, a cairn marks Jasper House National Historic Site, where a supply post was built by the Northwest Company in 1813. The park is a wildlife sanctuary, where deer and antelope play, bighorn guard the peaks, and bears are everywhere.
The Ice fields Parkway ranks among the world's great highroads, with glaciers standing like 100 icy sentinels. Jasper National Park's southern boundary is The Columbia Ice fields, a marvel of nature with the largest mass of ice in the Rockies. A fleet of Snow coaches traverse the Athabaska glacier, looking from a distance like ants on a giant vanilla marshmallow sundae. This seventh wonder is part of a formation that blanketed Canada for a million years. The highway follows the Sunwapta River, joining its cousin the Athabaska at Sunwapta Falls. The hottest water on the entire drive (54°C) is at Miette Hot Springs, near Jasper Lake, and Punchbowl Falls. Don't worry, it's cooled to a comfortable 39° in the swimming pool. Allow at least an extra day in the Jasper area , and enjoy a Rocky Mountain high you'll never forget.
---
Kimberley, BC: Cuckoos, Gingerbread and Lederhosen:
Ach der leiber! -- did you know that Kimberley is known as Little Bavaria, and is Canada's highest city. Small wonder -- you can get high just breathing the air! With ski runs almost on the main drag, we found ample apres ski time to quaff frosty steins of German lager, gnosh on schnitzel, and sing along to an oom-pah-pah band. On the Platzl, accordionists stroll, midst a scene of gingerbread, gushing fountains, sidewalk cafes and footbridges. Happy Hans, who dwells inside the world's largest cuckoo clock, pops out to yodel on cue. Stop and smell the flowers at Cominco Gardens, or hop aboard the Bavarian Mining Railway.

The Spirit Trail: Four mineral pools tumble down the hillside into the Lussier river at Whiteswan Hot Springs, near a lake of the same name. Many First Nations people made pilgrimages to these sacred waters via the Spirit Trail. At Canal Flats, your map shows two mighty rivers flowing side-by-side. Great lovers in Indian folklore, the Columbia and Kootenay Rivers were pledged to remain apart until completing their separate journeys.

To the K'tunaxa peoples, Columbia Lake's shores were a Garden of Eden, where the Creator placed his first people. Today, it's the site of Fairmont Hot Springs, which boasts Canada's largest natural hot pools, a lodge, and two golf courses. The original native bath house is open to visitors at no charge. Beyond Invermere and Lake Windermere, the road forks; route 95 heading north via The Bugaboos (of Heli-skiing fame) to Golden and Yoho National Park; route 93 becomes Banff-Windermere Parkway

Kootemik-Radium Hot Springs: Imagine if you can -- two million litters of hot, mineral-rich water gushing from the ground each day. That's a lot of Perrier! With healing powers reputed to relieve arthritis and a list of ailments as long as one's arm, a wily Medicine Man could have made a fortune selling it by the bottle. Known as Kootemik to local Indians, whose legend of Nipika traces their origin, the springs were popularized in the 1890s. At Radium's Aquacourt, you can soak year-round in the steamy, odorless mineral water, or swim in two outdoor pools. The Lodge has an 18-hole golf course, campgrounds and shuttle-bus.

Of Marble and Paint Pots: According to experts, Kootenay National Park is an ancient ocean floor. Over 70 million years ago, so they say, it was compressed, folded like a gigantic pretzel, and sculpted into what we call the Rocky Mountains. In 1920, Ottawa bigwigs dedicated the park in a move to preserve the canyon's mineral springs, and protect waterfalls along the highway. Landmarks on the Banff-Windermere Parkway include Sinclair and Marble Canyons, Vermilion Pass and the Fireweed Trail. Heard about The Paint Pots? Would you believe they're ponds of red, yellow and orange, just like a kiddies' coloring set? The pots are fed by oxide-bearing streams, and there's an endless supply. For ages untold, Indians mixed ochre from this site with fish oil or animal fat to decorate rocks, teepees -- and each other. Near Vermilion Pass, the Alberta- BC. boundary marks the summit of the Continental Divide; rivers east of here drain to the Arctic Ocean or to far off Hudson's Bay; waters to the west flow to the Pacific.

Banff Park's Castles and Caves: Imagine spending twelve festive days of Christmas in a fairyland castle! Truly unforgettable, when it's the Banff Springs Hotel. During many memorable stays, l learned of the hotel's hey day from band leader Louis Trono, who was on a first name basis with the Hollywood greats. As a return to elegance, the hotel offers a new $12 million health spa, with cascading waterfalls, mineral whirlpools and Turkish baths. The Banff Springs is an Epicurean's delight and a golfer's challenge. The first tee-off, from high above the Bow River to its far shore, still gives me goose pimples. Continued
---

Valemount and Tete Jaune Cache: At first sight, Valemount is a mere dot on the map, but look closely and you'll appreciate its strategic location. A tribal crossroads for centuries, new links were shaped by surveyors, railway builders and pioneers of our great highway system. Tete Jaune Cache was once a bustling community of 10,000, and mementos of that brief period are displayed at the Valemount and Area Museum. Worth visiting while you're in the vicinity are Mount Robson Provincial Park, one of the world's largest protected areas, R.W. Starratt Wildlife Sanctuary; Jackman Flats Nature Reserve, Salmon Spawning and George Hicks Park. Continued
---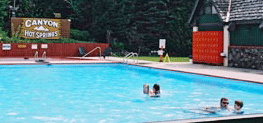 Photo: Canyon Hot Springs near Revelstoke, BC.
MORE WILL BE ADDED
ON THIS TOPICS AS TIME PERMITS.