---
Editor's note: One of the highlights of our career in publishing was a visit to Railfair in Sacramento. It was held at the California State Railroad Museum and was certainly an event to remember. We hope Railfair continues.
http://www.csrmf.org/doc.asp?id=374
The Railroad Technology Museum at the Southern Pacific Railroad Sacramento Shops
Momentum Builds with Completion of Reconstructed Transfer Table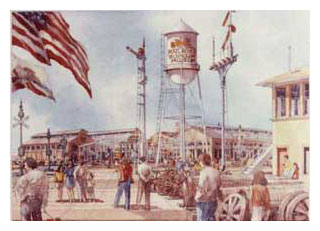 California State Parks, with the support of the California State Railroad Museum Foundation, continues to make progress toward placing the Railroad Museum's next phase in the historic Southern Pacific Sacramento Shops complex. Located adjacent to downtown Sacramento, the Shops are one of North America's most important industrial heritage sites. Proposed for the site is the Railroad Technology Museum (RTM), a major expansion of the California State Railroad Museum.
In late 1999, the Museum secured a lease from Union Pacific Railroad on the complex's two main structures, the Boiler Shop and Erecting Shop. These cavernous structures both date from the days when steam locomotives were built and repaired at the Sacramento Shops. Portions of the massive, brick Erecting Shop date from 1869 and SP predecessor Central Pacific Railroad (CP). As such, the Southern Pacific Sacramento Shops include the only surviving CP structures standing when America's first transcontinental railroad was completed.
In early 2000, the Museum completed moving its restoration facilities into the former Boiler Shop. In order to fully occupy the Erecting Shop with full-sized locomotives and cars, however, reconstruction of the Transfer Table&emdash;a bridge-like structure that allows access to the many "work bays" within the Erecting Shop&emdash;has been essential. Construction of the Transfer Table began during mid-2001, and it was completed in spring 2003. This $500,000 project has been funded through State Parks Deferred Maintenance allocations and a major fundraising campaign conducted by the CSRM Foundation in 2000-2001.
The completed Transfer Table now allows access to the Erecting Shop for the Museum's collection of historic railroad locomotives and cars. Stored outside for years, these historic items&emdash;many awaiting restoration&emdash;are considered a top priority for conservation by the Museum. Many of the locomotives and cars will become exhibits within the new Railroad Technology Museum, showcasing over a century of technological development and innovation in the railroad industry.
Restoration and maintenance activities for the Museum's collection of full-sized locomotives and cars have been conducted since 2000 in the complex's Boiler Shop. In December 2002, the latest project&emdash;refurbishment of a 1920s vintage coach with a Missouri-Kansas-Texas Railroad heritage for operation on the Museum's excursion railroad, the Sacramento Southern&emdash;was completed at the facility. Construction of the Transfer Table has also taken place in the complex's Boiler Shop, given its proximity to necessary tools and expertise.
Ongoing maintenance of the Museum's operating steam and diesel locomotives takes place in the Boiler Shop, along with maintenance of the Museum's coaches and converted freight cars which regularly carry school groups in spring and fall, and families during the summer. The necessary support systems for the Museum's operating railroad&emdash;track materials, specialized machinery, and wayside and at-grade crossing signals&emdash;are built and maintained here as well. Also under way is a railcar conservation project for another State Park, Colonel Allensworth State Historic Park, attesting to the Shops' ability to provide skills and tooling for a variety of activities.
Background
The Railroad Technology Museum (RTM) was envisioned in the very first planning documents created to guide development of the California State Railroad Museum. Planning for the RTM began in the mid-1980s, following completion of CSRM's flagship, the 100,000 square-foot Railroad History Museum in Old Sacramento. Intended to complement that facility, the RTM would convert a portion of the 44-acre historic Southern Pacific Sacramento Shops site into a dynamic cultural attraction.
The ambitious project would increase the drawing power of Sacramento as a cultural and tourism destination, and provide a unique focal point for surrounding Downtown Railyards and waterfront redevelopment efforts. Originally envisioned at a waterfront location south of Old Sacramento, the Railroad Technology Museum is much better suited for development in the former Southern Pacific Sacramento Shops. This adaptive yet historic re-use project would preserve the very structures that best commemorate and celebrate the history and technology of railroading in California.
It would benefit the Museum's commercial and residential neighbors&emdash;including Old Sacramento, the Union Pacific Railroad, and the City and County of Sacramento&emdash;and help spur redevelopment of the Railyards in a positive, historically appropriate manner. The spacious railroad shop buildings would house CSRM's collection of historic locomotives and railroad cars, plus formal museum exhibit galleries interpreting railroad engineering and technology.
Children would have the opportunity to explore fundamental physics and engineering principles through hands-on, interactive exhibits. Through the use of sectioned locomotives, scale models, interactive displays, oral histories, and other interpretive techniques, the Museum and its staff would educate the public about steam and diesel locomotion, track structure design and wheel interface, the importance of the Shops and its labor force in the development of Sacramento, and the relevance of railroads in helping meet the transportation challenges of the future for California and the United States.
Another significant aspect of the Railroad Technology Museum is the opportunity for the public to regularly view ongoing restoration work. Previously, this important aspect of the California State Railroad Museum's work has been conducted offsite, not accessible to the public. The ability to watch artisans working "real time" on steam and diesel locomotives, wooden and steel railroad cars, and other types of projects has significant informational and educational value. The facility could easily support curriculum-based educational programs for teenagers and young adults. Vocational educational programs could be established in conjunction with ongoing renovation work, offering new skills training and development.
To this end, the Sacramento City Council in late 1999 voted unanimously in support of the concept of locating the Railroad Technology Museum in the former Southern Pacific Sacramento Shops. The Railroad Technology Museum portion of the project is estimated to cost approximately $25 million. Development of other existing structures within the historic Shops complex are being discussed with the Union Pacific Railroad and railyard developers, as well as other cultural organizations potentially interested in the site.
Benefiting the Community
The Railroad Technology Museum represents a unique opportunity to secure public stewardship of the oldest (and for a time, largest) industrial complex west of the Mississippi River, which for 80 years was also the Central Valley's largest employer. It would create an urban museum complex contiguous with the Old Sacramento Historic District, itself internationally known, and its location and appeal would help foster surrounding transit-oriented development.
The Railroad Technology Museum would benefit the community in numerous ways. As the region's largest employer for decades, the Southern Pacific Sacramento Shops fundamentally influenced the development, concentration, and growth of many ethnic groups in Sacramento and the Central Valley. Ethnic diversity and community pride will be demonstrated through ongoing study and exhibition focused on the thousands of workers once employed in the Shops.
The California State Railroad Museum is uniquely equipped to foster the preservation and appreciation of California's rich railroading heritage. The Museum's primary mission is to preserve key railroad heritage resources, and make them available to the widest possible audience. Assisting the Museum (a unit of California State Parks) in its mission is the California State Railroad Museum Foundation, a non-profit organization chartered to raise and manage funds on behalf of the Museum and to provide a variety of additional support services.
Operated by California State Parks with assistance from the non-profit CSRM Foundation, the California State Railroad Museum is open daily from 10 a.m. to 5 p.m. except Thanksgiving, Christmas, and New Year's Day. Widely regarded as North America's finest and most-visited railroad museum, the complex of facilities includes the 100,000-square foot Museum of Railroad History plus the reconstructed Central Pacific Railroad Passenger Station and Freight Depot, 1849 Eagle Theatre, and Big Four and Dingley Spice Mill buildings in Old Sacramento State Historic Park.

Edmonton: Home to Aviation Pioneer Grant MacConachie and Other Legends
by Jerry W. Bird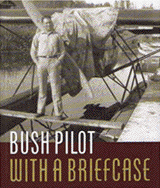 Grant MacConachie, the Edmonton aviator who founded Canadian Pacific Airlines and established an Air Highway to the Orient is one of my heroes and has been for years, long before I read the book about him. We were good friends with his PR man, Leo McKinnon, who told us many stories about this famous aviator that didn't get into print. For the complete story of his remarkable achievements read "Bush pilot with a briefcase."
As a rookie with The Edmonton Journal, my ear was glued to the radio for what many feel was the greatest football game of the century. With seconds to go, James Dickerson (Jackie) Parker scooped up a Montreal fumble and ran the entire field for a touchdown. Those few seconds kicked off Edmonton's amazing string of Grey cup victories. Never have I seen such a spontaneous eruption of civic pride as during my seven years in Alberta's capital. The cool, crisp air is a healthy tonic for body, mind and spirit -- and the work ethic was second to none. Most Edmontonians I knew were optimists - and I got to know some great ones, from hockey coaches like Bud Poile, to Mayor Bill Hawreluk, media moguls and captains of industry. In the years since, little has changed - Edmonton continues to amaze and to capture its share of victories in the arenas of sports and business. With the North Saskatchewan River flowing by, the Yellowhead Highways at its doorstep, a glorious Indian Summer that stretches the outdoor season, lakes galore and savory Ukrainian food, few places can match it as a healthy vacation spot and gateway to adventure." Read more about Edmonton when you finish this first page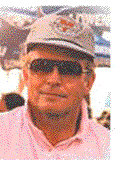 "City of Champions" .. a feeling that's contagious
At the Edmonton Journal Daily Newspaper, my old stomping grounds on the Banks of the North Saskatchewan River, we rubbed shoulders with many unique characters that made up the fabric of the city. It will also be my pleasure to tell you about some of Edmonton's superstars, from aviation icons Grant McConachie, Wop May and Max Ward to football and hockey legends by the score in coming editions of Air Highways Magazine. How can one help but love the city that jump-started his career, was home for seven years and a second home for much longer. No place I know has such energy, or capacity to seize the moment.
NAFTA's Northern Gateway is a magnet for tourism
Edmonton's aviators and bush pilots were famous for opening up Canada's north, and the city played a prominent role during World War II. With high frequency year-round service by both major Canadian Airlines to London-Heathrow, the world's most international airport, Edmonton is very well-positioned. It has the best all weather airport in Canada, being closed four hours total in the past ten years. At the crossroads of Canada's Yellowhead Highway, and the main route to Alaska, Circle Tour development is flourishing to Jasper National Park returning via the Columbia Ice-fields Parkway and Banff-Lake Louise.
Edmontonians have always been a cocky lot, from their sports dynasties and oil czars, to politics. Even the location is cocky ... perched regally on the North Saskatchewan cliffs; its Upper Level bridge reaching from Alberta's Legislature to the University area. And who else has the audacity to build a shopping Mecca that rates seven mentions in the Guinness Book of World Records?
Speaking of highs and lows, Edmonton's river valley, from Old Fort Edmonton to the Conservatory and beyond, is a tourist destination all by itself; golf courses and picnic spots. Get out and stretch your legs; this is the largest greenbelt of any major Canadian city.
Edmonton as a boomtown? - its archives tell of fur traders, riverboats, a Klondike boom, a railway boom, a land rush, and black gold that blew things sky high in '47.
Legendary bush pilots, who opened up the North live again at Canada's Aviation Hall of Fame. By the way, if you love to shop, or hanker for genuine Alberta Prime Rib; there's no provincial tax. And if I recall the jingle, "Your credit is fine with Irving Kline." Beyond the outskirts is Lake Wabamun (try saying that with your mouth full), a popular camping spot. Edson and Hinton are major stops en route to Jasper National Park. East of Edmonton are some great places to visit.
Nonstop scheduled services:
Overseas- London. Seasonal- Amsterdam, Frankfurt, Warsaw, Mazatlan, Puerta Vallarta, Los Cabos, Manzanillo, Varadero, Cuba, Acapulco and Ixtapa. USA: Chicago, Denver, Seattle, Salt Lake City, St. Paul, Portland, Oregon, Las Vegas, Laughlin, Nevada, Los Angeles, Honolulu. Maui and Phoenix.
As the gateway to Canada's high growth northern territories products, eco tourism and fly-in fishing, the future has arrived. The city's impressive location on the high banks of the North Saskatchewan gives visitors to its Conference Centre Complex a spectacular view of the river valley. Likewise, vacationers enjoy the largest parkland area in all of Canada, and a retail center that not only leads the nation, but still boasts no provincial sales tax. West Edmonton Mall ranks in the Guinness Book of World Records as a key attraction.
"Open Skies means that Edmonton's position as NAFTA's Northern Gateway is bound to strengthen over the years." That is how Dave Frank of International Commercial Centres reads the situation. Dave expects new nonstop flights from Edmonton to Seattle, San Francisco, Las Vegas, Denver and Chicago developing over time, as well as a continued strengthening of Delta Airlines service to their Salt Lake City hub, Northwest Airlines to their Minneapolis- St. Paul hub, and American Airlines to Dallas- Forth Worth. Strong, growing charter services will originate in Edmonton to European centres like Amsterdam and Warsaw, with domestic charters to Palm Springs, Phoenix, Las Vegas and Reno.
Air Canada: 1-800-222-6596
Local Res: (780) 423-1222
Info.: (780) 423-1101
Web Site: www.aircanada.ca
(includes partners AirBC, NWT Air
and Central Mountain Air)

Alberta Citylink: 1-800-222-6596
Local Res: (780) 423-1222

Air Transat: (780) 890-7099
Contact a travel agent for reservations.

Athabaska Airways: 1-800-667-9356
Contact a travel agent for reservations.

Canada 3000: (780) 890-4590
Web Site: www.canada3000.com

Canadian Airlines: 1-800-665-1177
Info.: (780) 890-4290
Web Site: www.CdnAir.CA
(includes partners Canadian Regional and Canadian North)

Horizon Air: 1-800-547-9308
Web Site: www.horizonair.com
(includes partner Alaska Airlines)

Lot Polish Airlines: 1-800-668-5928
Web Site: www.lot.com
contact a travel agent for reservations.

Martinair
Web Site: www.martinairusa.com

Northwest Airlines: 1-800-225-2525
Web Site: www.nwa.com

Royal Airlines: 1-800-361-6674
Contact a travel agent for more information.

Sky Service
Contact a travel agent for more information.

SunWest International
Contact a travel agent for more information.

WestJet Airlines: 1-800-538-5696
Info: (780) 890-8040
Web Site: www.westjet.com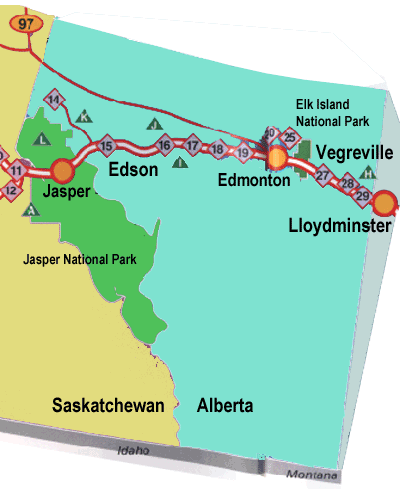 est Edmonton Mall http://www.westedmall.com/
A wonderfull Hotel only 11 blocks from the West Ed. Mall . Details at www.westharvest.com. Contact: Deborah Donick, Director of Sales & Catering. WEST HARVEST INN. PH 780-484-8000, Fax# 780-486-6060
For details contact: Edmonton Regional Airport Authority
(403) 944-6830 Fax (403) 425-0575. http://www.edmontonairports.com/
---