---
Editor's note: One of the highlights of our career in publishing was a visit to Railfair in Sacramento. It was held at the California State Railroad Museum and was certainly an event to remember. We hope Railfair continues.
http://www.csrmf.org/doc.asp?id=374
The Railroad Technology Museum at the Southern Pacific Railroad Sacramento Shops
Momentum Builds with Completion of Reconstructed Transfer Table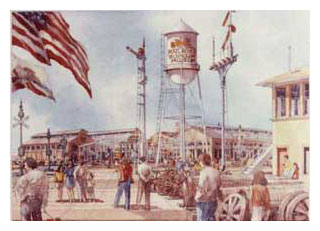 California State Parks, with the support of the California State Railroad Museum Foundation, continues to make progress toward placing the Railroad Museum's next phase in the historic Southern Pacific Sacramento Shops complex. Located adjacent to downtown Sacramento, the Shops are one of North America's most important industrial heritage sites. Proposed for the site is the Railroad Technology Museum (RTM), a major expansion of the California State Railroad Museum.
In late 1999, the Museum secured a lease from Union Pacific Railroad on the complex's two main structures, the Boiler Shop and Erecting Shop. These cavernous structures both date from the days when steam locomotives were built and repaired at the Sacramento Shops. Portions of the massive, brick Erecting Shop date from 1869 and SP predecessor Central Pacific Railroad (CP). As such, the Southern Pacific Sacramento Shops include the only surviving CP structures standing when America's first transcontinental railroad was completed.
In early 2000, the Museum completed moving its restoration facilities into the former Boiler Shop. In order to fully occupy the Erecting Shop with full-sized locomotives and cars, however, reconstruction of the Transfer Table&emdash;a bridge-like structure that allows access to the many "work bays" within the Erecting Shop&emdash;has been essential. Construction of the Transfer Table began during mid-2001, and it was completed in spring 2003. This $500,000 project has been funded through State Parks Deferred Maintenance allocations and a major fundraising campaign conducted by the CSRM Foundation in 2000-2001.
The completed Transfer Table now allows access to the Erecting Shop for the Museum's collection of historic railroad locomotives and cars. Stored outside for years, these historic items&emdash;many awaiting restoration&emdash;are considered a top priority for conservation by the Museum. Many of the locomotives and cars will become exhibits within the new Railroad Technology Museum, showcasing over a century of technological development and innovation in the railroad industry.
Restoration and maintenance activities for the Museum's collection of full-sized locomotives and cars have been conducted since 2000 in the complex's Boiler Shop. In December 2002, the latest project&emdash;refurbishment of a 1920s vintage coach with a Missouri-Kansas-Texas Railroad heritage for operation on the Museum's excursion railroad, the Sacramento Southern&emdash;was completed at the facility. Construction of the Transfer Table has also taken place in the complex's Boiler Shop, given its proximity to necessary tools and expertise.
Ongoing maintenance of the Museum's operating steam and diesel locomotives takes place in the Boiler Shop, along with maintenance of the Museum's coaches and converted freight cars which regularly carry school groups in spring and fall, and families during the summer. The necessary support systems for the Museum's operating railroad&emdash;track materials, specialized machinery, and wayside and at-grade crossing signals&emdash;are built and maintained here as well. Also under way is a railcar conservation project for another State Park, Colonel Allensworth State Historic Park, attesting to the Shops' ability to provide skills and tooling for a variety of activities.
Background
The Railroad Technology Museum (RTM) was envisioned in the very first planning documents created to guide development of the California State Railroad Museum. Planning for the RTM began in the mid-1980s, following completion of CSRM's flagship, the 100,000 square-foot Railroad History Museum in Old Sacramento. Intended to complement that facility, the RTM would convert a portion of the 44-acre historic Southern Pacific Sacramento Shops site into a dynamic cultural attraction.
The ambitious project would increase the drawing power of Sacramento as a cultural and tourism destination, and provide a unique focal point for surrounding Downtown Railyards and waterfront redevelopment efforts. Originally envisioned at a waterfront location south of Old Sacramento, the Railroad Technology Museum is much better suited for development in the former Southern Pacific Sacramento Shops. This adaptive yet historic re-use project would preserve the very structures that best commemorate and celebrate the history and technology of railroading in California.
It would benefit the Museum's commercial and residential neighbors&emdash;including Old Sacramento, the Union Pacific Railroad, and the City and County of Sacramento&emdash;and help spur redevelopment of the Railyards in a positive, historically appropriate manner. The spacious railroad shop buildings would house CSRM's collection of historic locomotives and railroad cars, plus formal museum exhibit galleries interpreting railroad engineering and technology.
Children would have the opportunity to explore fundamental physics and engineering principles through hands-on, interactive exhibits. Through the use of sectioned locomotives, scale models, interactive displays, oral histories, and other interpretive techniques, the Museum and its staff would educate the public about steam and diesel locomotion, track structure design and wheel interface, the importance of the Shops and its labor force in the development of Sacramento, and the relevance of railroads in helping meet the transportation challenges of the future for California and the United States.
Another significant aspect of the Railroad Technology Museum is the opportunity for the public to regularly view ongoing restoration work. Previously, this important aspect of the California State Railroad Museum's work has been conducted offsite, not accessible to the public. The ability to watch artisans working "real time" on steam and diesel locomotives, wooden and steel railroad cars, and other types of projects has significant informational and educational value. The facility could easily support curriculum-based educational programs for teenagers and young adults. Vocational educational programs could be established in conjunction with ongoing renovation work, offering new skills training and development.
To this end, the Sacramento City Council in late 1999 voted unanimously in support of the concept of locating the Railroad Technology Museum in the former Southern Pacific Sacramento Shops. The Railroad Technology Museum portion of the project is estimated to cost approximately $25 million. Development of other existing structures within the historic Shops complex are being discussed with the Union Pacific Railroad and railyard developers, as well as other cultural organizations potentially interested in the site.
Benefiting the Community
The Railroad Technology Museum represents a unique opportunity to secure public stewardship of the oldest (and for a time, largest) industrial complex west of the Mississippi River, which for 80 years was also the Central Valley's largest employer. It would create an urban museum complex contiguous with the Old Sacramento Historic District, itself internationally known, and its location and appeal would help foster surrounding transit-oriented development.
The Railroad Technology Museum would benefit the community in numerous ways. As the region's largest employer for decades, the Southern Pacific Sacramento Shops fundamentally influenced the development, concentration, and growth of many ethnic groups in Sacramento and the Central Valley. Ethnic diversity and community pride will be demonstrated through ongoing study and exhibition focused on the thousands of workers once employed in the Shops.
The California State Railroad Museum is uniquely equipped to foster the preservation and appreciation of California's rich railroading heritage. The Museum's primary mission is to preserve key railroad heritage resources, and make them available to the widest possible audience. Assisting the Museum (a unit of California State Parks) in its mission is the California State Railroad Museum Foundation, a non-profit organization chartered to raise and manage funds on behalf of the Museum and to provide a variety of additional support services.
Operated by California State Parks with assistance from the non-profit CSRM Foundation, the California State Railroad Museum is open daily from 10 a.m. to 5 p.m. except Thanksgiving, Christmas, and New Year's Day. Widely regarded as North America's finest and most-visited railroad museum, the complex of facilities includes the 100,000-square foot Museum of Railroad History plus the reconstructed Central Pacific Railroad Passenger Station and Freight Depot, 1849 Eagle Theatre, and Big Four and Dingley Spice Mill buildings in Old Sacramento State Historic Park.
ome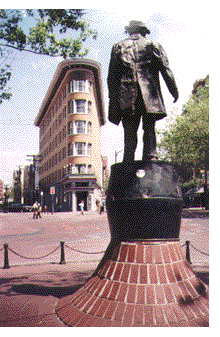 Have you recently arrived for a cruise or convention? Just steps from Canada Place, where Alaska-bound cruise ships berth, the West Coast Express Train rolls in, and float planes take off for BC's Adventure Islands, historic Gastown begins. Its cobblestone streets and ornate lampposts mark this piece of history a living museum ... an area of charm, character and curiosity.
From our magazine's office overlooking "Maple Tree Square," and the statue of Gassy Jack, our staff and visitors witness this magical transformation daily, as Gastown continues to amaze and delight. By day it's a magnet for hordes of tourists and locals, who flock to the art galleries, antique stores and native crafts shops, bistros and sidewalk cafes. Want the name of one of the neatest card shops in town, where you can find something unique for any occasion? Visit Kim Prints on Powell Street in the lower floor of the famous Europe Hotel, opposite Gassy Jack's statue (in above photo).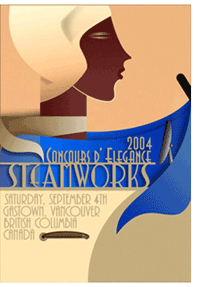 West Coast Gets World Class Concours
This display of 75 to 100 Classic and heritage cars took place from on Saturday Sept 04, 2004 in the Gastown district of Vancouver. Water Street was closed off for the day and cars were displayed from the Gassy Jack statue all the way to Granville Square. There was celebrity judging of the vehicles with awards for six categories of which "Most Elegant Car" will be the pièce de résistance.
At last, the Pacific Northwest has a concours to rank with the best. Steamworks Concours d'Elégance in Vancouver BC's historic Gastown district. Similar to New York's prestigious Louis Vuitton concours, this is an "invitation only" event with up to 100 rare and beautiful classics on display, competing for the title of "most elegant car." The Steamworks is a brew pub adjacent to the famous steam clock, a 9-foot tall, antique sidewalk-mounted clock that announces the hour by a whistle and huge puff of steam. Gastown's streets are paved with bricks, its buildings dating back to Vancouver's wilder days when it was first established as a major west coast port. A wonderful locale for what will surely become a prime stop on the vintage car calendar.. Web site:http://vintagecars.about.com/b/a/2003_08_26.htm

We heartily applaud the city's new Gastown Heritage management Plan that will involve the downtown tourist area's first serious face-lift in 30 years. Called the "Birthplace of Vancouver," Gastown has the city's largest concentration of heritage buildings. Even some of the newer buildings are adopting the turn of the century facade.
My early impressions of Gastown were much different. Each Saturday, I worked as a swamper, loading cases of grocery items from its busy warehouses and those of nearby Yaletown, the newest trendy district. As a youngster, Gastown was already an exciting place to visit, as the North Van ferry docked at the foot of Columbia Street. Woodward's Department store stood like a glorious beacon, the Army & Navy store was a Mecca for kids shopping for war surplus, Chinatown was where we renewed our arsenal of fireworks, and East Hastings Street was a blaze of neon.
Gastown springs to life each evening, with ethnic fare, gourmet dining, live entertainment and a variety of bars, pubs, and comedy acts. This diversity has prompted many young, upwardly mobile Vancouverites to consider our new urban hotspot as a unique place to live. It's a generation that seeks what Monty Python calls "something completely different"... which they're discovering right here in Vancouver's Gastown.
If you have an item on Gastown or any other BC Community. Send it to Airways BC Scene: airhwy@dowco.co

Vancouver Area Travel Links
www.hrmacmillanspacecentre.com
www.grousemountain.com
www.granvilleisland.bc.ca
www.moa.ubc.ca Museum of Anthropology
www.vanaqua.org Aquarium
www.vmm.bc.ca Maritime Museum
www.hellobc.com
www.findfamilyfun.com
www.pne.bc.ca (Playland/Pacific National Exhibition)
www.tourism-vancouver.org (Tourism Vancouver )
www.discovervancouver.com
www.portal.ca/vanbike/equip/bikerent.htm (rent bikes)
www.bikeways.com (bike routes )
Add your link to this list by email to: Air Highways Links
COTA News and Background

Tourism Vancouver's Main Website
http://www.tourism-vancouver.org/docs/visit
Footloose in Vancouver's West End and Stanley Park
by Jerry W. Bird

Having been footloose in Vancouver, British Columbia since the days of streetcars, interurban trams, White Lunch Cafeteria on Hastings, Woodwards Toyland and Union Steamships, I consider the West End my special domain. Morning, noon or night, it's always an inviting place for rubber-neckers, casual strollers, browsers, grazers and window shoppers. A sea of umbrellas one moment, local denizens decked in everything from beachwear to high fashion the next. It's a passing parade, minus the 76 trombones-just waiting for you to follow along.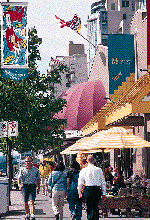 Recently, we walked Vancouver Harbour's new stretch of Seawall for the third time since the massive construction project began. From historic Gastown, we headed west to English Bay via the Pan Pacific Hotel and Canada Place Cruise Ship Center, Coal Harbor Marina, Cardero's and the newly renovated Westin Bayshore Resort Hotel. Next time we'll continue the full stretch to Stanley Park (another 5 minutes) and beyond. What a marvelous change with all the landscaping, shops and upscale condos. I made my rendezvous at the Coast Hotel at English Bay in exactly 45 minutes, allowing for a leisurely pace.
Defining the West End's boundaries.
In my opinion, Vancouver's West end extends from Burrard Street to English Bay, taking in Coal Harbor, Stanley Park, Lions Gate Bridge, English Bay, Sunset Beach and the entrance to False Creek at Burrard Bridge. On a tight schedule? Save a few minutes via SkyTrain, from Waterfront Station (by Canada Place) to Burrard Station, with transfers to BC Transit buses. Otherwise it's more fun walking, with lots to see and do.
From cruising the fjords to cruising the streets
My first view of Vancouver's West End was from the deck

of the Princess Louise, one of CPR's fleet of steamships that plied the Inside Passage to and from Skagway Alaska. What better introduction to a great city after four days of wilderness, waves and whales, than the vision of Lion's Gate Bridge and Stanley Park. So, if you've disembarked from one of this year's 250 Alaska Cruises, or gone footloose from a convention at Canada Place, the West End begins half a block away.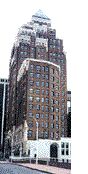 On the corner, the Marine Building stands like a royal guard, its 1930s art deco facade every bit as elegant as it was I attended the Faulkner Smith Art School there years ago as an aspiring cartoonist. Once touted as Vancouver's skyscraper, tallest in the British Empire at the time, it's now dwarfed by the glass towers of the city's growing financial district. On the Marine Building's ground floor is the Imperial Chinese Seafood Restaurant, one of the classiest oriental dining spots in town, graced by a sweeping harbor view, with float planes, helijets and marine craft of every description. A snowcapped mountain backdrop completes the panorama.
Here at the foot of Burrard Street, you might start your trek after a quick stop at at the Tourism Vancouver Info Center, leaving with some maps and brochures. And as you look at the float planes landing from Victoria, Nanaimo and points beyond, you'll spot a new stretch of seawalk that links the downtown's waterfront hotels with Stanley Park, English Bay and False Creek. We took the walk and viewed the upscale housing developments near the Westin Bayshore Hotel and Coal Harbor. Naturally, we stopped at the Marina and Carderos, a new waterfront restaurant that's got class, a reputation for great food, and a million dollar view.
Lotus Land's laid-back lifestyle
At close to two million population, Greater Vancouver is Canada's third largest city, yet its unique West End community has retained that same visitor-friendly, small town atmosphere I've always enjoyed. That's why our staff does most of its banking, entertaining, routine business and shopping there. Aside from a bevy of bookstores, the West End's Joe Fortes Library on Denman Street is my favorite spot for researching articles. Adjacent to King George High School, the complex houses a community center, and for those who yearn to strap on the blades ... an indoor ice skating rink . Several local figures skaters were proud to perform a "spinnerama" for Air Highways camera.
Head for the nearest water or green space and you'll see that West Enders are more into tennis, water sports and physical fitness than their fellow Canadians. They read, shop and dine out more often too ... and take longer coffee and cappuccino breaks. Small wonder Starbucks and Pastels dominate 3 corners at Robson and Thurlow, or that the local Bread Garden is Denman's top spot. Next to Manhattan Island, Vancouver's West End is the continent's most densely populated residential area, yet one of its most relaxed, laid back inner-city communities.
Speaking of Manhattan ... a gingerbread apartment block of that same name still stands at the above-mentioned corner. It houses a secluded Italian cafe and a neat bookstore, built for those with narrow shoulders. Rivaling Hong Kong and Rio de Janeiro as the world's most beautiful physical setting, Vancouver has become Hollywood North, ranking third after LA and New York as a film and TV production center. The West End alone has more unique locations and beautiful backdrops than anywhere else in the city.
Visitors are attracted to the city for the same reasons most residents remain ... a spectacular outdoor setting, a clean and safe urban environment and a culture that celebrates and invites diversity. For centuries this area was home to the Coast Salish people of the Musqueam, Kwantlen, Tsawwassen and Capilano bands as reflected by the totems standing proudly in Stanley Park. It was these tribes who greeted Captain George Vancouver in 1792. His comment must have referred to the forest and mountain backdrop of Burrard Inlet., "This is the most lovely country that could be imagined. "I n the late 1880s, Vancouver's first mayor drafted a petition to lease a 1,000 acre military reserve from the federal government ... an area that later became Stanley Park. Named for Governor General Lord Stanley, it's Canada's largest urban park, with its string of inner-city beaches and miles of walking trails that skirt Beaver Lake and Lost Lagoon, with its fountain of dancing waters and graceful swans.
Stands of stately Douglas fir, cedar and hemlock grow in profusion along with a jungle-like growth of ferns. Open 365 days a year, the Vancouver Aquarium in Stanley Park features killer and beluga whales, dolphins and sea otters ... a total of 650 species. There's underwater whale viewing and outdoor terraces (Information line 604-268-9900).
One of my top perennial attractions is Theater Under the Stars, where local performances of Broadway shows and operettas fill the summer evenings with song at Malkin Bowl. The surrounding gardens, statues and 1920s Pavilion are as beautiful as ever. Returning to Vancouver after a twenty year absence, this is one venue that continues to remind me of Stanley Park at its greatest. There's no better place for a picnic than Stanley Park, with a profusion of specialty shops, food markets and delis on nearby streets.
The inner-city's most popular loop
On foot or breezing along on skates or a rented bicycle, the 6 mile route around Stanley Park seawall is a stimulating experience, a feast for the eyes, and a mighty lift for the soul. You can start at either end. From the Georgia Street entrance, you pass such landmarks as the Vancouver Rowing Club, Deadman's Island, Coal Harbor, the totem poles, the nine o'clock gun, Brockton Point lighthouse, Lumberman's Arch, Prospect Point, Siwash Rock, Third Beach, and Second Beach.
Leaving the park at English Bay, the seawall continues on to Sunset Beach, Vancouver Aquatic Center and Burrard Bridge, connecting to a network of urban trails on both shores of False Creek, site of Expo '86. Stanley Park Cycle is on Robson near Denman, Bayshore Bicycle & Skate Rentals has locations at both entrances to Stanley Park. Give yourself plenty of time, from 2 to 4 hours.
Visit more of Vancouver on our Footloose Tours


West End and Stanley Park
Robson Street .
Gastown, Heart of Vancouver
Granville Island .
Kitsilano Beach Community
Commercial Drive .
Lonsdale Quay
North Shore
Waterfront .
Sea Island
SkyTrain .
Vintage Streetcars