"The prairie is high veldt, plus hope, activity and reward. Winnipeg is the door to it ... a great city in a great plain."
Kipling
MANITOBA

I am the Yellowhead.
Great cities have grown up along my treasured path, and the first among them to gain international stature was Winnipeg. Like a beautiful woman, she's had famous admirers -- and not all were bankers, real estate millionaires or railway barons. Author Rudyard Kipling was so enthralled by her charms, he wrote, "The prairie is high veldt, plus hope, activity and reward. Winnipeg is the door to it ... a great city in a great plain." Author Agnes De Mille, speaking of the Royal Winnipeg Ballet's rise to fame, commented, "The citizens of Winnipeg support the company because it is fine and because the citizens are neither surfeited nor corrupted. They take joy in beautiful things." Generations of children the world over relate to Winnipeg thanks to A.A. Milne's Winnie the Pooh, immortalized in books and on the silver screen by Walt Disney. Harking back to grade school days, many Canadians will recall how the poem "Winnipeg at Christmas," captures the charm of a frosty wonderland. Yes, the citizens here really do like the title "Winterpeg."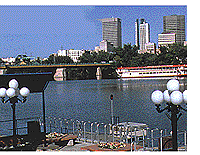 Winnipeg
Call her Chicago North, Canada's Crossroads, or simply "The Peg," Manitoba's capital is home to over fifty ethnic groups, all of which take part in the annual Winnipeg Folk Festival or "Folklorama," a Manitoba Mardis Gras. Read the street signs, phone book and place names and you'll soon discover that Winnipeg is the largest center of French culture outside Quebec Province. The city's annual "Festival du Voyageurs" is akin to the Quebec Winter Carnival, saluting the hardy pioneers that opened the west by canoe and muscle power.
The Forks. Check the city map; see how Winnipeg's streets and avenues converge like the spokes of a giant bicycle wheel. Three historic rivers, the Red, Assiniboine and Seine, merge here at a place called "The Forks." Not long ago, trains shunted back and forth, and river craft dumped their cargo at this busy downtown site. Today it's the "in place" -- an oasis of greenery, scenery and people-watching, with shops, sidewalk cafes, and a delightful riverfront promenade. To many first nations people, The Forks is where their ancestors hunted, fished and camped for centuries. The Forks National Historic Site preserves that 6,000-year legacy with interpretive programs, displays, sculptures, festivals and special events.
Footloose in Winnipeg. With so many heritage sites located in concentrated areas, walking tours have become a very popular way to 'do' the town. Besides the Forks, Winnipeg has numerous attractions to round out a visitor's agenda; Assiniboine Park, Manitoba's Parliament Buildings, Royal Canadian Mint, Winnipeg Art Gallery, Manitoba Museum of Man and Nature, Dalnavert Museum, Manitoba Children's Museum, Red River Exhibition Park, Little Italy, Jewish Heritage Centre of Western Canada, Manitoba Theatre for Young People, Polo Park, Western Canadian Aviation Museum, Osborne Village, the Exchange District National Historic Site, Portage Avenue and Portage Place Shopping Centre. Each is a precious jewel in the city's crown. We're sure you will discover even more treasures on your own.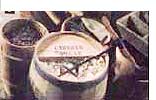 Red River Cart, York Boats and Buffalo Hunts. At Lower Fort Garry National Historic Site, North America's oldest stone fur trading post stands as a lone sentinel on the Red River shore. Launch-point for York Boat brigades heading to Hudson's Bay, the Mackenzie River or Athabaska Country -- or Red River carts bound for Minnesota, Lower Fort Garry was a bastion of Empire. Plan to stay awhile -- fresh bread's baking in the stone oven at Governor Simpson's Big House. Dinner's in the oven, and a magic lantern show is about to tell the fort's unique story. How more than1,200 Red River carts took off from here onto the southwestern plains during the great buffalo hunt of 1840. Some say this wild melee gave birth to today's Trans Canada Yellowhead Highway.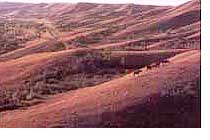 R.M. of St. Francois Xavier
Home of the famous White Horse. Steeped in history and folklore of the Assiniboine, Cree and Sioux, plus tales of voyageurs, mounties, missionaries and homesteaders, the R.M. of St. Francois Xavier occupies the NW corner of the rich central plains. Derived from a native legend, the region, by the Assiniboine River's scenic banks, is known locally as "White Horse Plain. The principal centre is the St.Francois Xavier community. Established in 1880, the rural municipality is a true example of Canadiana, and its history is certainly worth exploring.
The Delta Marsh. It's a short, smooth and pleasant drive from Winnipeg to Portage La Prairie, and a key point of interest along the way is Delta Marsh, a large grassland area at the south end of Lake Manitoba. The marsh is famous as a staging point for waterfowl.
Portage la Prairie
In days of yore, muscles of steel were needed by 'les voyageurs' to tote their canoes overland, hence the romantic name Portage la Prairie marked the spot. It honours one of French Canada's most famous explorers, Pierre de la Vérendrye, who stopped here in the 1730s. The city's Island Park - Crescent Lake complex is a year round attraction, featuring "Splash Island," a new outdoor leisure waterpark with two giant waterslides. On site are an 18-hole golf course, baseball diamonds and an oval for horse racing, playground, picnic and barbecues facilities. The area attracts one of North America's largest flocks of Canada Geese Of special note are the Fort la Reine Museum and Pioneer Village, the William Glesby Performing Arts Centre and the Portage Arts Centre and Gallery. On the city's southern outskirts is Portage Spillway Wayside Park, a popular recreation spot. Being a major food processing center, Portage la Prairie is square in the middle of Canada's richest, most productive farmland. The annual Portagex, Western Canada's oldest running fair salutes this agriculture heritage.
Lights Fantastic! Portage la Prairie won the coveted Winterlights Celebration from Communities in Bloom , a glowing example beingsthe "Manitoba Hydro Power Smart Island of Lights," presented by A Channel. A kaleidoscope of blazing colour, this 2-time national award winning light show has over 475 animated and static light displays, using over 135,000 bulbs.
Plane Facts. Nearby Lake Manitoba's warm, shallow waters bring fond memories for those who spent months of training with the Royal Canadian Air force. Today, the former Southport base is still thriving as an educational, flight training and technical , with a promising future in aerospace and related industries. Leaving the city of Portage La Prairie in your rear view mirror, the Trans Canada Yellowhead Highway continues, with Lake Manitoba to the north and Sprucewoods Provincial Park to the south.
Gladstone
Have you heard the expression - "in the middle of everywhere?" That's how one might describe Gladstone, which claims to be at or near North America's geographic centre. Settled in 1872, agricultural and food processing are its claim to fame, with names like McCain's and Maple Leaf Foods. Would you believe Gladstone was originally called Palestine? It was changed to honour a popular British Prime Minister. Now becoming a prime retirement community, Gladstone has the right ingredients; friendly folk, a lush golf course and city operated park for starters. At the Town Museum, one can trace the area's past -- and check the porcelain curios at Manitoba's largest gift shop.
A nameplate on the Trans Canada Yellowhead Highway nearby reads, "This cairn marks third crossing of the Whitemud River on the Pioneer Trail from Fort Garry to Edmonton."
Neepawa
Don't you just love the name Neepawa, with its lilting, musical sound? Say it softly, with a smile and give thanks, because in the Cree language, Neepawa means "abundance" or "place of plenty." Blessed with such a name, this delightful Manitoba community can't help but prosper. If you arrive in summer, stay a while and enjoy Neepawa's Lily Festival, where the whole community blossoms with pride. Neepawa's homegrown celebrity, Margaret Laurence, author of "The Stone Angels" grew up in Neepawa, and local settings were used in several of her best sellers
As portrayed in so many John Wayne western movie scripts, the action started the day the railway came to town. The real estate boom it sparked left a prized collection of vintage buildings in its wake, each lovingly preserved for the new millennium. After a day on the road, Neepawa's "Walking Tours" combine a glimpse of local history with fresh air and much needed exercise. To many, the name Neepawa brings back memories as a World War II air force base and NATO training centre.
Minnedosa
Speaking of meaningful, musical place names, "Minnedosa" combines the Sioux word for water (minne) and rapid water (duza). Its river is a tributary of the Assiniboine, which connects to the Forks at Winnipeg. Known as Manitoba's Valley Paradise, Minnedosa was recently voted the Province's most beautiful town, so take time to look around, smell the flowers and stretch your imagination. Steeped in early Canadian history, this bustling community was a stopping place in the 1880s for Red River carts heading west along on the Edmonton Trail. Choose your level or type of activity - be it sports fishing, horseback riding or hiking -- there is something here for visitors of all ages. As a tribute to the First Nations and Manitoba's provincial symbol, the main recreation area is Bison Park. Many travelers use Minnedosa on the Trans Canada Yellowhead Highway, as home base for day trips or overnight excursions to Riding Mountain, one of Western Canada's most outstanding playground areas.
Riding Mountain National Park. The Park is an "island of the prairies," where buffalo roam and 500 species of wildlife thrive. You can enjoy lectures, even take wolf-howling lessons here, but the Plains Indians' relationship with the buffalo is the top item on the agenda. Bathers will enjoy Clear Lake's sandy beach, while those afoot and on horseback, can rove the meadows, aspen groves and evergreen forests using the park's network of wilderness trails.
Shoal Lake
Back in the rough and ready days of redcoat justice, native treaties and the fur trade, Shoal Lake's tiny settlement stood on the far western boundary of Manitoba, then a new member of the Dominion. With the Royal Northwest Mounted Police post being located on the neck of Shoal Lake (its narrowest point) local Mounties could observe traffic en route to the territories. As more settlers made their way west, the main community took root several miles away. As a result, Shoal Lake now boasts two authentic RCMP posts. With such a colorful history, Shoal Lake and the RM of Shoal Lake have created a Cultural Heritage Village Museum, to include Elliott House, an original school house from 1907 and an extensive collection of wagons and horse drawn vehicles and farm equipment.
The RM of Harrison
Sandy Lake and Newdale are the main population centres to visit in the Rural Municipality of Harrison. Conditions here are ideal for livestock and growing rye, wheat, oats, barley, canola and alfalfa. Many come to retire here in one of the friendliest, laid back areas on the Trans Canada Yellowhead Highway.
Strathclair
Silver rails and azure skies. The Strathclair district includes the Little Saskatchewan River, the Assiniboine River, Lake Aud, Clear Lake and Riding Mountain National Park. the southeast is a fertile valley with forested areas. A Hudson's Bay Company fur trading post was built upstream near Elphinstone. The first major activity in the area started with the Strathclair Railway Station &endash; its name being a combination of the Scottish word "strath" for valley and "clair" for the surveyor Sinclair. As a salute to its railway days, the district museum is housd in a former Canadian Pacific Station, standing proudly beside an old country church, a blacksmith shop and various relics of farm machinery. By the way, there's no shortage of fun activities in the area, with all of the usual water sports at Thomas and Salt Lakes.
R.M. of Russell
Surrounding the Town of Russell and Village of Binscarth, the agriculturally based R. M. of Russell extends west to the Saskatchewan border. Spear Lake is popular for trout fishing; other options for recreation and relaxation abound, including scenic tours of the beautiful Assiniboine Valley.
Binscarth
What's happening in River City? With a capital P, it stands for pool. That's right - Binscarth has an outdoor swimming pool that's the largest on the Trans Canada Yellowhead Highway -- so bring your rubber fins. Here in Silver Creek Valley, there's miniature golf, beach volleyball, barbecues and hiking trails. Binscarthians are proud of their past, which comes alive at the Gordon Orr Memorial Museum, where rare relics of buffalo hunting days and native heritage blend with early farm life and remnants of a bustling turn-of-the century town. Being typically Canadian the museum has a vintage Massey Harris tractor, binder and seed drill. And don't let anyone tell you that the buffalo aren't coming back A tour of Silver Creek's Buffalo Ranch is proof positive.
Russell
General Lord Alexander George Russell, in whose honour the town was named, commanded Canada's fledgling armed forces in the late 1800s. A replica of the period is Boulton Manor, now a prime tourist attraction. This stately, well-preserved mansion once belonged to the family of Major Charles Boulton, who led Canadian troops to the battleground at Batoche during Northwest Rebellion. Should you wish to stay overnight, Boulton Manor has become a cozy bed and breakfast residence, offering tea service followed by a walking tour of the community. For the record, it was Major Boulton who founded the town of Russell in his friend's name.
Birtle
Located near the Trans Canada Yellowhead Highway, the Town of Birtle is the main community of the RM of Birtle, which has a population of 1,000. The town provides a variety of services for highway travellers.
Continued: Saskatchewan