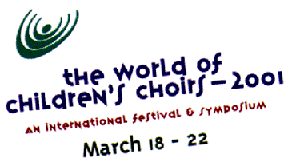 Vancouver To Host 50 International
Children's Choirs From 20 Countries

Fifty children's choirs from across Canada and around the world will take part in a region-wide celebration of young voices, as Vancouver hosts The World of Children's Choirs. As well as a total of 46 concerts at 16 Greater Vancouver venues, The World of Children's Choirs will offer four days of symposium sessions for teachers, composers, conductors and presenters of children's choral music.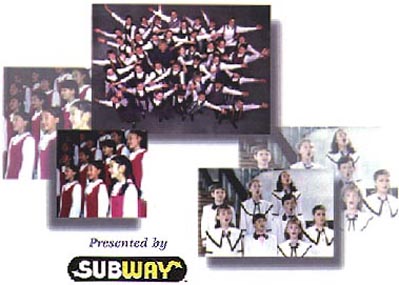 "We are both excited and proud to be welcoming colleagues, friends and choirs to this unique celebration of children's choral singing," says World of Children's Choirs executive director Morna Edmundson. "We see this as a wonderful opportunity for Vancouver audiences to discover the incredible talents of young singers from around the world, to create a once-in-a-lifetime experience for our children and to raise the profile of choral music."
The performance schedule for the World of Children's Choirs will include a gala opening concert at the Orpheum Theatre on Sunday, March 18, a second evening concert at The Orpheum on Tuesday, March 20 featuring the world premieres of four ground-breaking works for children's voices, two evening concerts at the Chan Centre for the Performing Arts and 24 afternoon concerts at Christ Church Cathedral, First Baptist Church, St. Andrew's Wesley Church and the Pavilion Ballroom of the Sheraton Wall Centre.
All 50 guest choirs will take part in the grand finale Festival Celebration Concert on Thursday, March 22 at BC Place Stadium.An additional 17 concerts will take place in cultural centres and churches in Burnaby, Coquitlam, Richmond, West Vancouver, Surrey and Point Grey where local children's choirs will be hosting the international visitors. Billed as the Global Village concerts, these events will give local communities an opportunity to hear their own children's choirs perform with international guests.
Tickets for the evening concerts at the Orpheum, Chan Centre and BC Place Stadium are $19 for adults and $13 for seniors, students and children. Tickets for the daytime concerts and the Global Village concerts are $7.00. Tickets are now available through Ticketmaster outlets, by phone at 280-4444 and online at www.ticketmaster.ca.
For further information the public can call the World of Children's Choirs office at 589-2307 and ask to be mailed a free copy of the festival brochure.