Pharaohs Lure Tourists
Story and photos by Habeeb Salloum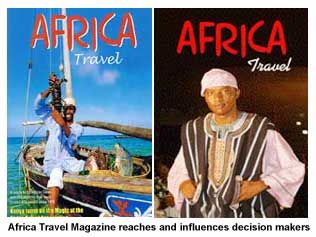 From atop the Cairo Tower, the mighty Nile appears to be overwhelmed by the edging luxury hotels and towering apartment buildings. Beyond, the city with its crowded streets, literally infested with humanity, spreads out to the horizon. In between the avenues with their mass of darting autos, one sees a thousand minarets of new and historic mosques, peppered with a number of Coptic-Christian basilicas. It appears to be an inviting city to explore - a mixture of eastern exoticism and Western sophistication.
Yet, this is not what the millions of people traveling to Egypt want to see. If one turns atop the Tower to the other side, in the distance, a visitor glimpses the outline of the Great Pyramids. Located on a desert plateau on the western edge of the city, they are the magnets that draw these tourists.
(1) Pyramids of Giza (2) Gold Mask of Tutankhamun
It is as if the pharaohs of Ancient Egypt are still caring for their descendants. Of the millions of tourists who travel to Egypt, the vast majority come to view the monumental vestiges left by one of the greatest civilizations the world has ever known.
Europeans and North Americans, traveling in groups, usually stop in Cairo, the cultural capital of the Arab world, but never in reality see Africa's largest city, milling with some 15 million inhabitants. They spend one or two days visiting the Egyptian Museum of Antiquities and the Great Pyramids, then are whisked southward to see the other eye-bulging works of the ancient Egyptians around Luxor and Aswan.
For Further Information Contact:
Egyptian Tourist Authority, 630 Fifth Ave., Suite 1706, New York, NY 10111, U.S.A.
Tel: (212)332-2570. Fax: (212)956-6439. or
Egyptian Tourist Authority, 1253 McGill College Ave., Suite 250, Montreal, Quebec, Canada H3B 2Y5. Tel: (514)861-4606. Fax: (514)861-8071.
Muguette Goufrani, Africa Travel Magazine's Francophone Editor covers West African destinations and events in detail. Her native language is French and she has lived in five West African countries, working for Air Afrique, Royal Air Maroc and Citroen. As a Travel Agent, she worked in North Africa, where her family operates an inbound tour company, and later in Tahiti and Cambodia. Muguette has been a partner in the magazine since it was founded in 1995. E-mail Muguette with your travel experiences in Cote d'Ivoire and other West African destinations. We welcome your input.