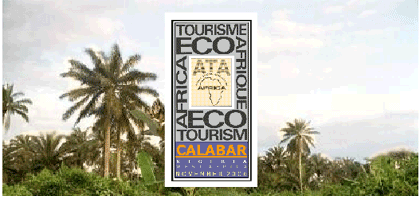 Calabar Hosted a Successful ATA 10th Ecotourism Symposium

Nigeria: A tourism destination full of challenges
by Helen C. Broadus
I had the wonderful opportunity to participate in a Familiarization (FAM) Tour to Nigeria, West Africa this past October as a member of Tourism Consortium International (TCI). The overall purpose of this trip was to experience the level of readiness of Nigeria's travel and tourism infrastructure to include its hotel accommodations, air and road transportation, hospitality amenities and security services. This journey was made possible by the efforts of Chief Margaret B. Fabiyi, Nigeria's ASTA Chapter President, who was able to have KLM Royal Dutch Airlines and the Nigerian Tourism Development Corporation (NTDC) co-sponsor the two-week program. Click here or on above photos for more pictures and captions.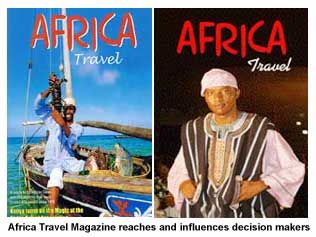 Two weeks of discovery
My colleagues and I really looked forward with wide-eyed anticipation to discovering Nigeria, 'Africa's Giant in the Sun,' because of what we had heard regarding its great natural beauty and the friendliness of its people. I was very interested in learning more about Nigeria, which has over 2,000 years of tradition and culture, with a unique combination of ancient and modern lifestyles. This very physically demanding two-week itinerary provided everyone with a fantastic opportunity to visit several historically and culturally significant tourism venues in over a dozen cities within eight states in Nigeria, West Africa to include Lagos and Badagry in Lagos State, Abuja, the Federal Capital, Lafia in Nassarawa State, Jos in Plateau State, Yankari in Bauchi State, Umuahia and Arochukwu in Abia State, and last but most interesting, Oshogbo in Osun State.
(see map of Nigeria)
Contact the Nigeria Tourism Development Corporation
http://www.nigeriatourism.net/main.htm


Airport services improved
As we arrived in Nigeria at the Murtala Mohammed International Airport in Lagos, we were quite surprised at the relative ease in our processing through immigration and customs. Much to our pleasure we were told that both the Ministry of Aviation and the Ministry of Tourism have done an excellent job in alleviating the extreme bottlenecks that travelers were accustomed to experience upon arriving in Nigeria. Our first stop was to Badagry in Lagos State, which was a strategic trading port during the infamous transatlantic slave trade period and the first mission post during the advent of Christian missionaries in Nigeria.
"The potential role of the tourism sector as a major instrument for socio-economic development cannot be overemphasized. These potentials cannot be realised unless our numerous tourist attractions are well developed, packed and promoted, with diligent attention to security and welfare of visitors. Nigeria Tourism Official web site is set to serve as the mouth piece of stakeholders in the pushing for positive changes in this all-important sector. You are therefore, invited to be part of this exciting development."
Bagadry and the Slave Route
During our visit in Badagry, we made a courtesy visit to see the King, Oba Akran of Badagry and took a Special Tour of the Palace Slave Relic Museum, Walked the Old Slave Route and ended up at the Slave Jetty where millions of slaves were off-loaded to be shipped abroad to an unknown destination. We also had a chance to briefly visit the impressive white sandy beaches at the Whispering Palm Beach Resort. Overall, my impression of Badagry was that it offers tremendous potential for cultural tourism as well as provides a great place to simply relax and enjoy the beautiful oceanfront atmosphere.
Abuja, the Federal Capital
On our next stop we flew into Abuja, the Federal Capital of Nigeria. I was very impressed by the recent renovations that were being made at Nnamdi Azikwe International Airport and was pleased to learn that the Nigerian government was really serious about improving the infrastructure of its airports for incoming tourists and business people. My impression of Abuja was that it is truly a 'City of the Future' set in a scenic environment which reminded me very much of Denver, Colorado. Located approximately one hour by air from Lagos, Abuja has excellent conference and accommodation facilities with the Nicon Noga Hilton Hotel and Sheraton Abuja Hotel and Towers as the two main places to stay in Abuja, although many other hotels are being constructed. Throughout Abuja there is much construction going on and the people truly exhibit an excitement about living in what is perhaps the most modern city in Africa.
Nigeria Tourism
While in Abuja, we had an opportunity to meet with the Executive Director of the Nigerian Tourism Development Corporation, (NTDC) Mrs. Omotayo Omotoso and her staff, during which time we discussed areas of focus and strategies for the improvement of the travel and tourism infrastructure of Nigeria. Later that evening, we had a wonderful dinner hosted by the NTDC and then took a nighttime city tour which reminded me very much of Washington D.C. with all of the monuments and federal buildings lit up. It was also interesting to discover that night life in Abuja appears to be very busy, with many of the local people and tourists alike out and about shopping at marketplaces, eating at restaurants and dancing at discos.
Nassawara and Bauchi States
The next day, our fantastic ten-day journey traversing the Nigerian countryside began! Our first stop was to Nassawara State. Here, we visited Lafia the capital city, which is blessed with precious mineral deposits and learned how the state government was in the process of conducting a tourism master plan to create a resort facility on the outskirts of Abuja. Nassawara State is full of impressive eco-tourism scenery to include its majestic Farin Ruwa Water Falls, the third largest natural waterfalls in the world. Next, we traveled to Bauchi State to visit the Yankari National Park with its Wikki Hot Springs. This immense wilderness area has tremendous potential for safari excursions and outdoor recreational activities.
Jos and Plateau State
Next, we visited Jos the capital city of Plateau State, which is a favorite tourist destination because of its high altitude (approximately 1,320 meters above sea level) and temperate climate year round. Jos is an area full of amazing natural rock formations to include Sherre Hills, Riyom Rock Formation, Kahwang Bassalt Rock Formation, Kerang Volcano and Wase Rock as well as the magnificent Assop Water Falls. The people of Jos treated us to a wonderful evening reception with cultural entertainment. On the next day, we had an opportunity to visit their Museum of Nigerian History as well as briefly shop at the marketplace in Jos.
Abia 'God's Own' State
After visiting these fascinating locations in the northeast, we headed south towards Abia State, affectionately referred to as 'God's Own State' It was here that we were really treated to the unique Nigerian traditions and cultures of its people, with a particular emphasis on Nigeria's role in the infamous slave trade. It was here that we experienced the Ikoro Bende legend in the ancient town of Bende, which was the first Colonial Divisional Headquarters of towns such as Aba, Umuahia, and Arochukwu. The history of Bende dates back to the period of slave trade and the extermination of the Long Juju at Arochukwu. It was here that our group was lead down the infamous slave trail crossing the mysterious hidden stream and then on to the secret shrine. At this shrine, the captives took part in rituals, which would determine their 'guilt or innocence' and whether they would be set free or pass through the 'tunnel of no return', never to be seen again.
While in Abia State, we also visited the land of the Igbo people and were exposed to several impressive welcoming festivals full of sounds, colors and sights. We also had the opportunity to visit several historic sites that are becoming recognized by the Nigerian people as extremely important to their ancestor's involvement and participation in the infamous slave trade. One very important site, which evoked strong emotional reactions, was the Museum of Antiquities Ujari in Arochukwu. Relics found here were collected through trade by barter with the slave traders. Most fascinating are the 1892 big bell, cannons, ancient chandeliers, large metal gongs, slave chains, hand and leg cuffs, brass plates, basins, buckets and silver jugs all believed to be from the slave trade era. My impression of these developing sites is that given the proper amount of research and resources, they could easily compete with the more frequently visited slave heritage sites of Senegal, Benin and Ghana in West Africa.
Osun State and River
Next we traveled west to Oshogbo in Osun State and visited the mystical shrine to the goddess of the Osun River and learned about the traditional ceremonial festivals that are highly revered throughout all of Nigeria. We also had the opportunity to pay a courtesy visit to His Royal Highness, Ataoja of Oshogbo as well as visit several arts and handicrafts shops in downtown Oshogbo. Our visit into downtown Oshogbo was a fascinating cultural excursion where we discovered the highly skilled carvers creating beautiful handicrafts that are renowned throughout Africa and beyond. Also, the night market was full of busy people shopping and selling their goods to one another.
Hospitality and Protocol
Throughout all that we experienced, the one thing that stood out most during our travels was our exposure to Nigerian protocol. Nowhere in my travels throughout the Continent of Africa have I ever been exposed to such formalities as when we visited the Federal Officials, State Governors, Prime Secretaries, State Tourism Commissioners, Kings and their Courts. In every state we were exposed to extensive protocol rituals as we made official visits and attended welcoming ceremonies, which was a true reflection of Nigeria's gracious hospitality and heightened excitement upon greeting our TCI delegation from America.

In conclusion, although the tourism infrastructure in Nigeria is not as developed as in other places in Africa, Nigeria offers perhaps the best variety of tourist attractions and destinations in West Africa. American tourists will discover numerous unique scenic attractions which differ from one place to another scattered throughout Nigeria that will allow them to experience and enjoy the people of Nigeria as they come in contact with the fascinating history, ancient traditions and varied customs of Nigeria's proud heritage. The members of TCI's delegation found that by conducting this FAM Tour, we discovered an unseen section of the African Continent once considered to be 'well off the beaten path' and thus gained a greater appreciation of Nigeria's people, culture and history. Our congratulations to Chief Margaret B. Fabiyi, who did a fabulous job in hosting the TCI Delegation. She really 'rolled out the red carpet' for everyone and we all left with fond memories of our visit to Nigeria that will surely last a lifetime!
Helen C. Broadus is the President of Venue International Professionals, Inc. (VIP) a full-service travel and tourism consulting firm based in the Washington Metropolitan Area. She is a member of the Africa Travel Association (ATA) and currently serves as the International Secretary of the organization. She can be contacted at 1-877-TO-VENU
Contact the Nigeria Tourism Development Corporation
http://www.nigeriatourism.net/main.htm
@nigeriatourism.net tel: +234 9 2347725