Under Construction. Photos to come.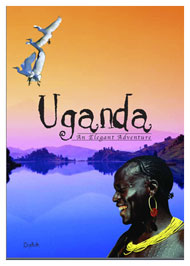 ABOUT NILE IVY AFRICAN SAFARIS
A Nile Ivy African safari is a privately owned registered company in Uganda East Africa . Our office is based in Kampala, the capital of Uganda, from where we co-ordinate safaris and tours which are conducted by us in all corners of East Africa. Our guides are based in various areas of East Africa.
We strive to bring you a unique and memorable East African experience through our expertise and our commitment to ensuring each of our clients depart from East Africa with memories of a wonderful experience in one of the world's most remarkable areas. We are members of the Africa Travel Association , and subscribe to their code of conduct. Our management team currently consists of five members. Each member of our management team has years of experience in the African Tourism Industry.
Nile ivy African safari is a specialist African safari and travel operator with a major presence on the internet. Our websites allows travellers to find out all about their dream destinations in Africa ; thereafter they can contact our Specialist Vacation Consultants who will tailor-make their vacations. Through us, travellers have access to a wealth of knowledge and a wide range of exclusively contracted product.
Nile ivy African safaris specialises in travel to, Southern Africa, East Africa and the Indian Ocean Islands . Our specialist countries include South Africa , Namibia , Botswana , Zimbabwe , Zambia , Malawi , Mozambique , Tanzania , Zanzibar , Kenya , Uganda , Rwanda , Seychelles , Mauritius and Madagascar .
As a bulk buyer of product direct from supplier, Nile ivy African safaris effectively cuts out the middlemen. Nile ivy African safaris adds value through its expertise, knowledge and ability to offer our clients exceptional product at competitive pricing.
Business profile
Nile ivy African safaris comprises several divisions each with core roles in the business.
• Our sales and operations team interacts directly with our customers, tailor making vacations using first-hand knowledge of our specialist destinations.
• Our product and marketing team sources and assesses product and markets it on our websites.
• Our technology team implements the most up to date and efficient technology solutions for the business.
• Our finance team ensures the swift payment of all invoices and the professional management of our resources.
The foundation of the organisation was as a traditional inbound tour operator. Working in the travel business, We believe our customers are the ultimate judges of our performance. Our clients expect - and merit - superior quality, service, and value. Nile ivy African safaris focus is on new and better solutions; we stress creativity and imagination in everything we do. Experience shows that if we serve our customers well, our own success will follow.
I trust you will find this website capturing and providing all the information you need to book a Safari with us.
What we are:
• A small company with a high level of expertise.
• Experienced in conducting safaris and tours in East Africa.
• A company dedicated to a personalized experience where no client ever becomes just another number.
• A company with the knowledge and infrastructure to make your safari or tour a memorable one.
• A tour operator that operates safaris and tours in Uganda and East Africa, not an agent.
• A company that provides quality safaris and tours at reasonable prices.
What we are not :
• A company conducting scheduled departure coach tours.
• A promoter of low quality, low cost services.
• A travel agent that promotes 3rd party safaris and tours.
WHY BOOK WITH NILE IVY AFRICAN SAFARIS
We can give you 30 good reasons to choose Nile ivy African safaris for your travel plans. Tailor-made Packages to suit your needs, competitive airfares, reliability, and convenience, peace of mind and quality product and professional service are just some of the things you can expect from us
We wish you a good value for your money Safari of a life time. I have no doubt you will have a memorable time with Nile Ivy African Safaris as we stay and take you to many attraction sites around the country.
Nile Ivy African Safaris (U) Ltd
P.O.Box 34450, kampala - Uganda
Tel: + 256 41 373 348
256 077 2 424 788
256 075 2 486 154
E-mail: admin@nileivy.com
reservations@nileivy.com
niafricansafaris@yahoo.com
Website: www.nileivy.com