Please scroll down this page for brief capsules which link to complete articles.
---
Gabon: A West Central African Profile
by Muguette Goufrani
As part of my decade living on Africa's West Coast, our family spent a memorable year in the Republic of Gabon, which hugs the Atlantic, straddles the equator and is roughly the size of France. Being health fanatics and outdoor types, my mother Suzanne, brother Jean Pierre and I thrived in the hot, humid climate - and in 12 months, managed to visit much of the countryside. This gave us an intimate connection with the Gabonaise culture and was valuable in my future career in tourism. We enjoyed a laid back, tropical lifestyle; food was delicious and varied, the shops and stalls were full of interesting items and tempting snacks. What's more, to our delight, the traditional West African culture had in no way disappeared with the oil boom."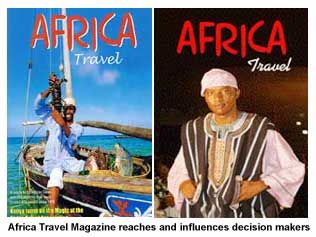 Thanks to mineral wealth and a relatively low population growth, Gabon is better off financially than most of Africa. This fact is reflected in their care and attention to basic ecological concerns. For example, the vast coastal wetlands and marshes, are still largely intact. This is something with which ATA members will heartily agree, the Association being a strong advocate of ecotourism. Gabon, which hosted the Africa Travel Association (ATA) International Congress in 1980, is easily accessible from the USA and Canada.
West Africa's Freedom City: Libreville, our home at the time, began as a settlement for freed slaves on the site of a naval fortress. How did it get its name? In 1849, our French ancestors captured a slave ship, releasing all of the passengers at the mouth of the Komo River. In joyous response and gratitude, the newly freed slaves named their settlement Libreville (Free Town). A lively and charming capital, Libreville reminds me of a quieter, more laid back 50s version of Miami Beach, with its large ocean-view hotels. To name a few, there's the Hotel Mont-Bouet, the Ebene, Rendema Meridien, Novotel's Rapontchombo, Hotel Okoume Palace Inter-Continental, Hotel Mont de Crystal and Hotel Gamba.
Libreville's chalk white buildings contrast dramatically with the dappled green shades of the nearby equatorial forest. It's a city of modern office buildings, fancy shops, supermarkets and white, sandy beaches inside city limits. Not far away (140 km) on the south coast is Port -Gentil on Ile de Mandji, a coastal island to the south. Fueled by oil funds and relatively high wages, the town has dozens of restaurants, night clubs and unique shops.
Getting around in Gabon: The country's national carrier, Air Gabon, has regular flights from Libreville International Airport to Paris, Rome and London as well as several cities in Africa. Air Gabon is one of the three or four best African airlines serving Central and West Africa. If you are arranging a bus tour, or taking a rental vehicle, there are over 5,000 miles of good road. A Land Rover or other 4-wheel drive vehicle is recommended in much of the forested areas. I
Mr. Hagos Legesse, Director

GABON TOURIST INFORMATION/AIR GABON

347 Fifth Avenue, # 810

New York, NY 10016

Tel: (212) 447-6700
Fax: (212) 447-1532

Muguette Goufrani, Africa Travel Magazine's Associate Editor/ Pubisher, covers West African destinations and events. Her native language is French and she has lived in five West African countries, working for Air Afrique, Royal Air Maroc and Citroen. As a Travel Agent, she worked in North Africa, where her family operates an inbound tour company, and later in Tahiti and Cambodia. Muguette has been a partner in the magazine since it was founded in 1995.
Gabon: Hotel Mots de Crystal
Pl. de L'Independance, PO Box 544, Libreville. Gabon
Tel No: 76-25-20, 76-25-23, Fax No: 74 65 01
Number of Rooms: 49, Single from: 64. US Dollars. A small hotel located in the centre of town, not far from the shore. Pleasant rooms with bath, air conditioning, radio and TV. 2 small suites. Bar, restaurant and garden. Limited meeting facilities and small pool. Wheelchair access. Rooms for non smokers. Free parking. Renovated in 1992. Facilities: Air Conditioning, Sandy Beach, Conference Facilities, Disabled Facilities, Swimming Pool
Airport: Libreville Leon M'ba 3 kms.
Credits: Legesse Travel and Tourism, New York, NY, USA