MARKETING TO AND FROM THE USA:

Baja California to Point Barrow, Alaska
by Jerry W. Bird

Having written a second lengthy episode of the Yellowhead Highway story, and updating our video documentary on the Alaska Highway's first half century, the task ahead is sure to be a super challenge. I fell in love with the open road at an early age, being born in Dawson City. Yukon to parents from Seattle, Washington and Vancouver, BC. My paternal grand parents lived at Palos Verdes, near San Pedro, California and our first drive from Canada down the old Highway 99 to visit them was like a dream. Subsequent drives have added fuel to the fires of desire and created an even greater hunger to explore the highways and byways of this vast region. In my mind, Highway 99 is every bit as romantic and nostalgic as the highway immortalized by Nat King Cole in the song, "Get your kicks on Route 66." The route takes you from the Mexican b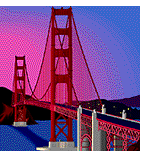 order, via California, Washington, Oregon and British Columbia, to the Yukon and Alaska. Similar to my "I am the Yellowhead" story, we plan to profile many of the towns and cities en route. Continued

Go for the Gold on San Francisco Bay
Inspired by the two Johns (Authors Steinbeck and Jakes) who recall their life and times in the San Francisco Bay, Monterey Peninsula, and Sacramento Delta, I was hooked from my first visit. The fact that both my father and sisters Rosalie and Sally chose to live there was another reason to spend so much time exploring many of the places I read so much about. When we visited the historic site at Sutter's Mill, where the '49er Gold Rush began, and drove through the mountains to Reno, I was part of the scene. Having harmonized with a Barber Shop Quartet in Folsom during their international convention, visited numerous wineries, and driven the Golden Chain, I soon became a Northern Californian at heart. San Francisco is a treasure chest of experiences.
Thanks Boeing for a Welcome Experience
Future of Flight Aviation Center

Hot Trends and Thriving Spas

Indiana Glass Fireworks
The cable cars and Fisherman's Wharf alone are enough of a drawing card to set many of us packing. I mentioned Folsom; it's a link in the "Golden Chain," (Highway 49) from Grass Valley in the North to Tuolome Country in the South. Along the way is a string of restored mining towns, each one being a photo op (the road is narrow, so be sure to drive slowly). Go there at the right time of year and you may take in a frog-leaping contest as described by John Steinbeck. Now that Alaska Airlines has such great fares from Seattle and Vancouver, it's getting easier than ever. (continued)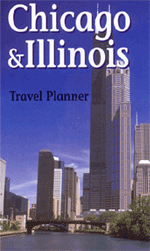 . 21-23, 2003
IATOS ADVENTURE TRAVEL CONFERENCE. WATCH THIS SPACE FOR 2006 SHOW DATES
Navy Pier Convention Center
in downtown Chicago.
IATOS, now in its 14th year, is the leading adventure and eco destination travel show for adventure enthusiast travelers. Get a snapshot of the world of adventure at IATOS 2003 and experience two and a half days filled with information, fun and excitement. Chicago's International O'Hare Airport offers diirect connections to over 60 international destinations. IATOS 2003 has everything you need as an adventure enthusiast traveler.
Texas: Fun-Filled Family Destination


Horseback riding, city tours in historic trolleys, roller coaster rides, beach-combing, resort family getaways or an adventurous road trip are just some of the activities that families can enjoy on a summer vacation to Texas. With plenty to see and do for family visitors of all ages, area attractions and special packages help parents provide their young ones with days of fun-filled summer adventures throughout the Lone Star State. (details)
Nevada Calling ...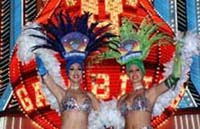 Watch for more photos and features on Las Vegas, NV, America's grand and glitzy desert playground, as Air Highways Magazine and its media affiliates organize, conduct and facilitate a new series of "Hands -Across -the -Border tours to U.S. and Canadian destinations. Let's prove that Open Skies is a reality. Some tours will tie-in with special events, sports playoff series, Anniversaries and Festivals.
Combine Your 'Alaska Flight' and a Pacific Coast
or Yukon River Cruise with a Railtour
Take a scenic trip from Anchorage to Fairbanks aboard the Alaska Railroad. Here is a welcoming message to our worldwide readers and viewers from the railway's management. (details)

Air Highways to Arizona on America West
Having spent many glorious days and nights in and around Phoenix, Scottsdale, Tucson and America's Southwest Desert country, we are pleased to introduce the airline that connects Canada's Snowbirds with Arizona and other fun destinations. Arizona's golf courses are superb, as was our week at Scottsdale's Mountain Shadows Resort, even though it was a mostly business affair. But business is always more than a pleasure in amazing Arizona. If you love barbecued ribs the size of bicycle handlebars, there's a place we visited in Phoenix that's out of this world. Ask America West about it. (continued)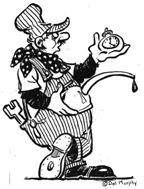 Meet Box Car Willie at California's Railroad Park near Mount Shasta
Railroad Park is a motel complex that features an acre or more of antique railway cabooses, gathered from across the USA. Returning from a "Railfair" meeting in Sacramento, we were stranded at Dunsmuir (near Mount Shasta) in the midst of a raging snowstorm. (details)
Snowbirds Flock to Sunny Florida
Our last visit to Florida was overnight from Seattle aboard USAir, for the America Travel Market in Orlando. We return for the Annual Golf Travel Market this year in St. Petersburg. It's easy to see why so many Eastern Canadians, Quebecers in particular, are turned on to this area as a Winter Escape; so now thanks to Open Skies, and a variety of travel options available, its Western Canada's turn. details
Seattle: Gateway to Puget Sound, Olympic Peninsula, Cascades and Alaska
I will never forget the day my son Ron and I had visions of Ivar's clam chowder, which started appearing like a mirage, while our car was still in the snowy Cascades east of Everett. Details

Now Your Advertisements have 9 lives:
Every page of every Air Highways will soon be available through our archives on free downloadable pages. This includes Adobe Acrobat software. That's a bonus to all past, present and future advertisers through this website. airhwy@dowco.com

Now! 50 States at One Location. Alphabetical List of Nations; Fast Facts & Trivia; Biography Directory; Newspaper Directory; Campaign 2000; Search Directory; College & University Directory; State Quarters Information; Community Pages Directory; State Tax Forms; 50 States & Capitals, www.50states.com