The Children's Museum of Indianapolis Unveils Fireworks of Glass,
Dale Chihuly's Largest Permanent Sculpture of Blown Glass
The grand opening of Fireworks of Glass is March 18, 2006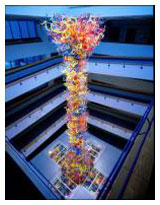 INDIANAPOLIS: Dedicated to creating extraordinary family learning experiences across the arts, sciences and humanities, The Children's Museum of Indianapolis in conjunction with renowned artist Dale Chihuly, opens Fireworks of Glass, the largest permanent sculpture of Chihuly blown glass ever created. The 43-foot Tower rises above a floating glass ceiling under which an innovative hands-on glassblowing exhibit for children and families is housed. Fireworks of Glass is a permanent world-class work of art for children and families to explore, learn about and create their own works of art.
Photo: http://www.newscom.com/cgi-bin/prnh/20060318/DESA001
Located in the museum's core, a five-story central atrium, the Chihuly sculpture and ceiling will be seen by more visitors than any other exhibit in the museum. "An estimated 60 million children and families and up to 7 million school children, and their teachers, over the next 50 years will view Fireworks of Glass, an extraordinary work of art that would not normally be seen in a children's museum," said Dr. Jeffrey H. Patchen, president and CEO of The Children's Museum of Indianapolis.
"Glass is the most magical of all materials. It transmits light in a special way ... I'm pleased that my art appeals to so many people of all ages. As a parent and an artist, I'm especially looking forward to leaving a legacy at The Children's Museum, a place where I hope my work brings joy to children who visit from all over the world," said Dale Chihuly.
"The Children's Museum is known for providing outstanding opportunities for the exploration of the sciences, history and humanities. This one of a kind work of art will serve as an icon for cultural tourism for our city," said Indianapolis Mayor Bart Peterson.
Fireworks of Glass:
Standing more than 43-feet tall, Fireworks of Glass is comprised of more than 3,200 individually blown, glass pieces.
During the day, it is bathed in natural light and is spectacularly lit at night for evening events. Children and families can circle the tower via the museum's ramps to explore the sculpture from all sides.
Fireworks of Glass Ceiling:
The Fireworks of Glass ceiling is cross shaped, and consists of more than 1,600 brilliant, colorful glass pieces in a myriad of shapes. Exotic-named pieces such as Sea Tubes, Hornballs, Persians, and Putti are displayed inside a suspended glass ceiling with the tower mounted above. From the museum's Lower Level, children and their families are able to sit on a revolving viewing platform below the illuminated ceiling and talk about what they see overhead. Special lighting highlights individual pieces and casts dramatic colors and patterns on the floor and walls.
The Interactive Hands-On Exhibit:
Underneath the ceiling of Fireworks of Glass, is a permanent hands-on interactive exhibit area featuring learning stations where visitors create their own sculptures from a wide variety of colorful, molded glass-like shapes called polyvitro. Family-sized benches, surrounded by computer touch screens, accommodate families as they blow their own virtual glass art piece. Visitors can also view a 180-degree virtual image of the Hot Shop where Chihuly and his team blow glass. On-screen boxes pop up with information about Chihuly, his artwork, the glassblowing process and the design, creation and installation of Fireworks of Glass.
The Children's Museum of Indianapolis, 3000 N. Meridian St. The museum is open daily, 10 a.m. - 5 p.m. (Closed Mondays, Labor Day - mid-March only.) Admission prices are as follows: Under 2, free; Youths (2 - 17), $7; Adults, $12; and Seniors (60+), $11.
SOURCE The Children's Museum of Indianapolis
CONTACT: Donna Lolla, Director of Public and Media Relations of The Children's Museum of Indianapolis, +1-317-334-4003,
donnal@ChildrensMuseum.org ; or Janet Makela, Publicist of Chihuly Studio,
+1-858-775-1702, jmakela@earthlink.net /
Photo: NewsCom: http://www.newscom.com/cgi-bin/prnh/20060318/DESA001
AP Archive: http://photoarchive.ap.org
PRN Photo Desk, photodesk@prnewswire.com /
/Web site: http://www.childrensmuseum.org /