Who-o-o are you?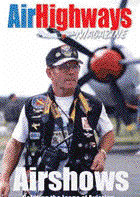 We're an independent publishing group, launched in 1992 with a multi-modal Supermap, special event magazines and e-zines.
- The US-Canada Open Skies Agreement and Transport Canada's National Airports Policy gave birth to our first Air Highways edition.
- Apec '97 was the staging point for our Asia Pacific Travel series.
- The ATA International Congress in May and the Cultural-Ecotourism Symposium in December, have anchored our Africa Travel series since 1996. Each magazine has its own web site, providing a network that allows cross-promotion of client activities. As a further stimulus, we organize trade shows, missions and seminars.
• Air Highways Magazine http://www.airhighways.com
The Journal of Open Skies features air and marine gateways to trade and travel. Copies are available via tourism offices, airports, heliports, government agencies and travel trade associations. A popular item is the fold-out Supermap of air routes and connecting transportation.
• World Scene Magazines http://www.bcscene.com
We provide regional e-zines, supported by printed editions targeting scheduled events. BC Scene features economic development, travel and tourism in British Columbia and Canada's Yukon. A Western Canada Scene edition is in progress, with a focus on transportation and resources.
• Africa Travel Magazine http://www.africa-ata.org
Launched in 1995, this full color magazine is now published in English and French. It is produced in partnership with the Africa Travel Association, a nonpolitical, nonprofit organization with head office in New York, NY, USA.
Subscriptions and archive editions $6.00 US.


Who-oo says it's a keeper?


Who-oo says each copy is a keeper?
Our readers do. They have at least 6 reasons to save each printed edition, which, like National Geographic, never seems out of date.

1. One of a kind information
2. Supermaps of air, land and sea routes.
3. Exclusive in-depth items
4. Key historical features.
5. Specific destination coverage.
6. Advance editions of books and guides.



Who-oo advertises in your magazines
and exhibits at your events?


Our advertisers represent every facet of travel, trade and transportation; from major airlines to seaplane and helicopter services; from remote lodges to international hotel and resort chains; from remote communities to cities and countries. (list on next page)
Here is an overview of our advertiser classifications:
1. TRAVEL DESTINATIONS: Airports & Seaports / Chambers of Commerce/ National Trade & Tourism Offices

2. ACCOMMODATION: Hotels & Resorts/ Lodges/ Ranches
3. TRANSPORTATION: Airlines/ Cruise lines/ Railways/ Bus lines/
Automobile and RV Rental/ Limousines

4. TRAVEL/ TOURS: Group tours/ Fam Tours/ Wholesalers/ Consolidators/
5. ACTIVITIES/ OUTDOORS: Golf Resorts/ Ski Areas/ Cruises / Fishing Charters

6. ENTERTAINMENT/ SHOWTIME: Attractions/ Restaurants / Events/ Pro Sports/ Arts/ Theme parks/ Casinos/
Conferences/ Anniversaries

7. PROPERTY/ REAL ESTATE: Retirement & Vacation Properties/ Tax Shelters / Time Share/ Airport Land Development/ Real Estate Services

8. BUSINESS/ INSTITUTIONAL: Banks/ Financial / Associations/ Hi Tech / Computers & Internet/ Communications / Automotive/ Leasing
9. TOURISM CAREERS: Colleges/ Training Seminars/ Placement/ Career Ops/

10. HEALTH / SECURITY: Vaccines/ Remedies/ Health Spas/ Medical Plans/ Travel Insurance

11. AIRPORT COMMERCE: Ground Services/ Shops/ Parking/ Restaurants/ Couriers/ Cargo

12. MARKETPLACE- MAIL ORDER: Arts & Crafts / Books & tapes/ Luggage / Maps / Cosmetics / Fashions: Cruise, Safari, Ski and Golf Wear/ The Ethnic Look
For advertising rates and data, we request that you fax or e-mail us, providing your name, return address and contact details.
Aviation and Travel Media
Vancouver, BC, Canada.
tel. 681.0718, fax 604.681.6595,
e-mail airhwy@dowco.com, or africa@dowco.com
web site: www.airhighways.com