Visit the Grand Canyon - one of the Top 10 Wonders of the World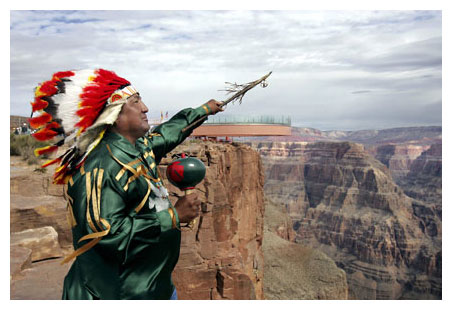 Grand Canyon Skywalk: A Mind-Blowing Experience
The Skywalk at Grand Canyon West, scheduled to open March 28, 2007, will be the first-ever glass walkway to suspend more than 4,000 feet above the canyon's floor and extend 70 feet from the canyon's rim. The Skywalk at Grand Canyon West was recently rolled out over the Canyon's edge in Northwestern Arizona. The glass walkway will offer visitors a unique and exhilarating perspective of the Grand Canyon.
Access to The Skywalk will run from dawn to dusk and will cost $25 per person in addition to the cost of a Grand Canyon West entrance package. 120 people will be allowed on the bridge at a time. Admittance is first come, first served for walk up visitors; however, reservations can be made.
Grand Canyon West is accessible by plane from Phoenix and the Grand Canyon's South Rim. Westwind Aviation offers flights out of Deer Valley airport in Phoenix. For details, please visit www.westwindaviation.com . Grand Canyon Airlines offers air service from the South Rim to Grand Canyon West. For further information, please visit www.grandcanyonairlines.com
Located at Grand Canyon West's Eagle Point, The Skywalk facility will also include a 6,000 square-foot visitor's center on three levels &endash; underground, first story and second story &endash; which will contain a museum, movie theater, VIP lounge, gift shop, and several restaurants and bars, including a high-end restaurant called The Skywalk Café that will offer outdoor patio and rooftop seating on the edge of the canyon.
Guests will enter and exit the walkway via temporary buildings while the adjacent visitor's center is being completed. Grand Canyon West plans to issue numbered shoe covers &endash; in order to avoid scratches and slipping - to each visitor that enters the open-air walkway.
Grand Canyon West is located approximately 72 miles northwest of Kingman, Ariz. Attractions available at Grand Canyon West include The Indian Village with authentic dwellings, The Hualapai Market, and The Hualapai Ranch, a western town with horseback and wagon rides. Grand Canyon West is the only location throughout the entire Grand Canyon where visitors can access the river at the bottom of the canyon via helicopter tours.
In addition to boat tours on the river, Hummer tours are available along the rim of the canyon and through private areas that are otherwise inaccessible to the public. There are more than 30 tour and transportation companies that service Grand Canyon West from Phoenix, Sedona and Las Vegas by airplane, helicopter, coach, SUV, and Hummer.
In addition, Park & Ride services are available from Dolan Springs, Ariz., a one-hour drive from Las Vegas. To book reservations, view a complete list of activities or receive maps and directions, visitors may log on to www.destinationgrandcanyon.com or call 1(877) 716-WEST (9378).
To obtain more information or brochures on Arizona, the travel trade and media may contact the Arizona Office of Tourism (Canada) at 55 Town Centre Court, Suite 642, Toronto, Ontario M1P 4X4, tel: (416) 861-1240; fax: (416) 861-1108, or email: azinfo@travelmarketingexperts.com.
Consumers may call toll-free at 1-866-205-9362 or visit www.ArizonaGuide.com for more information.
Here's what they have to say about Our favorite resort in Scottsdale:

Marriott's "Mountain Shadows" Resort and Golf Club
An Oasis of Luxury and Comfort Dedicated to the Pleasure of Every Guest. Seventy acres of desert paradise, with picturesque gardens, lush fairways, and endless variety Here, tucked away in the pastel-tinted shadows of Arizona's Camelback Mountain, you'll discover a relaxed elegance and unparalleled convenience. Luxurious guest rooms with spectacular views, unlimited recreation, and more than 19,000 square feet of versatile meeting space. Extraordinary options for indoor and outdoor dining, and so much more - all just minutes from Phoenix, and less than 12 miles from Sky Harbor International Airport.
Marriott's Mountain Shadows Resort & Golf Club is currently underway on some exciting changes. We are investing one-half million dollars into our 337 guest rooms. To make your stay more comfortable, we are outfitting each room with new beds, carpet, linens and draperies. Take time to relax in our newly redone lobby or just around the corner grab your favorite Starbucks drink and enjoy the magnificent views from the patio complete with an outdoor fireplace.