Visit the Grand Canyon - one of the Top 10 Wonders of the World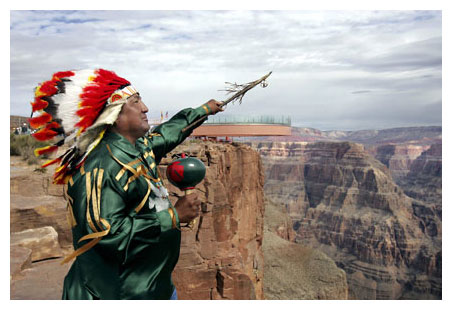 ARIZONA

Native Blessing: Hualapai Indian Don Havatone offers the Grand Canyon a blessing as guests and media watched the rollout of the Skywalk over Grand Canyon West, on the Hualapai Indian Reservation in Arizona, on Wednesday, March 7, 2007.
You've heard about it, now it's set to become a reality. Imagine the anticipation you would feel before taking your first step on to this giant glass walkway suspended more than 4,000 feet above the canyon's floor and extended 70 feet from the canyon's edge. The Skywalk at Grand Canyon West was recently rolled out over the Canyon's edge in Northwestern Arizona. The glass walkway will offer visitors a unique and exhilarating perspective of the Grand Canyon.
The Skywalk is set to officially open on March 28, 2007. Access to this marvel of engineering will run from dawn to dusk and will cost $25 per person in addition to the cost of a Grand Canyon West entrance package. 120 people will be allowed on the bridge at a time. Admittance is first come, first served for walk up visitors; however, reservations can be made.
Located at Grand Canyon West's Eagle Point, The Skywalk facility will also include a 6,000 square-foot Visitor's Center which will contain a museum, movie theater, VIP lounge, gift shop, and several restaurants and bars, including a high-end restaurant called The Skywalk Café that will offer outdoor patio and rooftop seating on the edge of the canyon.
Grand Canyon West is located approximately 120 miles east of Las Vegas, Nevada, and 72 miles northwest of Kingman, Ariz. It is the only location throughout the entire Grand Canyon where visitors can access the river at the bottom of the canyon via helicopter tours.
In addition to boat tours on the river, Hummer tours are available along the rim of the canyon and through private areas that are otherwise inaccessible to the public. There are more than 30 tour and transportation companies that service Grand Canyon West from Phoenix, Sedona and Las Vegas by airplane, helicopter, coach, SUV, and Hummer. Please visit www.destinationgrandcanyon.com or call 1(877) 716-WEST (9378)
.Arizona Media Trips
We encourage interested journalists to contact us early to reserve a spot. Tours have limited space (six to eight international journalists). Journalists are selected according to firm assignments and reader demographics. If there is not a group media tour that fits your specific needs or schedule, the Arizona Office of Tourism, Canada arranges individual tours throughout the year.
Treasures of Southeastern Arizona: May 14- 19, 2007 Sierra Vista, Bisbee, Kartchner Caverns, Tombstone, Willcox, Chiricahua National Monument, museum in Dragoon, diner in Benson, ghost towns, Tucson, Patagonia.
For more information, please contact Chris Ryall at
416-861-1240 or email azinfo@travelmarketingexperts.com.