SRI LANKA AND TANZANIA SET FOR TOURISM AND ECONOMIC COOPERATION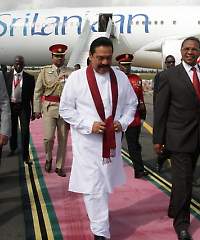 Sri Lanka President Rajapaksa (L) & Tanzania President Kikwete (R) / Image via in2eastafrica.net
TANZANIA (eTN) - Looking at fostering cooperation in tourism and economic partnership, Sri Lanka and Tanzania have agreed to work together.
Concluding his official tour to Tanzania last Saturday, Sri Lankan President Mahinda Rajapaksa had signed three agreements in Dar es Salaam on bilateral cooperation between Tanzania and Sri Lanka in areas of tourism, culture, and commerce.
Mr. Rajapaksa said Sri Lanka was thankful for the Tanzanian support during the tough moments when this Asian country was in civil unrest as it fought Tamil Tigers rebels.
"We thank you for your support, as Sri Lanka is now peaceful, and its people are enjoying dividends of that peace," Mr. Rajapaksa said.
Soon after the signing ceremony, Tanzanian President Jakaya Kikwete said that Tanzania is set to benefit a lot from Sri Lanka which has already announced an offer of scholarships for Tanzanian students to study various disciplines.
Sri Lanka is currently going through quick economic recovery following three decades of civil wars. Tanzania was eagerly waiting for more trade investments particularly in the areas of tourism and agriculture.
Experts from these sectors in the two countries will exchange their expertise through the visits to be arranged later as President Kikwete is also set to pay a visit to Sri Lanka.
Sri Lanka is a tourist paradise island offering visitors incomparable beach holidays. With the aquamarine waters of the Indian Ocean gently lapping its pristine shores, Sri Lanka's beaches are covered with soft warm sand. With over 1,300 kilometers of beach on offer, Sri Lanka is boastful of hours of fun in the sun.
These parks, and the rest of the country, harbor an astonishing range of fauna and flora, many of them endemic to Sri Lanka. This includes over 4,000 species of flowering plants, 245 species of butterfly, 85 species of freshwater fish, 207 species of reptiles, 108 species of amphibians, 492 species of birds, 95 terrestrial species of mammals, and several thousand invertebrates.