Yukon and Klondike Rivers
by Jerry W. Bird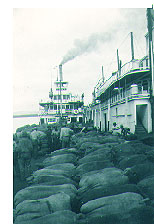 While most travelers approach the fabled 'Inside Passage' from various points due south, my first experience of this 1,200 mile Marine Highway, was from Canada's Klondike, having plied the Yukon River for four eventful days aboard the SS Casca, a classic paddle-wheeler ; chugging and puffing our way upstream from Dawson City to Whitehorse. After an overnight at the Regina Hotel, with its ornate lamps and Victorian furnishings, we boarded the narrow-gauge White Pass & Yukon Railway for a day trip, detraining on a wooden platform at historic Skagway.

Skagway, Alaska: This sleepy little seaport on Alaska's Lynn Canal, came to fame in the 1890s, during the Jefferson (Soapy) Smith era, as a lawless, rough and ready frontier town at the foot of the White Pass.Yes, the Klondike Gold rush had its own Al Capone, and every bit as ruthless. To all of us Yukoners headed for what we call the "outside," this was where the Inside Passage really began. So with eager anticipation, we hustled up the wooden gangplank of the Princess Norah, one of Canadian Pacific's coastal armada. Vancouver, here we come! Today, the Yukon paddle- wheelers Klondike and Keno are all that's left of the British Yukon Navigation Company's proud fleet; both are tourist museums.
Photos: (1) Author's father and mother in Dawson City. (2) SS Keno ashore at Dawson City (3) SS Keno with barges at Stewart Crossing. Author spent two seasons as a crew member aboad the Keno.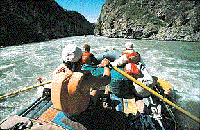 I recently heard from Len Brown, one of our readers who attended a "Last Spike" ceremony on July 29, 2000. Here is an excerpt from his letter: " Al York & I do contract work for the Yukon Government, and I was up there working and took in the celebration. It was fantastic - up to an estimated 5000 people were there during the day - steam rides some 5 miles alongside Lake Bennett and back .. and a Steam Meet of 73 and 40. I am a steam nut (co-owner of 30053 - an M7 tank engine that runs on the Swanage Railway in Dorset, England), so have availed myself of many steam rides on the WP&YR - I even appeared in a video White Pass & Yukon Route - the Railway Built of Gold.
As a Yukoner by birth, I hope someday there will be an extension of this historic rail line at least as far as Carcross, Yukon ... short for 'Cariboo Crossing, ' a common sight at one time. The Manager of WP&YR in Skagway is Tina Cyr, whose aunt Gloria Cyr of Whitehorse was my mother's best friend for many years.
More sweet music was the Yukon Government's decision to restore the Steamer Keno,now beached at Dawson. I was a crew member on the Keno for two summers, as it toted ore-laden barges from Mayo on the Stewart River, to the Yukon River junction. There's nothing like the whoosh of giant steam driven pistons, as the bright orange paddle wheels kick up a spray that kisses your face with an icy cool, refreshing shower of river water. As Grant MacConachie's newly formed CPA, the world's Air Highway and an improved Alaska Highway brought the "outside" in, a romantic era of river travel came to a close.
Down to the sea in ships: While protected by outer islands, pristine in its beauty and a marvel to behold, the Inside Passage is a treacherous route, shrouded in fog much of the year, laden with booby traps and submerged rock ledges. During the Klondike Gold Rush, the Inside Passage witnessed numerous shipwrecks, some rivaling the Titanic in their impact at the time. Aside from reading about such events in Pierre Berton's "Klondike" and similar volumes, I found a record of numerous sinkings on the Inside Passage at a Nautical Museum, near my Grandparents home at Palos Verdes, California.
The Yukon River fleet suffered its own disasters; even our sturdy Steamer Keno cracked up against the rock walls at Five Finger Rapids, near Carmacks. As a result, myself and the other deck hands spent a week ashore attending to repairs. Ports of call: South of Skagway are a number of unique ports: Juneau, Alaska's Capital with its Imperial Russian heritage; Ketchikan, home of Alaska's main fishing fleet and Prince Rupert, which played a key role during the Gold Rush and the dark days of '42, with the war on our doorstep and the Alaska Highway a do or die project.
While the sea voyage was smooth, a few bouts of seasickness occurred crossing Millbank and Queen Charlotte Sounds. The final port o'call for Canadian Pacific Steamships was Alert Bay, a quaint native village south of Port Hardy. Entering Vancouver harbor under the Lions Gate Bridge was a magnificent sight, as it is for today's cruise passengers. If you have an item on the Inside Passage or any of the places mentioned, let's hear from you
[Send mail] .
Beringia: The Yukon's First Nations made their home in Beringia during the last Ice Age, some 24,000 years ago, when the Yukon, Aaska, Siberia and much of Canada was covered in massive sheets of ice. Because of its climate Beringia was basicially untouched by the spreading glaciers; the landscape consisted mainly of vast steppes, tundra that could support a broad variety of flora and fauna. Interpretive Centre in Whitehorse, Yukon