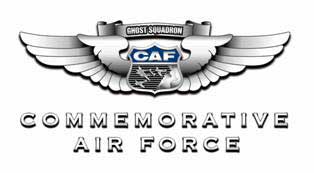 Commemorative Air Force Headquarters
Midland International Airport
P.O. Box 62000, Midland, Texas 79711-2000
(432) 563-1000, ext. 2231 FAX (432) 563-8046
http: //www.commemorativeairforce.org
The Commemorative Air Force would like to invite you to join us Tuesday, July 29th at EAA Airventure in Oshkosh, WI. The CAF will be hosting a casual beer and brats dinner in FLYING's Aero Club from 6 pm to 9 pm. Join CAF President, Stephan C. Brown, as he shares the new direction and motivation in the future of the Commemorative Air Force.
The Commemorative Air Force is the largest air force you've never heard of! Collecting flying warbirds for half a century, it ranks as one of the largest air forces in the world. The CAF, a non-profit, educational aviation association, has approximately 9,000 members and a fleet of more than 160 airplanes representing more than 60 different types &endash; including planes from several foreign countries and other military conflicts since World War II.
We honor American military aviation as we seek to perpetuate the stories of the aircraft and the men and women who were part of their creation and use. The acquisition and preservation of combat aircraft from our past is critical to our future. Through our preservation of this history we strive to create peace through the belief that our strength as a country will help us to avoid war in the future.
The Commemorative Air Force
An aviation association dedicated to Honoring American Military Aviation through flight, exhibition and remembrance by maintaining a flying museum of classic military aircraft. For more information on CAF, access the organization's Web site at www.commemorativeairforce.org or call Autumn Esparza, Director of Membership Marketing at (432) 563-1000 ext. 223
Please come by for a relaxing evening with the Commemorative Air Force. If you are interested in attending please call Autumn Esparza, director of membership marketing, at 432-661-8092 or email aesparza@cafhq.org.
Commemorative Air Force
Honoring American Military Aviation...
Autumn Esparza
Director of Membership Marketing
Commemorative Air Force
PO Box 62000
Midland, Texas 79711
http://www.commemorativeairforce.org
tel: (432) 563-1000
fax:(432) 563-8046