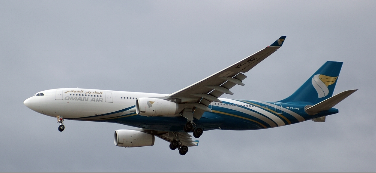 and majority owned by the Omani Government. The airline operates a
network of services within the Middle East, the Indian Subcontinent,
Asia and Europe. Oman Air had its beginnings as a regional carrier,
and has evolved into one of the larger players in the booming Middle
East region. All flights from its base in Muscat used to be operated by
Gulf Air
, but the Omani Government withdrew its ownership in that
airline in 2007. Oman Air then re-evaluated its strategic direction and
has since assumed a much more international outlook. The airline has
moved into the long-haul market, investing in new aircraft, livery,
staff uniforms, on-board service offerings and management.
OMAN AIR FLIGHTS TO JAKARTA AND MANILA FROM DECEMBER 2
August 23, 2014
Muscat: Oman Air is launching the much-anticipated new services from Muscat to Manila and Jakarta from December 2014.

From December 2, Oman Air will be offering two flights a week to Manila,and a third flight will be added from December 13.

Similarly, from December 12, three flights per week will be offered to Jakarta, and a fourth will become operational from January 2, 2015.

Flights to both destinations will depart Muscat around midday and arrive at their destinations in the early morning of the following day, offering convenient timing for travel from the respective airports to capital cities and beyond, and ensuring excellent connections with many of Oman Air's other global destinations.

Non-stop flights
Oman Air will be the first carrier to offer non-stop flights between Muscat and Manila, as well as Muscat and Jakarta. Both the new routes will meet strong demand from air travellers in Oman, the Philippines and Indonesia.

Oman Air's Chief Executive Officer, Paul Gregorowitsch, announced the new services, saying, "Oman Air is pleased to be offering, from December this year, two outstanding new services from our home base in Muscat.

"We will be offering flights aboard our award-winning Airbus A330 aircraft, to two of Asia's most important cities, namely Manila and Jakarta. These exciting cities each offer travellers a fascinating view of their countries' vibrant cultures and we are very confident that they will prove popular with visitors from Oman and further afield.

Strong demand
"In addition, both Manila and Jakarta are important commercial centres and we anticipate strong demand from business travellers, underlining Oman Air's commitment to supporting positive trade relations between Oman and other nations."

Abdulrahaman Al Busaidy, Chief Operating Officer of Oman Air, added, "Oman Air is launching these new services during the winter holiday period in order to meet significant demand during the festive season. Both, the Philippines and Indonesia, have a large number of citizens living overseas and we are ideally placed to help them re-join their families during the holiday, as well as to provide holiday makers with the opportunity to start their breaks by enjoying Oman Air's internationally-acclaimed hospitality.

"Flights to Manila, and Jakarta, are now on sale and are already attracting an excellent response, so we would encourage customers to book early."

Fleet
The announcement of Oman Air's new services comes ahead of the arrival of the first of 24 aircraft that the airline currently has on order. Oman Air's current fleet of 30 aircraft will be joined by three Airbus A330s and 15 Boeing B737s, as well as six Boeing B787 Dreamliners, which will enable further expansion of the carrier's network, as well as increased frequencies on some of its existing routes.