---
For whom the Mission Bells toll
BC's Westminster Abbey

For our little group from Air Highways, it must have been a special calling; after all, this was going to be an important weekend in the area's history.
Just access the Fraser River from Abbotsford is the thriving city of Mission. Having boarded the double-decker West Coast Express at the Vancouver waterfront, after a short, pleasant and friendly trip, we capped off our day with an overnight stay as guests of Westminster Abbey Benedictine Monastery. That experience made it a weekend to remember for a lifetime. Food for the soul was complemented by delicious, fully nutritious meals, and the breakfast really set us up for a trip to Abbotsford Airport for our WestJet flight to Calgary. Operated by the Archdiocese of Vancouver, BC, Westminster Abbey stands like a proud sentinel on the highest point of a wooded hill above the City of Mission; in fact from one vantage point, we could can see the river and entire valley in both directions, framed by the Coast Mountains, with Mount Baker capped with its usual topping of snow.
Here at Westminster Abbey, the monks have created a pastoral, self-sufficent way of life, and it was an honour to visit and break bread with them. We especially like the way they have tended the grounds, which are spacious with lots of surrounding park area. The rooms they gave us were spotless, quiet and comfortable. We made a donation to the Monastery funds for the privilege. We loved to hear the toll of the monastery bell tower, a Mission landmark. Imagine how this heavenly scene must have appeared to the founders. They came from Mount Angel Abbey in Oregon in 1939 to create a new centre of monastic life, and to expand the teaching and administration of Christ the King Seminary at Ladner. Westminster Abbey became independent in 1948 and moved to its present site in 1954. The priesthood is the abbey's special apostolate, fostering vocational programs. The Priest monks are active and supportive in the community Visiting hours at Westminster Abbey are as follows: Weekdays 1:30 to 4 p.m.; Sundays 2 p.m. to 4 pm
For details contact:
Rev. Peter Nygren, OSB
Westminster Abbey, Mission,
34224 Dewdney Trunk Road, Mission, BC V2V 4J2
Tel. 604-826-8975, Fax: 604-826-8725
E-mail: a3OO85@mindlink.bc.ca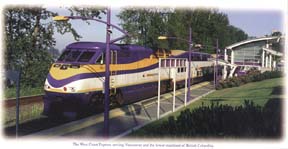 West Coast Express Train schedule to come.

Other Mission area attractions: Mission Community Museum, Rolley Lake and Hatzic Rock.