CORINTHIA GRAND HOTEL ROYAL IN BUDAPEST HOSTS PRESIDENTS OF LITHUANIA, MALTA AND PORTUGAL

FOR 50TH ANNIVERSARY COMMEMORATIONS OF THE 1956 HUNGARIAN REVOLUTION
-Hotel management recounts the Hotel's involvement at the time-
1. Anek Dóra, Director of Corporate Sales welcomes Mr Valdas Adamkus President of Litvania. 2.Mr Walter Balzan, Ambassador of Malta for Hungary; Edward Fenech Adami, President of Malta; Mr Adrian Ellis, General Manager of Corinthia Grand Hotel Royal. 3. (below)Mr Adrian Ellis General Manager welcomes Mr Anibal Antonio Cavanaco Silva, President of Portugal .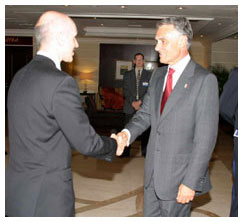 October 26, 200. The Corinthia Grand Hotel Royal proudly welcomed the presidents and delegations of Lithuania, Malta and Portugal, who, together with other heads of states, were in Budapest to mark the occasion of the 50th Anniversary of the 1956 Hungarian revolution.
While in Budapest, the official delegations of the various countries represented, attended a Gala Performance by the Hungarian National Philarmonic Orchestra at the Opera House, under the auspices of Hungarian president László Sólyom, who personally welcomed the guests present.
The orchestra, under the baton of maestro Zoltán Kocsis, presented Beethoven's Egmont Overture and Bartók's Dance Suite.
Grand Hotel Royal, Atrium TerraceThe anniversary commemorations took place on Monday, October 23rd in the hall of the Upper House of Parliament. The Hungarian national colors were hoisted, together with the flags of the attending dignitaries. This was followed by a festive speech by Hungarian Prime Minister Ferenc Gyurcsány and the adoption of the Budapest '56 Liberty Statement.
.
| | |
| --- | --- |
| | |
| 1956 | 2006 |

The Corinthia Grand Hotel had its own reasons to commemorate the tragic events of 1956 as the 110 year old hotel was heavily involved and partially destroyed in the proceedings. On the morning of November 4th, 1956, a cell of uprising organizers were holding out in the barricaded hotel, when they were heavily bombarded for five solid hours by a dozen T34 Soviet tanks. All of the men inside the hotel perished and the hotel sustained very heavy damage, with the roof top being completely destroyed and fires raging from its windows.

Paul Lauer, who would later rise from porter to vice manager of the rooms division, remembers: 'The windows were trembling all day long. Once it was over, the hotel stood in flames.'

A marble plaque has been put up near the hotel's coffee shop entrance in memory of these brave Hungarians, who died as patriots on that fateful day. On November 4th, the management of the hotel will be laying a wreath on the memorial board of those who lost their life in the Grand Hotel Royal siege.

The Corinthia Grand Hotel Royal is an award winning fateful reconstruction of the 110-year-old Grand Hotel Royal. It is a member of The Most Famous Hotels in the World and is owned by International Hotel Investments Plc and managed by CHI Ltd, a hotel operating company that is a joint venture between Malta based Corinthia Group of Companies and Wyndham Hotel Group of the US. CHI undertakes hotel management operations for both Corinthia Group owned or affiliated hotels as also for third party owners. Prior to entering into a joint venture with Wyndham Hotel Group, CHI Ltd had accumulated over 40 years of experience in delivering a high quality service to hotel guests and an optimum rate of return for owners and investors in diverse business environments. Its expertise extends to management of luxury and upscale properties in city and resort locations, and products ranging from boutique to large conference and meeting hotels. For more information on Corinthia Hotels please visit www.corinthiahotels.com.

For more information on Corinthia Hotels visit www.CorinthiaHotels.com;

US Sales Office: Ann J. Tillman, Vice President, Sales & Marketing, North America,
Corinthia Hotels: tel (212) 808 6502, e-mail atillman@corinthia.com