LATEST FROM LA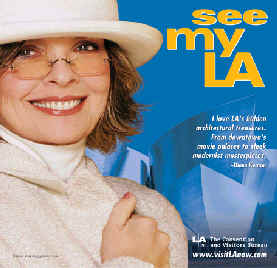 225 Special Offers for 225 Years
Join in the birthday fun - from special offers to Web activities - as LA INC. The Los Angeles Convention and Visitors Bureau celebrates LA's 225th anniversary through September 2007. Starting later this month, LA INC.'s Web site will feature 225 special offers and discounts to restaurants, retailers, activities and services throughout the region. In addition, find lots of information about LA's 225 years, including movie locations you'll recognize from the big screen and tunes you can sing while cruising our scenic streets. There's something fun for all ages, including historical facts like this one: In 1781, a group of 11 families comprising 44 Mexicans settled in Los Angeles. Felipe de Neve, Governor of Spanish California, named the settlement El Pueblo Sobre el Rio de Nuestra Señora la Reina de los Angeles del Río de Porciúncula. The name was shortened rather quickly. www.seemyLA.com
New Chinese Garden is a Preview of What's to Come
The Huntington Library, Art Collections and Botanical Gardens is offering an exciting preview of what will be the 12-acre Chinese Summer Garden. To date, a 1.5-acre lake surrounded by rocks and boulders, oaks, camellias and pines also features five hand-carved stone bridges. It's just a taste of what will come. The garden will be closed once again in February 2007 after the Chinese New Year, as the Huntington continues with a proposed $15.3 million construction project that will include a tea house, a tea shop, pavilions and covered walkways amid Souzhou-style scholar gardens. In Chinese culture, literature, art and gardens are inextricably entwined. Visitors will be able to view the complimentary exhibition "Chrysanthemums on the Eastern Hedge: Gardens and Plants in Chinese Art," which will include porcelain, jade carvings, scrolls and woodblocks illustrating the Chinese love of gardens and nature. The next phase of construction is expected to be completed in 2008. www.huntington.org
2007 Marathon Route Links the Valley to Downtown
The 22nd annual City of Los Angeles Marathon will for the first time be run "point to point" rather than the traditional round-trip route that has always started and ended in Downtown Los Angeles. The marathon, which will take place Sunday, March 4, 2007, will start at Universal Studios Hollywood in the San Fernando Valley, and the 26.2 mile-course will end Downtown at Fifth and Flower streets, opposite the Central Library. Marathon participants will pass such LA landmarks as the Hollywood Bowl, Hollywood and Sunset boulevards, the Crenshaw and Koreatown neighborhoods, Exposition Park and the Coliseum, the Los Angeles Convention Center and STAPLES Center. For the first time the route will also be accessible for spectators via the MTA Red Line, which connects the start and finish and provides for stops along the way. Ten entertainment centers along the way will reflect ethnic neighborhoods with food, music, dance and costumes. In the past there have been Chinese, Japanese, Korean, Ethiopian, Guatemalan and Ecuadorian entertainers. www.lamarathon.com
World Premiere of "365 Days/365 Plays" in Los Angeles
The acclaimed Center Theatre Group will produce the Los Angeles component of Pulitzer Prize- and MacArthur Foundation "Genius" grant-winner Suzan-Lori Parks' "365 Days/365 Plays." Parks began in 2002 writing a play a day - for 365 days - and the results, mostly short pieces, will be formally staged, presented as readings, or performed at various locations specific to the pieces. The yearlong event, which is also the world premiere, will be a series of theater pieces performed across the nation by some 600 theater companies and universities. Performances will begin Nov. 13 and continue through Nov. 12, 2007. Center Theatre Group will host the first and last weeks of performances. In addition to the Pulitzer Prize for Drama that Parks won for "Topdog/Underdog," she has won two Obies, for "Venus" and "Imperceptible Mutabilities in the Third Kingdom." Details about performances will be available closer to the time of production at www.centertheatregroup.org.
Fashion and Transylvania Featured in Fall Exhibits
The fall and early winter seasons at Los Angeles museums feature a number of exciting exhibitions. At the Los Angeles County Museum of Art (LACMA), visitors can view items from the museum's contemporary fashion collection in "Breaking the Mold," through Jan. 7, 2007. Two exhibitions of photographs from the permanent collection, including "Masquerade: Role Playing in Self-Portraiture," will feature self portraits from 1850 to the present and include innovative artists such as Cindy Sherman and Yasumasa Morimura (Oct. 12 to Jan. 7, 2007). From Nov. 19 to March 24, 2007, the museum will have on display 65 drawings and paintings by Belgian surrealist Rene Magritte, which explores his influence on contemporary artists, using 65 examples by 31 artists including Andy Warhol, Ed Ruscha and Jasper Johns. www.lacma.org
The UCLA Armand Hammer Museum also has important photographic exhibitions this fall, including the installations by Dutch artist Aernout Mik (through Dec. 31), as well as 300 photographs by German Wolfgang Tillmans (through Jan. 7, 2007). A tribute to Robert Heinecken, the well-known photographer, teacher and collector who founded UCLA's Department of Photography, will also be held. Along with his own work, the exhibition will feature works from his collection by Walker Evans, Imogen Cunningham and Garry Winograd (through Dec. 31). A show of woodcuts and constructions from Gert and Uwe Tobias, Romanian twin brothers who interpret myths from their native Transylvania against modern-day myths like Hollywood horror films, runs through Jan. 14, 2007. www.hammer.ucla.edu
World-Class Dance is in Downtown LA
The beautiful shapes and rhythms of the world-class dancers performing at the Music Center this season are sure to amaze. In addition to works by the American Ballet Theatre, you can admire the East/West-style of the Shen Wei Dance Arts group and be delighted with unique contemporary pieces like Matthew Bourne's "Edward Scissorhands" (co-presented with the Center Theatre Group). The Spanish company Compañia Nacional de Danza 2 will make its North American debut with "Remansos," choreographed by Nacho Duato. If you want to experience the beauty of dance, head Downtown to the Music Center complex. Shows run from October to July, and tickets are on sale now. www.musiccenter.org
Holiday Events: Deer at the Zoo, a Mile of Lights
From a star-studded parade through the heart of Hollywood to reindeer resting at the zoo for their big night, LA's holiday parades, festivals, performances and activities offer something for everyone. Among the highlights: the chance to cozy up to watch twinkling light displays float past and an urban ice rink just begging for your fancy footwork. Many of LA's holiday events are offered at little or no cost. Among them:
Downtown on Ice at Pershing Square (Nov. 16-Jan. 16). An ice-skating rink becomes the centerpiece of Pershing Square in the heart of Downtown LA. $9 per hour including skate rental. www.laparks.org
Annual Holiday Light Festival (Nov. 23-Dec. 30). Lighted displays stretch for a mile in Griffith Park. See the decorations on foot or by car. Free. www.laparks.org
Reindeer Romp (Nov. 23-Jan. 1). The Los Angeles Zoo features live reindeer, holiday crafts, talks with keepers and appearances by Santa. Included with zoo admission. www.lazoo.org
75th Hollywood Christmas Parade (Nov. 26). Celebrities, marching bands, equestrian units and Santa Claus. The parade starts at 5 p.m. Free. www.hollywoodchamber.net
Los Angeles Harbor Holiday Afloat Parade (Dec. 2). Festively decorated boats in the harbor off San Pedro. Free. (310) 549-8111 or (800) 831-PORT (7678)
Banning Museum Victorian Christmas (Dec. 2 and 3). 11 a.m. to 4 p.m. No reservations required.
Banning Museum Candle Light Tours (Dec. 9 and 10). 6 p.m. to 8 p.m. Must call for reservations and tickets: (310) 548-7777.
44th Marina del Rey Holiday Boat Parade (Dec. 9). Brightly lit boats processing in the marina. Fireworks kick off the parade at 5:55 p.m. Free. www.mdrboatparade.org