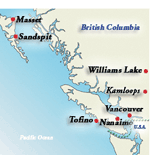 Canadian Western Airlines offers a scheduled connection between Vancouver, Nanaimo, Masset, Sandspit, Tofino/Ucluelet and Williams Lake. CWA is professional, convenient and affordable. The airlines also provides charter air services within British Columbia and Western Canada. Whether you are traveling for business or pleasure, CWA can meet your air travel needs on either a scheduled or chartered flight.
With recent mergers of large airline carriers, travelers have been repeatedly disappointed with service and value. A team of dedicated pilots and customer service agents, are now ready to provide a service that has been long desired and under-served.
Cadian Western Airlines is an independently and locally owned company, striving to meet the needs of the traveling public. The airline is continuing to grow, adding more planes and new routes.
More airline profiles to come on this web site and in our printed magazines.
Snowbirds Take Note
Read about Warm Weather "Escape the Winter" Vacations and the Airlines that get you there. Air Highways Magazine profiles Travel Agents and Tour companies in our Awards Program. Destinations include the Dixie States, Florida, Louisiana and the Great Southwest, the Caribbean, Mexico, South America, and Africa. And who knows Africa better than Muguette Goufrani, who has lived in West Africa, Tunisia and Morocco, working with Air Afrique, Royal Air Maroc, Matson Cruise Lines and others.