Germany may not be the first European country that comes to mind when considering a sunny holiday,
but its beaches have become one of Europe's best-kept summer secrets. The white, pristine sand with
its traditional Strandkörbe (wicker baskets), attracts millions of visitors annually to the Baltic Sea while
wildlife enthusiasts favor the mud flats of the North Sea. Many travelers from its European neighbours
have already discovered Germany's northern coastlines, though it remains a hidden gem to American
visitors.
So discover Germany's maritime spirit and happy travels.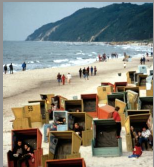 Miles and miles of beaches Germany touches two large bodies of water: the North Sea and the Baltic Sea. Though connected through a canal they are very different from each other. The North Sea, heavily influenced by the tides, is home to the Wadden Sea . This habitat for more than 10,000 species of plants and wildlife, mussel beds, dense sea grass meadows and soft mudflats provide food for many animals. In contrast, the Baltic Sea is famous for its endless white beaches, unspoiled natural surroundings and seaside resorts which hosted European nobilities as far back as the 18th century. Many historical villas are relicts of this glorious past. Mecklenburg Western Pomerania , where the Baltic Sea is located, was the second most popular holiday destination with Germans in 2012.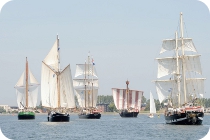 Hanse Sail

Sails galore in Kiel and Rostock As every year, sails will be set at the end of June in the city ofKiel at what is known as "Kieler Woche" , the largest sailing event in the world. Kiel Week usually gathers around 5,000 sailors, 2,000 ships, and about three million visitors each year. While the event started out as a ship racing championship, it has long since become one of Germany's largest festivals with many popular bands playing on public stages. For 2013, the nine-day program from June 22-30, includes over 2,000 activities including sailing events and 400 races on eleven courses. A somewhat smaller version of the Kiel Week is the annual Hanse Sail in Rostock . Held on the second week in August (8-11, 2013) it attracts about 250 traditional sailing ships from a vast variety of countries.

Contact

German National Tourist Office
Wibke Carter
Public Relations Manager North America
122 East 42nd Street, Suite 2000
New York, New York 10168-0072
Phone: +1 212 661 7175
Fax: +1 212 661 7174
wibke.carter@germany.travel
www.germany.travel

Music in Germany - Old and new

However, not everything is about Mozart this year. From classical concerts, jazz festivals to open-air pop and rock concerts, Germany has every type of music event possible for all types of taste. There is the annual "Bach Festival" in Leipzig from May 27 to June 7 (http://www.bach-leipzig.de/). More than 60 concerts will be performed at the "Beethoven Festival" in Bonn starting on August 31 to October 1. (http://www.beethovenfest.de/). The "Rheingau Music Festival", one of the biggest classical music festivals in Europe with more than 140 events, from June 24 to September 2, which take place in romantic castles and palaces on the Rhine (http://www.rheingau-musik-festival.de/). For jazz lovers, the "International Dixieland Festival" in Dresden, the second biggest jazz festival in the world, is not to be missed from May 7 to May 14 (http://www.dixieland.de). Another excellent choice is the the "Duesseldorf Jazz-Rallye" (http://www.duesseldorfer-jazzrally.de/) from June 24 to 26 or the great "German Jazz Festival" in Frankfurt (http://www.kultur.frankfurt.de/) from October 27 to 29 as well as the "Jazz Festival" in Hannover (http://www.hannover.de/) from May 13 to 23.

Once a year, music, not horsepower, reigns supreme at the Nuerburgring Formula 1 racetrack. Decibel levels rise for the Rock am Ring festival. At the same time the sibling event "Rock im Park" takes the stage in Nuremberg. "Rock am Ring" and "Rock im Park" are the two largest open-air events in Europe. More than 150.000 people are expected to visit these highlights of the European Open-Air season from June 2 to June 4. Approximately 70 bands, such as Depeche Mode, will play on the festivals three stages (http://www.rockamring.de/ and http://www.rockimpark.de).

REGIONAL FOCUS
The Mozart City Augsburg
Augsburg, the birthplace of Leopold Mozart, the composer's father, will celebrate the Mozart's family, all of whom lived in the region for generations. One of the highlights is the 55th German Mozart Festival from January to July 2006. The focal point of the festival program will take place May 12 to May 28, when the conductor Bruno Weil presents four important works from Mozart's Salzburg years 1773-1777 with the internationally-renowned "Tafelmusic Orchestra". From May 14 to May 21 there will be special programs for children while adults will enjoy hearing "In Concert - the Authentic Mozart Experience" on May 16 when Mozart pieces will be played on the violin that belonged to Leopold Mozart. The father of the boy genius also gives his name to an international violin competition when most talented violinists from universities around the world will compete for 11 exciting days. The 12,500 Euro 'Mozart Prize' will be awarded for the first time on May 26 in a concert with the Munich Radio Orchestra. (http://www.mozartstadt.de/)
Augsburg is also offering various Mozart tours and a special travel guide: "The Mozarts - The German Mozart City Augsburg and Mozart Sites in the Region". The guide provides historically-substantiated, detailed and entertaining information about the life of the family of musicians who lived here for generations as craftsmen, sculptors and bookbinders. (www.mozartstadt.de)
SPECIAL EVENTS
Mozart Festivals
Exhibition Mozart's Manuscripts
Offenbach / Jan 29 - May 31
The City of Offenbach will commemorate Mozart with concerts, readings and an exhibition -- "The widow Mozart Left Me All of Her Husbands Manuscripts." (http://www.mozartways.com/)
Trail "Of an old Love"
Mannheim / May 1 - Oct 3
Mannheim played a decisive role in Mozart's life as it is where he met his future wife: Constanze Weber. The "Trail of an old Love" takes place every first Saturday. (http://www.mozartways.com/)
Mozart Summer Concert
Herrenchiemsee / May 25 - Sep 3
The Herrenchiemsee Castle Concerts are presenting a special program with the loveliest night music and entire string quintets of Mozart. Herrenchiemsee Island is one of the major historic-cultural sites in southern Bavaria. (http://www.herrenchiemsee-festspiele.de/)
Mozart Festival Wuerzburg
Wuerzburg / June 2 - July 1
The baroque Residence Palace, a UNESCO World Cultural Heritage site, is the venue for the Mozart Festival. The program highlight will be a performance of "loveliest night music" in the illuminated "Hofgarten" palace gardens. (http://www.wuerzburg.de/)
Potsdam Music Festival Sansoussi: The Way to Mozart
Potsdam / June 2 - 18
Visitors will enjoy the opportunity to listen to Mozart exceptional artists in the beautiful rooms and parks of the world-famous palaces and gardens Sanssouci. (http://www.potsdam.de/)
54th European Festival Weeks
Passau / June 16 - July 23
More than 60 concerts will be held during the summer period in castles and churches in the area. Highlight of the Festival: Fireworks display on June 27 accompanied by the "Jupiter-Symphony".
Mozart Festival in Schwetzingen (Very Sweet)
Schwetzingen / Sep 9 - Oct 10
The 31st Mozart Festival of the Mozart Association is taking place in the Castle of Schwetzingen with concerts and exhibitions. (http://www.mozartways.com/)
SPECIAL DEALS
Family Trip to Augsburg
The package "Weekend with the Augsburg Puppets and Legoland" includes a ticket to the Augsburg Puppet Theatre. Travelers can also enjoy the Legoland Leisure Park whose 2006 season opens on 8 April. Also included in the package are two nights with breakfast and a city tour "On the Trail of the Fuggers through Golden Augsburg". The price starts at 152 Euro per person. (http://www.regio-augsburg.de)
Experience Germany and the World Cup Host Cities
Experience the atmosphere of the Soccer World Cup as you become a participant of the world greatest event this year. Explore Germany and the host cities of the World Cup with their fan festivals and accompanying cultural program on an individual trip. Choose your own itinerary; check out the beautiful German countryside, Frankfurt, Munich and other cities of your choice in an 8 day fly and drive package. Although this package does not include World Cup tickets, it does cost only $ 829.00 per person. This package includes a roundtrip fare to Frankfurt and return from Munich, a rental car with unlimited mileage. Book by February 16 and travel between June 1 and August 30. (http://www.europeasap.com/)
World Cup Soccer Tour Cologne and Italy
Combine your international tournament with a visit of the world's most exciting soccer event: the FIFA World Cup. See the quarter final game in the 'AufSchalke Arena' in Gelsenkirchen and experience the Cities of Cologne and Duesseldorf. Fly over to Italy after a four day stay in Germany and get to know the Italian countryside and culture. The ten day trip includes a round trip fare and accommodation as well as the tickets for the quarter final game. The price starts at $ 1,956 per person from New York and at $ 2,197 per person from Los Angeles or San Francisco. (http://www.esrusa.com/)
For comments and enquiries, contact Victoria Larson, PR Manager, at the German National Tourist Office: 212-661-7175 or victoria.larson@d-z-t.com.
Also, please register on our press extranet (if you haven't already done so) at
www.germany-extranet.com/index_press.html.