---
The Flying Gourmet Visits South Africa's Cape Wine Country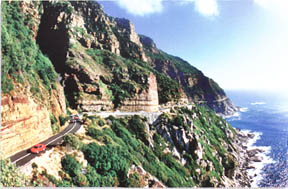 In 1955, Air Highways of the World's editorial group launched our sister publication, Africa Travel Magazine, in partnership with the Africa Travel Association (ATA), based in New York, NY, with chapters in USA , Canada, and Africa. Its Board of Directors is one of the most knowledgeable in the travel tourism indusry, and features several African Tourism Ministers including its President. Through this life-enriching experience we've learned a great deal and written volumes about the fascinating African continent, its history, customs and people. Our seven year old magazine has been an outstanding success since day one, and it is now available by subscription on our ATA web site. On a recent trip hosted by ATA and South African Tourism, we enjoyed an extensive tour of the wine growing area surrounding historic Cape Town. There will be much more about that trip to come in our next printed edition. Editor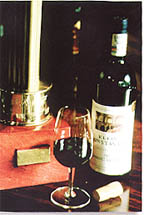 Here is some background information on South Africa's wine country courtesy of our hosts. South Africa's vintages are among the world's best. Some specialties include lovely Chardonnays, Pinot Noir, Merlot, Cinsault, Riesling, Shiraz,Sauvignon Blanc, Caberbet Sauvignon and Pinotage varietals. You will find that one of the most pleasant ways to enjoy South African wine is on a visit to the scenic wineland of the Western Cape. Few places in the world are as stunning as these lush valleys. Towering mountains are a dramatic backdrop for the rows of grapevines and giant oaks. Take a leisurely drive through one of the many wine routes just minutes out of Cape Town. Winemakers welcome you for cellar tours and tastings. You will see historic wine towns graced with lovely Cape Dutch and Victorian buildings, charming guest houses, top-notch restaurants and interesting museums and shops.
The Constantia wine route is popular for both beauty and historical significance. Established more than 300 years ago Groot Constantia is a superb example of a Cape Dutch manor house. Visit the picturesque wine route of Franschoek, or "French Corner", also rich in history. In 1688 the French Huguenots developed the area, contributing their knowledge of wine-making. Here you will enjoy wine cellar tours, gourmet restaurants and upscale accommodations. A cluster of wineries surrounds the historic university town of Stellenbosh, the second-oldest European settlement in South Africa and an architectural gem.
You will marvel at the well-preserved Cape Dutch, Georgian, Victorian and Regency buildings, many of which are national monuments. Enjoy a drive down the oak-shaded Main Street of Paarl, a winelands town with tine Cape Dutch buildings. This Bergriver Valley wine route features historic museums, find restaurants and a nature reserve. Other routes include Durbanville, nestled on the slopes of the Tygerberg Hills, and compact Wellington - both distinguished by award-winning wines. The Worcester route is located in the beautiful Breede River Valley. Be sure to see numerous tourist attractions and breathtaking scenery on the Swartland route.
Above item and photos courtesy of South African Tourism. If you want to contribute an item to this column on line and in print send it to "The Flying Gourmet" at africa@dowco.com


....Our Flying Gourmet continues with a feature on
... Airline food and one of Canada's original caterers.
.More on food from GourmetSpot (www.gourmetspot.com).
The site includes recipes for foods and beverages, restaurant guides and
information about the various tools used in the kitchen.