AIRPORT PLAN KEY TO GROWTH STRATEGY
COTA News Release: A marketing strategy for the planned expansion of the Cranbrook airport is one-step closer to taking flight. A task force of marketing experts met on July 5th to discuss an integrated strategy that will funnel more traffic through the airport and out into the region's tourism businesses. The areas tourism sector is expected to comment on the plan this summer. High on the list of priorities is attracting Horizon Air into Cranbrook. Plans are to have the American carrier fly service between Seattle and Cranbrook. The move would provide open and direct access to huge ski and golf markets in the Pacific Northwest. Cranbrook is lengthening their local airport runway and expanding their terminal facilities by 1,100 square metres. All taken, the improvements stand to generate over 1,150 tourism jobs and put upwards of $18.2 million dollars in the pockets of locals throughout the region.
---
Cranbrook Airport is the gateway to the East Kootenay tourist region and is served by both Canadian Regional Airlines and AirBC, with daily scheduled flights to Kamloops, Vancouver and Calgary. The airport also houses Horizon Air, offering charter services and flight training and Mountain High Helicopters, providing charter services for both business and pleasure travellers. Though less than 30 years old, the airport is nevertheless an essential part of the community, responsible for generating around $40 million for the regional economy annually and sustaining several hundred jobs.
---
The hub city of British Columbia's East Kootenays, Cranbrook is located in a mountainous region where ranges and valleys run north to south. This geographic event affects the course of rivers and human development. The city has been a major rail center since the opening of the Crow's Nest pass, and is home of the Canadian Museum of Rail Travel. Cranbrook is the largest community in the southeast corner of the province and acts as a major service center for the region. The city is close to several skiing areas. In summer, those opportunities turn to hiking, fishing, climbing and camping as the surrounding mountains provide all the wilderness and scenic beauty imaginable. Its primary industries include forestry and mining. Those interested in historical sights will enjoy the award-winning Canadian Museum of Rail Travel and the turn of the century Fort Steele Heritage Town, a "living history" town where over 60 homes and buildings have been restored or reconstructed to evoke the turn of the century. Then there's Kimberley, north of Cranbrook on Highway 95A, where you could imagine yourself in Bavaria. Outdoor oompah bands play in "Der Platzl"- the central square- where you can also hear the sounds of the world's largest cuckoo clock.
Area Attractions:
One of the regions latest preoccupation is in the area of golf course development. There are now ten 18-hole and a variety of 9-hole courses with an average distance between them of only 35 k, so several can be played in a few days. Destinations to note are Kimberley, Radium and Fairmont Hot Springs, each of which has two courses as well as awe-inspiring scenery.
Fort S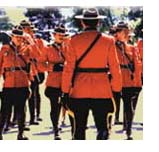 teele
Fort Steele: Sam Steele of the Scarlet and Gold was a family icon. His saga of heroism and grit prompted my father, Don Bird, to leave his Seattle home, enlist in the Royal Canadian Mounted Police and seek a Klondike posting. Shortly after arriving in Dawson City, a local beauty crossed Dad's path, and the rest is history. While Commander Steele roved the entire west during a long and legendary career, his name remains at an historic site, near Cranbrook. An 1860s vintage mining town in the East Kootenays, Fort Steele tops any movie set for authenticity. Behind its walls is a steam railway, a working blacksmith shop, heritage homes, hotels, a newspaper and police barracks. Actors at The Wildhorse Theater and Music Hall relive the glory days when mining was a big time operation. When the CPR went South -- so did the town's fortunes.
Kimberley: Cuckoos, Gingerbread and Lederhosen:
Ach der leiber! -- did you know that Kimberley is known as Little Bavaria, and is Canada's highest city. Small wonder -- you can get high just breathing the air! With ski runs almost on the main drag, we found ample apres ski time to quaff frosty steins of German lager, gnosh on schnitzel, and sing along to an oom-pah-pah band. On the Platzl, accordionists stroll, midst a scene of gingerbread, gushing fountains, sidewalk cafes and footbridges. Happy Hans, who dwells inside the world's largest cuckoo clock, pops out to yodel on cue. Stop and smell the flowers at Cominco Gardens, or hop aboard the Bavarian Mining Railway.
Air connections
Take the Air Highway to Cranbrook or Calgary Airport, then rent a car for this journey to Hot Springs Heaven. You can do it in high style, at any of the resorts I've mentioned, or rough it with a pup tent, Coleman stove and eiderdown. Glancing at a map, you'll spot many glaciers, mineral spas and place names we haven't had space to mention. All I can say is -- "don't miss this Great Canadian experience, with its hot springs and freezing glaciers."


...More in our Adventure Roads series.
...The Yellowhead Highway.