US Northeast
New York Adventures in Travel Expo

Join us at San Francisco, Oct. 8-10, 2004, Washington, DC, Jan. 7-9, 2005 and New York City, Jan. 14-16, 2005.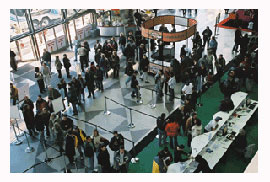 It finally happened!
Adventures in Travel Expo New York City; the biggest, best and wildest travel and adventure show ever held on Earth. It was an amazing success. We've been talking about it for a year and we came through with everything we promised. Our 380 million impression advertising campaign delivered and New York City finally got the travel show to be proud of. Here are some show figures:
*More than 22,000 upscale buying consumers
*Over 3,700 trade including 458 press
*More than 500 exhibitors from around the World
Exhibitors were swamped with booth traffic, sessions were filled to capacity, and the aisles were packed with travel buyers all weekend.
Due to th:
San Francisco, October 8-10 2004 at the San Mateo Convention Center and
Washington, DC, January 7-9 2005 at The Washington Armory, and of course
New York City, January 14-16 2005.
New York 2004 exhibitors have already spoken for over 75% of the show and from Thursday we will be accepting bookings from new participants that couldn't make it to the launch. So don't delay, request your booking kit to be sent by email now and make sure you get to be part of the most exciting travel event in years - New York will be sold out in weeks.
Contact us now and we'll get right back to you.
Many thanks,
Daniel Burge. Senior Sales Director
Adventures in Travel Expo
Voice: 203.878.2577 x104. Fax: 203 878 2154
For information: mailto:airhwy@dowco.com
(604) 681-0718, Fax (604) 681-6595

Review of January Show. Watch for more announcements!
Phenomenal media coverage, plus the biggest concentration of World-Wide travel suppliers in one place. As they say, "this hot new trade and consumer show has major tourism industry and media sponsors. Participate with travel industry leaders from around the globe to exhibit and network. Grow your business while learning cutting edge techniques that today's most successful tourism professional are using."
Participants will include International Tour Operators, Hotels and Resorts, Travel Packagers , Tourism Boards , Transportation Providers and Outfitters, Golf Course Management , Spas, Retailers , Destination Management Firms, Fishing Charterers , Adventure Activity Companies, Ranch & Farm Destinations , Eco & Nature Lodges , Government Agencies , Sports and Racing Event Operators - and more!Above photos from ATA 21st Congress Guide. Images by Namibia Tourist Office.