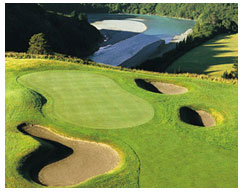 Golfing in New Zealand
We were impressed with what we saw and read on the Paradise Golf website and invite you to see for yourself. Here are some comments from Romana Graham, Director of Paradise Golf.
"We are also more than happy to put together exclusive packages for your customers and we can drive them if they do not wish to take advantage of your self-drive tours. Another exciting addition that has just been included this week is the option of having your very own chauffeur driven Mercedes sedan. the chauffeurs are all highly trained personal security experts, with full training in advanced driving and full medical training. They are a wonderful crowd who have a fantastic knowledge of all the tourism 'hot spots' and some very interesting little known attractions that make and excellent holiday simply exceptional." http://www.paradisegolf.co.nz

Top entertainment to match wildfoods
A top entertainment line up will help wildfood gourmets work off steamed fish eyes, duck tongues and other wildfoods at this year's Hokitika Wildfoods Festival. The 17th annual South Island festival will be held on 11 March 2006. Around 18,000 people are expected to descend on the small West Coast town to sample wildfood and beverages from 72 stalls. More->
New Zealand featured on the Movie Screen

Having just seen "The World's Fastest Indian" courtesy of New Zealand Tourism, one of our editor's first goal is a visit to the town and countryside portrayed in the film. Here are some comments from the NZ website.
"Yes, the dramatically beautiful cinematography of films such as this take our breath away. But what of the real landscapes that inspire such reaction? If it's a holiday that will remain with you far longer than any movie, visit Southland - the main location for "The World's Fastest Indian". Southland motorcycle legend Burt Munro was a man who held on to the dreams of his youth and ultimately realized them. Portrayed by Anthony Hopkins, his story of dream fulfillment and hard work is told by NZ director Roger Donaldson in "The World's Fastest Indian". Much of the movie was shot in and around Southland and many locals volunteered to help in any way - many were used as extras in the film, even the gregarious Mayor of Invercargill took a role. Such is the friendliness of these New Zealanders living at the country's most southern point."
New Zealand is also showcased in Peter Jackson's latest film, King Kong. Filmed entirely in Jackson's home country, King Kong is set in the disparate locations of 1930s New York and Skull Island. Jackson worked with several of the Academy Award winning specialists who created the sets in his last epic, The Lord of the Rings trilogy. Though the locations for the film mainly took place in studios, Peter Jackson managed to transform the magnificent landscapes to become home of King Kong as if it really

Air New Zealand's Aircraft Engineering Recruitment Program
Air New Zealand is well underway with its programme of recruiting aircraft engineers to support its airframe maintenance operations. This will mean approximately 70 additional jobs in Christchurch, including 20 trainees, and 30 for the airline's Auckland-based engineering operations.
Air New Zealand Engineering Services Vice President, John Mounce, said the recruitment drive was in response to the evolving needs of the business.
"Additional qualified staff are required to support the growth of our airframe maintenance and overhaul business as well as maximise asset utilisation in what is an ever-increasingly competitive market," said Mr Mounce.
Air New Zealand is recruiting suitable people both locally and from the United Kingdom where there is a pool of talent.
To date the airline's Christchurch engineering facility has recruited 20 local engineers, has another 10 commencing work over the next two months, has a number of offers on the table with interested UK applicants, and is currently advertising another 13 positions.
In Auckland the recruitment programme is underway both locally and in the UK for the additional 30 aircraft engineers required. http://www.airnz.co.nz/