The Canadian Museum of Flight at
Langley Municipal Airport
by Jerry W. Bird


There she stands, the sleek, silver-coated Avro CF-100, pride of the Royal Canadian Air Force; sassy as ever, her metallic body gleaming in the sunshine of another spring. At RCAF Base Trenton, north of Toronto, where I first saw her 'dance the skies,' this lady was Canada's debutante, a grand new star in the theater of the air. By her side sits a more humble, homelier craft, once common as geese on Canada's wind-swept prairies (or so it seemed); the rugged, reliable Harvard Mark IV. This black and yellow 'bumble bee' was the backbone of Canada's large training fleet, and the first solo experience for many NATO pilots. Saluting these stalwarts of my air force days, including the Beechcraft Expeditor perched nearby, certainly stirred the emotions. But here at the Canadian Museum of Flight my opening question was this. "How did these aircraft, and over 70 other treasures of the aviation world end up here at Langley, BC?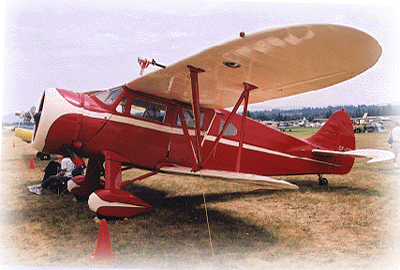 Looking back: It's a true life adventure story; one of dedication, recovery and restoration, plus the initiative that created a force of several hundred volunteers. A local action to prevent the export of historic aircraft, grew into a crusade, ranking this BC attraction among Canada's leading air museums. Each aircraft in this elite group has its peculiar story to tell. Few arrived intact; many are true reincarnations --fished from rivers, lakes, swamps and fjords, painfully restored from piles of debris, rescued from the jaws of 'cannibals' , junk dealers and scavengers. You'll see craft from every chapter of the aviation history book; early bush planes, gliders and home-builts, amphibians, spy planes, transports, fighters, bombers and several generations of jets, plus the denizens of what they called "helicopter hill" at the museum's first location near Surrey's Crescent Beach.
Above photo by Ed Anderson: SE 5 Replica, Canadian Museumof Flight, Langley, BC

Who wouldn't be impressed by such vintage warriors as the Sopwith Camel, Westland Lysander, Republic Seabee, Lockheed Silverstar, Avro Arrow, and names like Aeronca, Bell, Bellanca, Blackburn, Boeing, Bristol, Curtis, deHavilland, Fairchild, Fleet Finch, Frankfort, Handley-Page, Hawker, Piper, Pissecki, Sikorsky, Stinson, and Waco. Each invokes its special claim to the field of memories.
We first viewed the Museum of Flight unescorted, with cameras in hand, letting our imaginations soar, and capturing some priceless shots for the family archives. The next time, however, I donned the headphones for an "audio- dramatization"... a narrated journey through these fascinating displays. The realistic sounds and professional voices on the audio track recreate history, providing detail, drama, life and motion to the experience.
You'll witness first hand, the cramped, fully exposed gun-turrets and better understand the hazards faced by attack allied crews that hovered anxiously over occupied Europe. Rare birds, unusual relics and one-of-a-kind wonders abound; a Hampden bomber, raised from the deep after 44 years; an airborne banana; a flying anvil; a flying panhandle; a flying ice cream cone ... and more. You'll hear their dramatic stories through the medium of audio tape. Some units such as the Westland Lysander, too fragile for outside display await hanger space at a future date.
Wings, wheels- and wonders!
The Canadian Museum of Flight and Transportation is a grand show anytime. The gift shop contains every kind of aviation curio, plus models, flags, banners, posters, rare photos, cards, books and souvenirs. There are more memories in the museum' s Aviation Library , which has an extensive photo collection. Admission: Adults $5, Seniors and students $4, Under 6 free, Family $12.
Open daily year round: 10 am to 4 pm.
Hangar #3, Langley Airport, 5333 - 216th Street
(216th at Fraser Highway), Langley,
Tel. (604) 532-0035.
Air Station a new Warplane Museum
at Arlington, Washington
Arlington Experimental Aircraft Association (EAA) Fly-in. Display your wares to the many aviation enthusiasts at this popular 5-day event near Everett, Wa. Air Highways Magazine has covered the Arlington eventand we're amazed at the display of experimental and sports aircraft on display, not to mention the unique museum pieces and awesome aerial acrobatics. For details, contact Barbara Lawrence: 360.435.5857
Website: http://www.nweaa.org