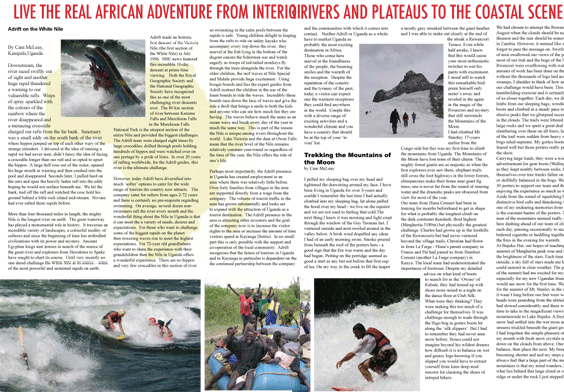 Live the Adventure in Africa. Click on the above spread from our new Africa Travel Yearbook Edition.
Airport Information

Port Hardy, BC: Gateway to the Inside Passage and Alaska
by Jerry W. Bird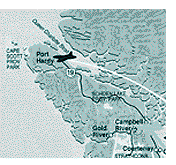 Port Hardy, being the Northernmost city on Vancouver Island, is a natural marine gateway to the Inside Passage, which is why the ferry to Prince Rupert is such a popular option. The Inside Passage, geographically speaking, spans a vast stretch of seacoast from Seattle to Siberia, that's dotted with islands and awesome in its beauty. There are the San Juan and Gulf Islands, Queen Charlotte Archipelago and Aleutians for starters, plus Vancouver Island, which is bigger than many European nations. At one time, our family considered the Inside Passage an annual commute, heading 'outside' from Dawson City, Yukon via Skagway and the Alaska Panhandle ports of Juneau and Ketchikan, and Prince Rupert.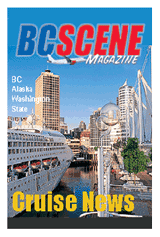 The final stop en route to Vancouver was Alert Bay, near Port Hardy on the Northern tip of the biggest "Adventure Island" -the one named for Captain Vancouver. The final stop en route to Vancouver was a native community at Alert Bay, near Port Hardy on the Northern tip of the biggest "Adventure Island" -the one named for Captain Vancouver.
Sail from Port Hardy by Ferry
Pick any direction - North to the fabled Haida Gwa'ii (Queen Charlotte Islands) and Alaska; east to the Central Coast and Cariboo Chilcotin; down Island to Campbell River, west to Cape Scott and across the seas to Asia Pacific ports. Port Hardy airport is a stone's throw from the Inside Passage, and BC Ferries offers sailings to Prince Rupert and the Central Coast. As Northern terminus of the new Island Highway, Port Hardy is home base for a variety of circle tours, like the one we enjoyed this summer. For flight- seeing, few vistas compare with the 45 minute Port Hardy jaunt, along the Inside Passage, soaring with an eagle's eye, as the Princess Love Boats glide by, and whales frolic beneath our wings.

Coho Country: Port Hardy is where mining and logging history was made. A local event, "Fi-lo-mi Days," salutes the big three money earners; fishing, logging and mining. Known as "Coho Country", Port Hardy is famous for superb salmon fishing, and fresh water lakes and rivers where steelhead thrive. Mayor Hellburg showed us the new sea walk along the harbor, next to a large marina, which attests to the size of the local sports fishing industry. Over 400 charter boats operate from this scenic port . Whale watching is a huge draw; pods of whales travel through Johnstone Strait daily, to feed, and to visit special beaches, where they sink to the ocean floor and rub against rounded stones.
History and Cultural Heritage
A short ferry ride from Port McNeill takes you to Alert Bay on Cormorant Island, with the U'mista Cultural Center's treasure of aboriginal potlatch artifacts, one of the world's tallest totem poles, traditional Big House, the 'Namgis Burial Grounds-site of memorial and other Totem Poles, Alert Bay Library-Museum, Alert Bay Ecological Park, century old Anglican Church, ect. Another ferry serves Sointula, a Finnish fishing village on Malcolm Island. Check out Cape Scott Wilderness Trail, North Coast lighthouses, the old whaling station, Stories Beach, salmon farms, Quatse River Nature Trail and Port Hardy Fish Hatchery. For native culture, there's the Kwakiutl Long House, Indian. Other nearby place names include Sayward, Woss, Nimpkish, Zeballos, Fair Harbor, Cape Scott, Coal Harbor, Winter Harbor and Port Alice. Locating a business or buying a retirement home? You'll find serviced land a fraction of the cost of similar property on Southern Vancouver Island or BC's Lower Mainland. Port Hardy Airport Information: 250-949-6424, fax 250-949-9013.

---
Update courtesy of Norine Charlie, Manager
Alert Bay Visitor Info Centre
116 Fir Street, Bag Service 2800, Alert Bay, BC, V0N 1A0
Phone: (250) 974-5024, Fax: (250) 974-5026
email: info@alertbay.ca , web: http://alertbay.ca

Port Hardy to Bella Coola, Central Coast and Cariboo- Chilcotin on BC Ferries Discovery Coast Route.


I call them the "Adventure Islands," because the North Pacific coast and archipelago have long been a magnet for adventurers and soldiers of fortune, including my father, who left the family's Seattle home for a post with the Royal Canadian Mounted Police at Dawson City in the far Klondike. As for the Inside Passage, the Yukon's poet laureate, Robert Service, captured its majesty in his 'Songs of a Sourdough', Jack London immortalized it in Call of the Wild, and Pierre Berton chronicled it in his book Klondike.


The second world war, brought adventure of a different sort, when for a time, enemy troops were dug in on the Aleutian Islands, submarines lurked offshore, and balloons carrying fire bombs threatened our forests. To combat this ominous situation, the mighty Alaska Highway system was built in 1942 - a threefold effort involving links by land, sea and rail. I had the privilege of documenting that part of our history, when I was commissioned by the Canadian Government to produce a video for the Alaska Highway's 50th Anniversary

.BC Nature-Ecology: BC and the Yukon combines the geography of many lands, from desert to seacoast and alpine meadows. Its native culture goes back thousands of years. Photo: Ken Bird, Calgary.

Port Hardy Links:. http://PortHardyLinks.com .
http://VancouverIslandLinks.comnteractive