EUROPE: NUMBER OF CRUISE PASSENGERS DOUBLED
Date 25.03.2013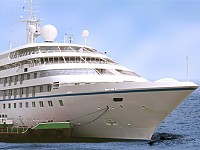 The European cruise market continued to grow in 2012, with 6.14 million cruises booked by Europeans last year, according to figures provided by the Cruise Lines International Association (CLIA).
The number of European cruise passengers has more than doubled in eight years, as it was 2.83 million in 2004. It reached 3.12 million in 2005 and then 5.45 million in 2010 and for the first time crossed the milestone of 6 million in 2011.
Over the past five years, the European cruise market thus grew at an average of 8%, emphasized the CLIA statement. As in previous years, four out of five Europeans chose to take a cruise in Europe last year.
The Mediterranean remains the most popular destination. The French clientele increased by 9%, with 481,000 passengers, against 441,000 in 2011, and is still the fifth largest in Europe. The first market is by far the British with 1.7 million cruise trips, an unchanged figure from 2011.
Following in second position are the Germans with 1.55 million cruise passengers, which is an increase of 11%.
But with the economic crisis, 2012 was marked by the collapse of the Spanish clientele (-18% or 576,000 cruise passengers, against 700,000 in 2011), and to a lesser extent Italy (-9% to 835,000, against 900,000 in 2011). Italy remains the third European market and Spain fourth.
The most notable trend was the growing success of cold water cruises in Northern Europe, with a 10% jump in attendance in 2012, at 1.33 million cruise passengers.
African coastal, river and lake cruises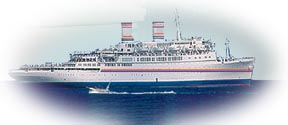 Africa Travel Magazine's Associate Editor/ Publisher Muguette Goufrani (left) first visited Africa on a cruise from Europe along the Gold Coast and Ivory Coast. While Muguette and her family enjoyed every aspect of the cruise, she liked Cote d'Ivoire so much, she ended up working there for several years as a travel agent and automotive agency credit manager. The same thing happed to her during a trip to Gabon. More of her
Ms. Goufrani's views on Cruising Africa to appear during 2001 in this section and in print.
Comments from our ATA presentation to the
Peace Through Tourism Conference, Glasgow, Scotland, 1999: "You've seen what the Cruise Industry has done for Alaska and the Caribbean, with their floating hotels and a vast armada of pocket cruise ships.
Can you imagine what would happen if Africans built a profitable cruise industry around their most ancient means of travel? Just think of romantic adventure cruise opportunities on our lakes, rivers and our historic, exotic coastline? The Gold Coast, the Ivory Coast, the Cape of Good Hope, the Indian Ocean Coast and its treasured islands, the Red Sea and Suez Canal. Yes, as Mr. Salia says about Africa, "Water transport is generally neglected and undervalued." Perhaps this sleeping giant will also awaken."
Written by Jerry W. Bird, Editor, Africa Trave Magazine:
Presented by Hon. Mike Gizo, Tourism Minister of Ghana
We are currently compiling our editorial selection for the Africa Cruise Section. In the meantime, here are some popular cruise web sites:
Africa Red Sea Cruises
http://www.orientlines.com/Africa/redsea01.html

Major cruise ship companies site
http://www.leaderships.com ............
Small Ship Cruise Lines
http://www.smallshipcruises.com

River Cruises, ec.
http://www.prowsedge.com/
---
Cruise Alaska in the wake of
Haida Chiefs and Great Explorers
By Angela Warner

"From the soaring tree-clad mountains, to the looming glaciers, to the breathtaking waterfalls, the passing panorama is just so vast, so overwhelming, it would take the most cynical and world-weary not to be impressed by it." See previous page on this site.
William Kelly
At our Air & Marine Tourism Conference, we had the pleasure of hearing a talk on Cruising by Mr. William Kelly of Vancouver. A trained journalist and veteran travel writer, William Kelly is an expert on cruising. His company, Ocean Cruise Guides, has published a series of guidebooks which are distributed worldwide. Current titles include Alaska By Cruise Ship, Caribbean By Cruise Ship and The Complete Cruise Handbook, used by travel agents and cruise passengers as a reference source and indispensable guide when cruising.