We at Air Highways Magazine are proud to introduce the
Northern Rockies Alaska Highway Tourism Association
"Building Business with Tourism"
Visit them at http://www.northeasternbc.com
Communities:
Mackenzie
Chetwynd
Tumbler Ridge
Dawson Creek
Pouce Coupe
Taylor
Fort St. John
Hudson's Hope
Fort Nelson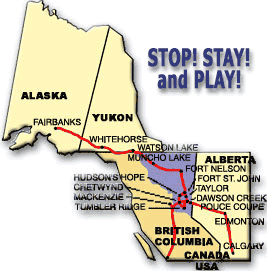 HELLO NORTH - Northern Rockies Alaska Highway Tourism Association was previously known as the Peace River Alaska Highway Tourist Association and has nurtured and promoted tourism within Northeastern British Columbia for nearly 30 years. The Association operates as an independent, nonprofit organization representing a membership that is comprised of businesses and communities working together to make your visit enjoyable, relaxing and memorable.
What is the Hello North - Northern Rockies Alaska Highway Tourism Association?
HELLO NORTH is a nonprofit, independent organization with over 100 members representing tourism related businesses, municipalities, regional districts and chambers of commerce in Northeastern British Columbia. The association has been active for nearly 30 years. Affairs of the Association are governed by a ten-person Board of Directors and managed by an office staff of two full-time people. The office is centrally located in Fort St. John.
What area does HELLO NORTH represent?
HELLO NORTH represents one-quarter of British Columbia's total land mass, approximately 135,000 square kilometers in size. The area is bordered by Alberta on the east, the Northern Rocky Mountains to the west and south, and the Yukon and Northwest Territories to the north.
The above description is from this very in depth web site. Photos to come. Watch for more announcements including those about our Cross Canada Caravan which includes stops along the Alaska Highways.