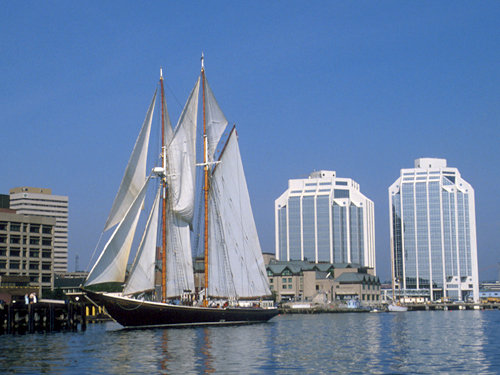 Air Highways to Atlantic Canada- 2005 Updates
by Jerry W. Bird


by Jerry W. Bird

I enjoy being in the company of Atlantic Canadians, a tendency which has remained with me since my airforce days, when many of my best pals were from those easternmost parts. While in South Africa last January, riding the Rovos Rail train from Cape Town to Pretoria, two of the most delightful guests on board were a couple from Newfoundland (more about them later) -- which confirms my long held opinion that Atlantic Canadians are the salt of the earth. How can I forget our glorious week long stay at the Hotel Newfoundland in St. Johns during the TCAAN Convention. Newfoundlanders know how to throw a party. Last summer, I was pleased to meet with Sandra Kelly, whom Air Highways interviewed in 1993 at an Airports Conference when she was Mayor of Gander. This lady of our times is now the Hon. Sandra Kelly, Provincial Minister of Industry. A well deserved position. I promised to return and write a feature on Newfoundland Tourism, and am eager to return. Speaking of Atlantic Canada, we received several news releases that may be of interest to you.
SPA OPENINGS AT TWO NOVA SCOTIA SIGNATURE RESORTS
Halifax, NS: The oohs and aahs usually evoked by the stunning vistas of Nova Scotia Signature Resorts will have a whole new origin this summer with the grand opening of Aveda Spas at both the Keltic Lodge in Ingonish and The Pines Resort in Digby.
"Construction is well underway at both properties," according to Sandie Currie, Director of Sales and Marketing for Nova Scotia Signature Resorts. "Both spas are scheduled to open early this summer and will offer a wide range of services for resort guests and local residents."
"Aveda has a powerful reputation for quality service and respect for the environment, which makes them a natural fit for our properties and the clientele we serve."
The Aveda Spa at Keltic Lodge
One of just three free-standing resort spas in Atlantic Canada, the Spa at Keltic will feature a uniquely-designed seaweed body treatment to reflect Keltic's close proximity to the Atlantic Ocean.
Built on the edge of the spectacular cliffs of Middle Head Peninsula, the 5,000 square foot spa includes a lounge with fireplace, and an outdoor deck with a dazzling view overlooking Ingonish Beach. The facility will include four treatment rooms, sauna, steam and regular showers, hair salon and pilates workout area. Other treatments to be offered include facials, massage, manicures, pedicures, and hair care.
"This addition truly enhances our overall product and allows us to compete with other upscale resorts," says Walther Lauffer, General Manager of Keltic Lodge. "We've always offered an exceptional guest experience and the Spa at Keltic is an exciting addition."
The Aveda Spa at The Pines Resort
Utilizing apples as the main ingredient to reflect the Annapolis Valley region where the spa is located, the Aveda Spa at The Pines Resort will also feature stunning views. The 2,500 square foot spa is being built next to the Gothic-style outdoor pool overlooking the Bay of Fundy. It will include 3 treatment rooms, steam and regular showers, hair care, pedicure and manicure services.
"Spas and golf courses tend to lure a lot of travellers so being able to offer both is great news for our guests," said Rene Leblanc, General Manager of The Pines Resort. "It's also a big boost for the local community, creating jobs and offering new services."
Spas are among the fastest-growing businesses in Canada and are top draws for leisure dollars according to a 2002 study by Price Waterhouse Coopers and the International Spa Association. Canada has approximately 600 spas, generating an estimated $345-500 million a year.
The Keltic Lodge and The Pines Resort are part of Nova Scotia's Signature Resorts, which are proudly managed by New Castle Hotels and Resorts. For more information about the Signature Resorts, visit the website at www.signatureresorts.com.
For additional info, contact:
Sandie Currie, Director of Sales/Marketing,
Nova Scotia Signature Resorts
(902) 496-7415, scurrie@westin.ns.ca

INGONISH, NOVA SCOTIA TARGETING WINTER TOURISTS
Ingonish, NS: The drive is on to draw more tourists to Ingonish, Nova Scotia on a year-round basis. The cluster of small communities, which border the Cape Breton Highlands National Park, continues to be a popular summer destination and now is reaching out to winter travellers as well.
Central to those efforts is the re-opening of Ski Cape Smokey, which has been closed for the past three years. A recent injection of federal and provincial government funding has allowed the facility to purchase much-needed snowmaking and grooming equipment.
"This new equipment is critical to our viability as a winter tourist destination," said Marie Cummings, spokesperson for Ski Cape Smokey. "Not only will it allow us to expand our season, it provides skiers with much greater assurance that their trip will be worthwhile."
Ski Cape Smokey is a premier Canadian alpine ski resort located at Ingonish Harbour. The ski hill features a 1,000-foot vertical drop with 16 runs overlooking a spectacular view of the Atlantic Ocean.
Just minutes from the ski hill is The Keltic Lodge, the provincially-owned property that's part of Nova Scotia's Signature Resorts. Normally closed through the winter, the Lodge has joined in the effort by opening its doors at The Inn at Keltic from March 11 - 19 to accommodate the March Break crowd.
"The entire region is taking steps toward establishing itself as a place to visit all year and we're delighted to do our part," said Walther Lauffer, General Manager of the Keltic Lodge. "We've put together a ski package that includes one night accommodation for two, breakfast and two lift tickets for just $75 per person."
The Lodge will employ an additional 15-20 staff during the March Break and local officials are hoping the winter revitalization will spur further job opportunities.
The Northeast Highlands Chamber of the Commerce has taken a lead role in coordination of the marketing plan through the Cape Breton Highlands Project. Along with an aggressive winter advertising campaign, they've also established a website, www.capebretonhighlands.com, and toll free phone number, (888) 897-4094, to provide information about winter travel packages and community events.
The Cape Breton Highlands Project is a three-year pilot project, with an office in Ingonish. A Project Management Committee consisting of members of Ski Cape Smokey, Victoria County, Northeast Highlands Chamber of Commerce, the Ingonish Development Society, St. Ann's Bay and Area Development Association and Snow Belt Marketing Coop oversees the Cape Breton Highlands Project and the area covered is from St. Ann's and Englishtown to Meat Cove.
Some of the goals of the project include increasing visitation to the area, particularly during the spring, fall and winter seasons and to increase overnight stays as well as promoting The Cape Breton Highlands as a four-season destination.
Walther Lauffer
General Manager
Keltic Lodge
(902) 285-2365