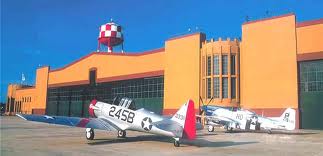 Fantasy of Flight is always buzzing with activity ( and not just planes in the air, mind you) We host all kinds of vents throughout the calendar year, which coincidentally, can be found right here on our annual calendar!


October 1-31 Haunted Hanger Sorytelling Tour
October 16-20, 2013 PSP 2013 World cup Painball Tournament

FLORIDA RESIDENT DISCOUNT TO FANTASY OF FLIGHT DURING AUGUST
POLK CITY, FL (July 22, 2013) – Florida residents can experience an Attraction on a Higher PlaneTM for less this summer. From August 1 – August 31, Florida residents will receive $8 off adult general admission with a valid Florida ID or proof of residency.
Fantasy of Flight is Central Florida's premier aviation-themed attraction showcasing vintage aircraft from the world's largest private collection. An exciting addition to the collection this summer is Howard Hughes' famed Sikorsky S-43 "Flying Boat" – a must see for any aviation or "classic" Hollywood buff. Fantasy of Flight's restoration team will be working on the aircraft to restore it to flight. In addition to the restoration work, Fantasy of Flight offers themed immersion experiences, interactive exhibits, a tram tour of aircraft maintenance areas, Restoration and Backlot tours and the country's only Aerial Demonstration of the Day featuring a vintage plane (weather permitting). For those wanting even more thrills, guests can purchase additional tickets to test their limits on the Wing WalkAir Confidence Course and Zip Line or take a ride in an authentic biplane ride.
Fantasy of Flight is located just off Interstate 4 (exit 44) between Tampa and Orlando at 1400 Broadway Blvd. SE. Polk City, FL 33868. Regular general adult admission is $29.95. Seasonal hours during this promotion are 10 A.M. to 5 P.M. Thursday through Sunday. This special offer cannot be combined with any other offers, discounts, annual passes, special events or Wing WalkAir Confidence Course.
For additional information on this release, please contact:
Katie Worthington
Phone: 863-299-9980 x 1022
Email: katie@clarknikdelpowell.com
Source: Fantasy of Flight
Website: http://www.fantasyofflight.com

Welcome to Fantasy of Flight's online media room! Fantasy of Flight, voted #1 of "Orlando's 101 Best Kept Secrets" by Orlando Sentinel readers, welcomes you to a world that captures the wonder of aviation and the history of those marvelous flying machines. Fantasy of Flight not only showcases history, we create it, too.
Please take a moment to look through our online press kit and most current press releasesto learn more about the wonder and fun we bring to life. We also document the attraction and our special events through great photography that can be immediately downloaded in high resolution for print publication and low resolution for online use.
One of the best ways to get to know our attraction and the stories we have to tell is to experience Fantasy of Flight or one of our special events first-hand. If you're a media representative on assignment or looking for a great story idea and want to tour the attraction or attend one of our unique events, please contact Mary Deatrick, public relations representative, 407-718-4640.
In the meantime, we invite you to sign up for our media mailing list if you would like to receive on-going news and timely event information. Also follow @fofhigherplane, our Twitter account dedicated to media wanting the latest news from Fantasy of Flight and become a fan of Fantasy of Flight on Facebook.
Thank you for your interest in Fantasy of Flight!
http://www.fantasyofflight.com
---
TRAVEL
1. Footloose in Vancouver
2. From Baja to Barrow
3. Railway Adventures
4. Alaska Cruises
5. River Adventures
6. Grizzly Encounters
7. Adventure Isles
Adventures in
Travel Expo
Advance Planning
Adventure Markets
Adventure Roads
Adventure Rails
Alaska Cruises
Adventure Isles
Barge Travel
Canoe Journeys
Chilcotin Wild
Cruise Map
Discovery Coast
Grizzly Encounters
by Trapper Ken
Haida Gwaii
Kayaks
Kilimanjaro
Klondike
Rafting
Rivers of Africa
Rivers of Canada
Rocky Mountains
Safari
Seaplane Travel
Starfish Award
Shipwrecks
Trekking
Wildlife
World of Cruises
Photos: (1) Author's father and mother in Dawson City. (2) Steamer Keno with barges at Stewart Crossing, junction of the Yukon and Stewart Rivers. Author Jerry Bird spent two seasons as a crew member aboard the Keno. Click for a blow up photo of the Keno.