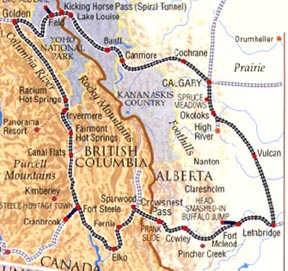 From Calgary, Alberta ...


head west through Kicking Horse Pass; swing south at Golden, following the Columbia River to Cranbrook- Kimberly in BC's East Kootenays. At Elko, BC, the train heads east via the Crowsnest Pass ... (Continued)

---
Welcome Aboard ...
Alaska Railroad, the last full-service railroad in the United States. We owe our success of the past 77 years to hard work and dedication. From tidewater at Whittier and Seward to the heart of Interior Alaska, our route covers more than 500 miles. (Continued)
---

... to San Francisco
... to Asia Pacific
... to Cape Town, SA
---
Cruise the World
Spacious skies, purple mountain majesty, fruited plain, amber waves of grain. See America the Beautiful, go Cross Canada by train (details) or take a Cruise around Africa.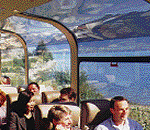 Whistler Northwind ... With its latest luxury product now on stream, BCRail joins the big leauges of passenger rail travel, ranking with such world class train trips as Orient Express. (Continued)
---


Rocky Mountain High
Check out the now famous Rocky Mountaineer from Vancouver via Kamloops to Banff-Calgary and Jasper National Park. It's a winneer! (details)



---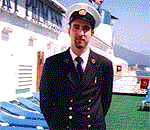 Alaska Cruises From Vancouver, British Columbia, Canada, the larger cruise companies offer two major routes: the Inside Passage Cruise and the Glacier Cruise- on both you can be assured of the same kind of luxury and service as on the more established Ocean or Caribbean cruises.

---
Adventure Isles . Barge Excursions
Canoe Journeys . Discovery Coast . Klondike Memories . Shipwrecks .
Queen Charlottes . Seaplane Travel

---
Mother of all Railway Adventures...
the Trans-Siberian Express rambles and rolls through the broad steppes, crossing mountain passes, skirting Lake Bakail (world's deepest) and mile upon endless mile of desert - from Moscow on Europe's doorstep to Vladivostok, seaport of the Pacific. (Continued)

---
Franco-Ethiopian to Djibouti...
We saw Emperor Haile Sellasie's private rail cars in Addis Ababa during our visits to Ethiopia on the Holy Route tour. For a real rail adventure consider this line from the capital to the Gulf of Aden. (Details)