CANADIAN SKIERS GET "THE EDGE" ON SAVINGS
Two of New Hampshire's most popular ski resorts in the White Mountains have announced special deals that are guaranteed to get the Canadian skier's adrenalin going:
Loon Mountain - Canadian Dollar-At-Par 5-night Family Vacation Package. The Mountain Club on Loon Mountain is offering Canadian Dollar-At-Par Vacation Packages throughout March 2004, plus January 4-8 and January 11-15, 2004. Five-night midweek vacations for a family of four start at CDN $1,649 including lift tickets, tax & resort fee.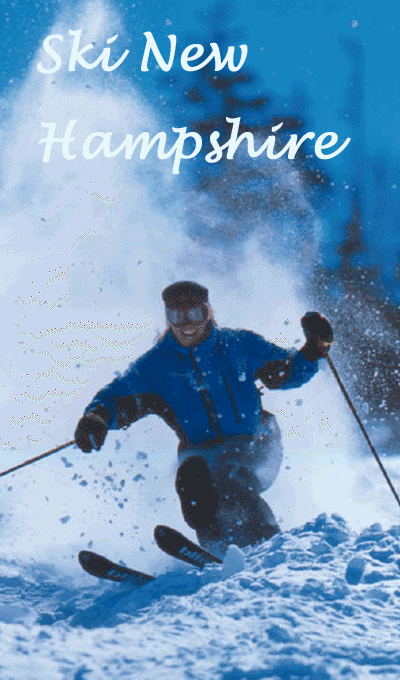 Loon Mountain offers 50 trails, including five tree-skiing areas. In addition to skiing and riding, families can take part in cross-country skiing, snowshoeing, horseback riding, ski-biking, ice skating, indoor rock climbing, and day and night tubing. The Mountain Club is the only slope-side hotel at Loon Mountain. Guests can enjoy full body treatments at a new spa facility, "Viaggio on Loon", an indoor pool, outdoor hot tub, men's and women's hot tubs and saunas, cardio room, exercises, and game room. The Season's Restaurant offers a variety of family menu options throughout the day.
Loon is minutes from the ski towns of Lincoln-Woodstock, and is located on the scenic Kancamagus Highway, just 3 km from Exit 32 off Interstate 93. Loon is 3 hours south of Montreal, 5 hours from Ottawa and 9 hours from Toronto. For reservations call 1-800-229-STAY.
Waterville Valley - Canadian Dollar-At-Par Packages for March 2004
Waterville Valley's Town Square Condos are offering lodging packages starting at CDN$38 per person / per night (quad occupancy) during March 2004. Canadian guests can choose either a 3- or 5-night package including accommodation, access to the Athletic Club, shuttle bus service, taxes and resort fees. Canadian Dollar-At-Par rates have also been extended to lift tickets, rentals, lessons (for kids and adults) and childcare at Waterville Valley. Lift tickets cost $39 for adults, $29 for teens and $19 for skiers 12 and under, and include access to downhill, cross-country and snowshoe trails.
Waterville Valley offers 52 trails and 11 lifts for skiing and snowboarding, with a 4,000-ft elevation and over 2,000-ft. of vertical. Town Square Condos feature 2- and 3-bedroom condos, each with a full kitchen, dining area, living room, TV and VCR. Just outside the door are restaurants, shops, sleigh rides, an indoor ice arena, 105 km of cross country and snowshoe trails and a shuttle bus to the ski area. The Athletic Club with its indoor pool, hot tubs, saunas, cardio room and game room, is an easy 5-minute walk from the condos.
The Town Square Condos Canadian Dollar-at-Par Packages are available Sunday - Thursday nights during the month of March 2004. To book a reservation or for more information Canadians call toll free 1-888-462-9887 or visit <http://www.waterville.com/winter/lodging.html>www.waterville.com/winter/lodging.html. Waterville Valley is located in New Hampshire's White Mountains, just 3 hours south of Montreal, 5 hours from Ottawa and 9 hours from Toronto.
NEW HAMPSHIRE SKI RESORTS "POWDER-FULL" SEASON
As the official state sport, skiing is a major part of New Hampshire's winter landscape. Last winter was the ski industry's second strongest season ever, and it appears the momentum will continue. Over the past year, New Hampshire's ski areas have spent an estimated US$20 million to improve and expand ski facilities and add new opportunities for visitors to try snow-tubing, snowboarding, snowshoeing, and ice skating.
Increasingly, Canadians are crossing the border to discover the unmatched snow conditions of New Hampshire's White Mountains, a range which boasts the highest peak in the northeastern United States - Mount Washington at 1,917 metres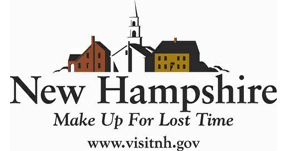 .
"With 36 alpine and cross-country ski areas, New Hampshire is legendary for its vast ski terrain," says Lauri Klefos, Director, New Hampshire Division of Travel and Tourism Development, adding that the relaxing Apr¸s-Ski scene is especially appealing to Canadians who are prefer a friendly, family atmosphere.
To help visitors plan their winter escapes, The New Hampshire Division of Travel and Tourism Development has posted new winter packages on its website: http://www.visitnh.gov
Simply click on "Seasonal Packages" and search under "Ski & Stay" or "Stay, Sleigh & Snowplay" for a complete listing by region. For example, properties surrounding Gunstock ski area have listed special rates, including the following: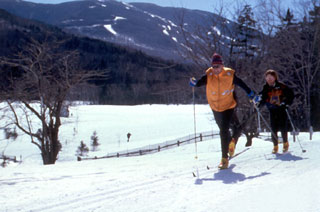 Landmark Inn, Lanconia NH: Affordable midweek 'Ski & Stay' packages are available from US$54 pp (double) including deluxe continental breakfast. For information call: (603) 524-8000.
The Margate on Lake Winnipesaukee, Lanconia NH: This 141-room property is offering midweek rates from US$57 pp (double). Facilities include indoor pool, whirlpool, sauna, fitness centre, Blackstone Restaurant and Courtyard Bistro. For information call 1-888-266-8605 or (603) 524-5210 or visithttp://www.themargate.com/
The Misty Harbor & Barefoot Beach Resort, Gilford NH: Rates start at US$64 per night (midweek) and US$74 per night (weekend). The property features 1 and 2-bedroom suites, motel units, indoor heated pool, Jacuzzi and game room. For information call 603-293-4500 or visit <http://www.mistyharbor.com
In addition, Ski New Hampshire, a statewide association representing 36 alpine and cross-country resorts and more than 200 lodging properties, is promoting a wide range of special deals and packages, all listed at http://www.skinh.com/ This comprehensive website also features current snow conditions, daily photos from the slopes (during season), weather forecasts from the summit of Mount Washington, a lodging guide with links to the properties' websites, a locator map of ski resorts, a calendar of events, and details on snow tubing. Ski NH also offers a free 64-page, full color Winter Guide &endash; just call 1-800-88-SKI-NH (1-800-887-5464). The following are just a few of the deals available (pricing in US dollars):
ATTITASH BEAR PEAK: New Kid's Lift Ticket Pricing: Attitash Bear Peak has lowered junior and young adult lift ticket prices up to 40% for this winter during non-holiday periods. Juniors (age 6-12) ski for $19; young adults (age 13-18) ski for $39.
BLACK MOUNTAIN: Family Passport: Two adults and two juniors pay just $89 on a weekend/holiday day or $70 midweek for their lift tickets. For more information, call (603) 383-4490 or visit http://www.blackmt.com.
BRETTON WOODS: Two-for-One Wednesdays: Two adults can ski or ride for the price of a single midweek lift ticket ($52) on non-holiday Wednesdays.
Online Lift Tickets: Log on to www.brettonwoods.com for special web-only offers on lift tickets. For more information, call (603) 278-3320.
CANNON MOUNTAIN: Midweek Two-for-One Specials: Every non-holiday Tuesday and Thursday, two lift tickets are only $40. For more information, call (603) 823-8800 or visit www.cannonmt.com.
GUNSTOCK: Family Sunday Four Pack: Two adults and two child/teens can ski or ride for $129; each additional child is $29 and each additional teen is $39.
Magic Monday: Buy one full price lift ticket on a non-holiday Monday and you can buy up to three more at half price each. For more information, call (800) GUNSTOCK or visit <http://www.gunstock.com
For a free copy of the Official New Hampshire Guidebook with descriptions of ski resorts statewide, consumers can call toll-free 1-800-386-4664
The travel trade can call 1-800-262-6660.
NH SKI FACTS
• One of the United States' first ski schools opened at Peckett's in Sugar Hill, with its magnificent view of the Franconia Range.
• The first slalom race in the U.S. twisted down a New Hampshire slope, as did the first National Downhill Championship race.
• In the 1930's, New Hampshire folks used their Yankee ingenuity to figure out better and faster ways to lift skiers up the mountains via Whitney's shovel-handle tow at Black Mountain, Gunstock's longest-in-the-world rope tow, Cannon Mountain's tramway, and Cranmore's skimobile.
• Home to the New England Ski Museum, New Hampshire can truly be considered the birthplace of New England skiing.
"For a free copy of the Official New Hampshire Guidebook, consumers can call toll-free 1-800-386-4664 or visit www.visitnh.gov
The travel trade can call 1-800-262-6660."
Winter Packages Available On-line at www.visitnh.gov
Photos: Ski New Hampshire.
Mt. Washington Valley Chamber of Commerce.